Are you wondering how to start a business? Do you even know where to start? Here is everything you need to know.
The Ultimate Directory for Everything you Need to Know about How to Start a Business
When you decide to start a business, it is like you are stepping on a roller coaster. It's a thrill ride for sure, with uncertainty around every corner. With your safety belt however, along with the knowledge that others have survived before you, you can take comfort and enjoy the ride.
From getting it up and running to helping it grow, and everything in between, the whole experience of starting a business can be rewarding but overwhelming. Like a roller coaster, the most difficult part can be simply that first step. It can be difficult and confusing figuring out those first steps, and that is where this essential guide to all things about how to start a business can come in handy.
From choosing a name and legal organization to broader issues like funding, we have it all. It important to remember that some requirements vary by state, so we have compiled and linked information by state as well. We will be adding to it regularly, so if your specific state isn't here now keep checking back.
For now, we have plenty to get you started, so buckle up. You are in for a wild ride on the roller coaster of business ownership.
Just Get On
When you look at a roller coaster looming above you, it can be tempting to stay in your comfort zone and walk away. The only way to conquer that feeling is to put one foot in front of the other and just get on. What does this mean when it comes to starting a business?
Once you have a name, you need to decide on the legal organization. That could be sole proprietorship, partnership, or incorporation of some sort. Incorporation is the absolute best route due to the protection it offers and the ability to help you establish and build credit in your business name separate from your personal credit.
Options for incorporation include corporation, s-corporation, or LLC. They vary in cost and protection, so which one you use is totally up to you depending on your situation and needs. However, they all serve the purpose of separating your business for establishing business credit. More on that later.

Hit the jackpot with our best webinar and its trustworthy list of seven vendors who can help you build business credit.
Take Care of Business
After you have a name and you incorporate, you need to grab an EIN from the IRS. This is an identification number for your business similar to an SSN for an individual. Once you have this, it is time to register with the Secretary of State in your state.
How is the Secretary of State Involved in Business Formation?
State offices register and authenticate business entities and trademarks whether a sole proprietorship, partnership, LLC, or corporation. They process, file, and maintain records related to business entities.
If you decide to incorporate, you must file articles of incorporation with the Secretary of State. Business owners can write their own documents or use forms provided by the State office. Each state's requirements for registration may vary somewhat.
Annual reports may also be filed, either by mail or online, with the Secretary of State.
How the Secretary of State Website Can Be Useful When You Start a Business
Secretary of State offices are responsible for registering corporations, limited liability companies (LLCs), and partnerships. They also handle business mergers and acquisitions, as well as process articles of dissolution if you close down.
In addition, for every state or commonwealth within the United States, the secretary of state office is responsible for maintaining the database of all business entities registered in that state. Basic information from this database is a matter of public record, which can prove useful for citizens, business owners, and aspiring entrepreneurs looking for information about a particular business.
Performing a business entity search through your state's office of the secretary of state can be useful in the beginning stages of starting a business. First, it can help you ensure the business name you choose is not already taken. It can also help verify the status of an existing business, such as a potential vendor, customer, partner, or competitor. That is helpful before signing a contract with an unfamiliar business.
Which Types of Business Licenses Do You Need?
If a federal agency regulates your business activities, you will need a federal license. According to the Small Business Administration, businesses in the following industries will need a federal license.
Agriculture
Alcoholic beverages
Aviation
Firearms, ammunition, and explosives
Fish and wildlife
Commercial fisheries
Maritime transportation
Mining and drilling
Nuclear energy
Radio and television broadcasting
Transportation and logistics
The SBA also has a wealth of other information you need to know for starting your business. They can help with everything from writing your business plan to finding funding.
We really loved this article from Alliance Virtual Offices on how to start a business. Their tips are just fantastic and should be of help to anyone looking to start a business.
Start a Business – State Specific Requirements
There are different permit and licensing requirement that are dependent on industry and state. In addition, some local governments have their own requirements. We have compiled a list to help you figure out what the requirements are in your state. Remember to check back often if your state isn't linked up yet. We are adding new information all the time.
How to Start a Business in Your State
So make sure to check if your state is added!

Hit the jackpot with our best webinar and its trustworthy list of seven vendors who can help you build business credit.
Next Steps: Funding
Once you have a name and incorporation is complete, it is time to hit the ground running. This means funding. It is likely startup funding will have to come from a small business loan, a grant, or self-funding. If you have to finance your startup, your personal credit score is probably going to be a factor. How much of a factor depends on your lender and the type of loan.
Some lenders, such as traditional banks, rely almost solely on personal credit history. There are some non-traditional type lenders however, that will focus more on business credit, time in business, and business financials.
Funding Never Stops
Regardless of how you are able to find the funds to start your business, there is never a time when you will not need funding. There will be times when you need cash for various reasons. It may be because of a problem, or it could be for growth.
When those times come, you are going to want to apply for financing using your business credit rather than your personal credit. What is business credit? It a credit score assigned specifically to your business rather than your personal credit history. How do you get it? It isn't hard, but there is a specific process. While you can begin this process at any time, it is immensely helpful to start it at the beginning.
And don't forget properly doing your business taxes – that will always save you money.
What Does the Process Look Like?
The reason the beginning is the best place to start is this. The very first step in establishing and building business credit is separating your business from yourself. Often, in the beginning stages of starting a business, a sole proprietor will simply run the business as an extension of him or herself. They use personal accounts for business expenses, and use their home address, personal email address, and personal phone number for contact information.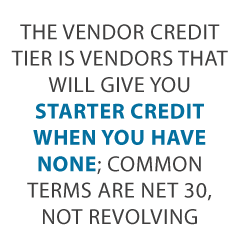 If you go ahead and name your business, incorporate, and have the business listed under its own contact information from day one, you can save yourself a lot of work over doing it later as the business grows. In addition, go ahead and get an EIN in the beginning. As we mentioned above, it is free, and it can be used to apply for credit in your business name without a social security number.
Details
These steps at the beginning of the process go a long way toward separating your business from yourself. Once they are complete, you can apply for a DUNS number from Dun & Bradstreet. They are the largest and most commonly used business credit reporting agency, and the only way to have a credit profile with them is to have a DUNS number.
The number is free on their website. They may try to sell you other products they offer, but they are not necessary. Just go for the free DUNS number.
Once Your File is Established, Start Building
All of these steps make it possible for you to establish a business credit file and build your business credit. There really isn't a file, however, unless you have accounts reporting your payment history. This is the catch. It is difficult, actually impossible, to have credit accounts reporting without first having good credit. Unless you know our secret.
Start a Business with Vendor Credit

When you start a business, you are going to need a lot of "stuff." From office supplies to cleaning supplies, packing supplies and tools, there are a number of random little things that are needed in the early phase and throughout the life of a business. There are certain vendors that you can purchase these things from that can help you build business credit from the time you start a business.
These vendors will offer you net invoice terms, such as net 30, and then report your payments to the vendor credit reporting agencies. They do not check credit to do this, so if you are just getting started and have no business credit, or if you have poor personal credit, you can still get these terms.
Details
Some of them have a minimum time in business requirement of at least 6 months, sometimes more. Others may require you to make a few initial purchases before extending net terms. Either way, these starter vendors are the key to establishing and building business credit.
If you already have business credit but it isn't great, they can help you repair and rebuild your business credit score as well, because they do not check your credit before extending net terms. The more accounts you have reporting on-time payments, the better your credit will become.

Hit the jackpot with our best webinar and its trustworthy list of seven vendors who can help you build business credit.
Who Are These Vendors?
There are many out there, but there are a few that work best at the time you start a business. They have the easiest terms for new businesses to deal with. These include:
Crown Office Supplies offers paper and other office supplies. They report to all three of the major business credit reporting agencies, which of course include D & B, Experian, and Equifax. It can be hard to find vendors which report to Equifax, so getting credit with Crown is a good move.
To qualify, you will need to be an entity in good standing with Secretary of State and an EIN number with IRS. A business address that matches everywhere (both online and offline), a D-U-N-S number, a business license (if applicable), as well as a business bank account are all necessary. Your business must be at least 60 days old. There is also a membership fee of $99 annually upon approval.
Uline specializes in packing and shipping supplies, which every business needs on some level, but they have other products available for purchase as well.
Grainger's specialty is supplies needed for working outdoors, but they sell a variety of tools that are a good idea for any business to have on hand, even if your need to work outside is limited.
So after you get started with these you can explore the wide range of starter vendors. Once you have several of these accounts reporting your payments to the business credit agencies, you can move on to the next tier in the journey to building business credit when you start a business.
What Are the Next Steps?
These include applying for retail credit, fleet credit, and then general business credit cards that are not limited by location of use or type of expense. Retail credit includes credit cards issued by specific stores such as Amazon, Walmart, Best Buy, and Office Depot. These are standard credit cards and as you make your payments on-time and the payments are reported, your business credit will begin to grow quickly.
Fleet credit includes credit cards that can be used for fuel purchases as well as automobile repair and maintenance. After that comes the general Visa, American Express, and MasterCard options not tied to a store or specific types of purchases.
After you spend some time using those general cards responsibly by making payments consistently on time, you should have a strong business credit score. As a result, you will be better able to access the funding you need to grow and expand your business when the time comes.
Start a Business – To Infinity and Beyond
So there are many steps to starting a business. It is important to start on a firm foundation. Then, when the twists and turns come, you can be safely secured in your seat. That means ensuring you have a name and EIN, and all the licenses and registrations necessary at each level of government. Also, make sure that you are legally incorporated.
Next, start at the beginning with building business credit so that you can continue to fund your business throughout its life without affecting or depending on your personal credit. Do these things, and you are well on your way to being able to sit back and enjoy the crazy ride.