Starting a Business in Georgia
A new business in Georgia can be within your reach. Have you been wondering: precisely how do I start a business in Georgia? And more importantly, can I do so no matter what the economic conditions are? Can I start a new business in Georgia during a recession?
New Business in Georgia: Pros and Cons
According to a 2016 article Business Insider, Georgia is the tenth worst state in which to start a new business. One plus is the cheap cost of living in Georgia. But one huge problem for business owners is potential hires' poor education levels.
Fewer than half of Georgia's college students graduate. Only 2.04% of the state's population finished college with a degree. Still, there is one positive: Georgia has a higher density of startup firms than most states.
Though small businesses make up 97% of all companies doing business in the state. Georgia defines a small business as one "which is independently owned and operated and must have either fewer than 100 employees or less than $1 million in gross receipts per year."
Amazing Turnaround!
In a 2018 article, Forbes put Georgia in the number six slot! Keep in mind, of course, that Forbes and Business Insider have differing methodologies.
Why the amazing difference? Per the 2018 article, Georgia does really well in economic growth, its regulatory environment, and its growth prospects. Is this enough to counter its issues with the educational level of its populace? Only a startup entrepreneur can truly answer that.
New Business in Georgia: State Programs
Furthermore, Georgia companies which employ 50 or fewer people also are eligible to receive $250 per certified "Work Ready" individual hired. This is up to $1,250 total. It is intended to help cover hiring and training costs. Work Ready is Georgia's online employment service, and it is designed to help businesses and job seekers find each other faster.
In addition, Georgia's "Entrepreneur Friendly' ("EF") Initiative exists. It is designed to help local leaders build sustainable support programs for small businesses. These all can be folded into a community's overall economic development plan.
Start a New Business in Georgia – Top Industries in Georgia
According to the Georgia Department of Economic Development, the top industries in the state of Georgia are aerospace, arts, agribusiness, and contact centers. More top Georgia industries are data centers, automotive, defense, and energy and environment. Georgia top industries are also digital entertainment, financial services, film and television, and food processing.
Another set of top Georgia industries are information technology, headquarters, life sciences, music, and manufacturing. Also, top industries in Georgia include logistics and transportation, and tourism. Since Delta Airlines has a major hub in Atlanta's Hartsfield-Jackson airport, aviation or at least travel should also be included.
Smart business owners should be able to spot opportunities amidst the larger and more established industries. These can include trucking for any industry, data support, food service and hospitality. They could also include consulting on more efficient manufacturing.
Here is how to start business in Georgia.
Start a New Business in Georgia – Georgia New Business Secretary of State Requirements
Register a Business Name
To operate a business in Georgia under a business name different from a business owner's, they must register a fictitious name with the Clerk of the Superior Court in the county where they conduct business.
A fictitious name filing of "Doing Business As" lets a business owner operate a sole proprietorship or general partnership under a business name. They do not have to file a DBA if the business is a nonprofit, corporation, limited liability company or limited partnership.
To search a database of Florida businesses online, to the official state website: SunBiz. Reserve a corporate name via the Secretary of State. These entities can register their business names as part of the articles of incorporation they file with the Corporations Division.
Business Permits and Licenses
Go to the First Stop Business Information Center. There is also relevant information on their Licensing Page.
Local Permits and Licenses
The official website of Georgia keeps a list of links to contact information for both Georgia cities and counties. You can get information on local permits and licenses.
Start a New Business in Georgia – Business Registration
Check out the Georgia Secretary of State's First Stop Business Information Center.
Tax Registration
Visit the Business Taxes page on the Georgia Department of Revenue website.
Start a New Business in Georgia – Virtual Offices
Alliance offers a few city choices for Georgia virtual business offices. They are: Alpharetta, Atlanta, Duluth, and Peachtree Corners.
However, all of these locations are right near Atlanta. For Columbus, Georgia (on the Alabama border) try Opus. And for Savannah (on the Atlantic coast), be sure to go to Regus.
In addition to many of the cities above, DaVinci has Georgia virtual business space in College Park, Cumming, Marietta, Milton, Norcross, Roswell, Snellville, and Woodstock. For other areas of the state, business owners might want to ask local entrepreneurs. Or they might talk to computer user groups to try to find help in this area.
Start a New Business in Georgia – Build Business Credit
Small business credit is credit in a company's name. It doesn't connect to an owner's consumer credit, not even when the owner is a sole proprietor and the solitary employee of the company.
As such, an entrepreneur's business and consumer credit scores can be very different.
The Advantages
Given that company credit is separate from individual, it helps to secure a business owner's personal assets, in case of court action or business insolvency.
Also, with two distinct credit scores, an entrepreneur can get two separate cards from the same vendor. This effectively doubles purchasing power.
Another advantage is that even startups can do this. Visiting a bank for a business loan can be a formula for disappointment. But building company credit, when done correctly, is a plan for success.
Individual credit scores rely on payments but also additional factors like credit utilization percentages.
But for business credit, the scores actually just hinge on whether a business pays its invoices promptly.

Learn more here and get started toward building business credit attached to your company's EIN and not your SSN.
The Process
Establishing company credit is a process, and it does not occur automatically. A company must proactively work to develop company credit.
Having said that, it can be done readily and quickly, and it is much quicker than developing personal credit scores.
Merchants are a big component of this process.
Performing the steps out of order will lead to repetitive denials. Nobody can start at the top with company credit. For example, you can't start with retail or cash credit from your bank. If you do, you'll get a rejection 100% of the time.
Company Fundability
A company needs to be fundable to credit issuers and merchants.
Therefore, a business will need a professional-looking website and e-mail address. And it needs to have site hosting bought from a company such as GoDaddy.
Plus, business telephone and fax numbers ought to have a listing on ListYourself.net.
Also, the business phone number should be toll-free (800 exchange or the equivalent).
A small business will also need a bank account dedicated strictly to it, and it must have all of the licenses necessary for running.

Learn more here and get started toward building business credit attached to your company's EIN and not your SSN.
Working with the IRS
Visit the IRS website and acquire an EIN for the company. They're totally free. Pick a business entity such as corporation, LLC, etc.
A business can get started as a sole proprietor. But they will probably want to switch to a kind of corporation or an LLC.
This is in order to decrease risk. And it will optimize tax benefits.
A business entity will matter when it pertains to taxes and liability in the event of a lawsuit. A sole proprietorship means the entrepreneur is it when it comes to liability and tax obligations. No one else is responsible.
Sole Proprietors Take Note
If you run a company as a sole proprietor, then at the very least be sure to file for a DBA. This is 'doing business as' status.
If you do not, then your personal name is the same as the business name. As a result, you can find yourself being directly responsible for all business financial obligations.
Additionally, per the IRS, with this arrangement there is a 1 in 7 probability of an IRS audit. There is a 1 in 50 probability for corporations! Prevent confusion and substantially lower the chances of an Internal Revenue Service audit as well.
Setting off the Business Credit Reporting Process
Start at the D&B website and get a cost-free D-U-N-S number. A D-U-N-S number is how D&B gets a small business into their system, to generate a PAYDEX score. If there is no D-U-N-S number, then there is no record and no PAYDEX score.
Once in D&B's system, search Equifax and Experian's websites for the small business. You can do this at www.creditsuite.com/reports. If there is a record with them, check it for correctness and completeness. If there are no records with them, go to the next step in the process.
This way, Experian and Equifax will have activity to report on.
Vendor Credit
First, you should establish trade lines that report. This is also called vendor credit. Then you'll have an established credit profile, and you'll get a business credit score.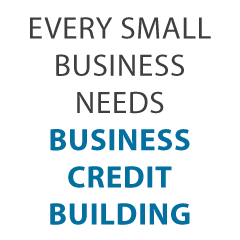 And with an established business credit profile and score you can begin to get retail and cash credit.
These varieties of accounts often tend to be for the things bought all the time, like marketing materials, shipping boxes, outdoor work wear, ink and toner, and office furniture.
But first of all, what is trade credit? These trade lines are credit issuers who will give you initial credit when you have none now. Terms are ordinarily Net 30, versus revolving.
Therefore, if you get an approval for $1,000 in vendor credit and use all of it, you must pay that money back in a set term. Such as within 30 days on a Net 30 account.
Details
Net 30 accounts must be paid in full within 30 days. 60 accounts have to be paid completely within 60 days. Unlike with revolving accounts, you have a set time when you must pay back what you borrowed or the credit you used.
To kick off your business credit profile the right way, you need to get approval for vendor accounts that report to the business credit reporting agencies. Once that's done, you can then make use of the credit.
Then pay back what you used, and the account is on report to Dun & Bradstreet, Experian, or Equifax.
Vendor Credit – It Makes Sense
Not every vendor can help like true starter credit can. These are merchants that will grant an approval with very little effort. You also want them to be reporting to one or more of the big three CRAs: Dun & Bradstreet, Equifax, and Experian.
You want 3 of these to move onto the next step, which is retail credit.
Retail Credit
Once there are 3 or more vendor trade accounts reporting to at least one of the CRAs, then progress to retail credit. These are companies such as Office Depot and Staples.
Fleet Credit
Are there more accounts reporting? Then progress to fleet credit. These are service providers like BP and Conoco. Use this credit to purchase fuel, and to fix, and maintain vehicles. Only use your SSN and date of birth on these applications for verification purposes. For credit checks and guarantees, make sure to apply using the business's EIN.

Learn more here and get started toward building business credit attached to your company's EIN and not your SSN.
Cash Credit
Have you been responsibly managing the credit you've up to this point? Then progress to more universal cash credit. These are service providers like Visa and MasterCard. Just use your SSN and date of birth on these applications for verification purposes. For credit checks and guarantees, use your EIN instead.
These are commonly MasterCard credit cards. If you have more trade accounts reporting, then these are attainable.
Start a New Business in Georgia –Monitor Your Business Credit
Know what is happening with your credit. Make sure it is being reported and fix any errors as soon as possible. Get in the habit of checking credit reports. And dig into the specifics, not just the scores.
We can help you monitor business credit at Experian and D&B for 90% less than it would cost you at the CRAs.
Update Your Data
Update the information if there are inaccuracies or the info is incomplete.
Start a New Business in Georgia –Fix Your Business Credit
So, what's all this monitoring for? It's to contest any errors in your records. Mistakes in your credit report(s) can be corrected. But the CRAs typically want you to dispute in a particular way.
Disputes
Disputing credit report mistakes usually means you send a paper letter with copies of any evidence of payment with it. These are documents like receipts and cancelled checks. Never send the original copies. Always send copies and retain the original copies.
Fixing credit report mistakes also means you specifically spell out any charges you challenge. Make your dispute letter as understandable as possible. Be specific about the issues with your report. Use certified mail so that you will have proof that you mailed in your dispute.
Start a New Business in Georgia –A Word about Building Business Credit
Always use credit smartly! Never borrow beyond what you can pay off. Keep track of balances and deadlines for payments. Paying off in a timely manner and in full will do more to elevate business credit scores than just about anything else.
Establishing small business credit pays. Excellent business credit scores help a company get loans. Your lending institution knows the company can pay its financial obligations. They understand the business is bona fide.
The business's EIN connects to high scores and lending institutions won't feel the need to demand a personal guarantee.
Business credit is an asset which can help your small business for many years to come.
Learn more here and get started toward opening a new business in Georgia.
Want to start a new business someplace else in America? Then check out our handy guide to starting a business in any state in the country.
Georgia's Response to COVID-19
This is what Georgia is doing about COVID-19. On March 16, Governor Brian Kemp declared a public health state of emergency. Georgia has qualified for SBA Economic Injury Disaster Loans.
On April 6, Senator Kelly Loeffler explained the CARES Act's provisions with reference to Georgia.
As of April 12, the Georgia State Labor Department updates their system to distribute federal unemployment funds.