Starting a Business in Kansas
A new business in Kansas can be yours. Have you been wondering: exactly how do I start a business in Kansas? And more importantly, can I do so no matter what the economic conditions are? Can I start a new business in Kansas during a recession?
New Business in Kansas: Pros and Cons
Business Insider puts Kansas is in the middle set of ten states to start a new business in (according to a 2016 article). And this is for the whole country.  It has the nation's sixth lowest cost of living. But other areas are problematic. There is a low density of startup businesses and a middle of the road rate of new entrepreneurs.
The Kansas business community has gotten benefits from regulatory and tax reform. This includes enhanced expensing. It allows businesses to deduct a higher percentage of the cost of an investment.
Plus there is a "Rural Opportunity Zones" initiative. It provides a state income tax waiver for anyone relocating from out of state to a county with a major population decline.
Recent Surge
In 2019, Dollar Sprout upped Kansas to number nine in the country. But keep in mind, the methods used by Business Insider and Dollar Sprout differ.
Why the sudden leap? It has both a low cost of living and a higher than average annual income for sole proprietorships. Plus lower wages and a not-so-low unemployment level mean there are opportunities to hire Kansans. Strong economic growth rounds out the positive picture.
New Business in Kansas: Initiatives
The "Kansas Opportunity Initiatives Fund" is based on performance. It provides financial assistance for the expansion of an existing Kansas business. It also provides financing for the relocation of an employer to the state.
HPIP
Similarly, the "High Performance Incentive Program" (HPIP) provides tax incentives to employers who pay above average wages. They must also demonstrate a strong commitment to developing 21st century skills for their workers. HPIP helps Kansas stay competitive in the global marketplace. While at the same time it promotes investment in facilities, technology, and employee training.
HPIP offers employers four potential benefits. These include a 10% income tax credit for capital investment which exceeds $50,000 at a company's facility. There is a carry forward for the next 10 years that the facility qualifies and continues to qualify for HPIP. Kansas also offers a sales tax exemption. It can be used in conjunction with a company's capital investment credit.
Here is exactly how to start a new business in Kansas.
Start a New Business in Kansas – Kansas New Business Secretary of State Requirements
Register a Business Name
The Kansas Business Center says it is not necessary to reserve a particular desired business name.
A Kansas corporation must have a unique name. Before a business owner will be able to incorporate, they will need to be sure the name they want is not already in use by another corporation.
They can find out if a name is already in use by another corporation through a thorough search of online records and other databases. They can check name availability in Kansas on the official website for the Kansas Business Center on the official state of Kansas government website.
It is not obligatory to reserve the corporate name that a business owner has decided on. However, if they would still like to reserve a name, they can submit an application to the Kansas Secretary of State. Download the application online at Reserve a Kansas Corporate Name on the Kansas Secretary of State website. They may also apply online. The fee is $35.00. The reservation will then be effective for a period of 120 days.
Business Permits and Licenses
The Kansas Business Center keeps details about licenses and permits. The state
Local Permits and Licenses
A map provides links to Kansas county clerk information.
Start a New Business in Kansas – Business Registration
Documents are at the Kansas Secretary of State. File them electronically with the Kansas Business Center.
Tax Registration
Read through the Kansas Business Tax Application first. Then fill out an application through the Kansas Department of Revenue.
Start a New Business in Kansas – Virtual Offices
Alliance Virtual Offices offers Kansas virtual business office space in Overland Park and Topeka
You can also get Kansas City, Overland Park, Leawood, or Wichita virtual office space at Regus.
For Lenexa or Topeka virtual office space, go to DaVinci.
For other areas of the state, business owners might want to ask local business owners. Or they could try computer user groups to get help in this area. Other options might include searching for virtual business office space in nearby states. These are Colorado, Iowa, Missouri, Nebraska, and Oklahoma.
Start a New Business in Kansas – Build Business Credit
Company credit is credit in a company's name. It doesn't connect to an entrepreneur's individual credit, not even when the owner is a sole proprietor and the solitary employee of the company.
Thus, an entrepreneur's business and individual credit scores can be very different.
The Benefits
Since business credit is distinct from personal, it helps to protect an entrepreneur's personal assets, in case of a lawsuit or bankruptcy.
Also, with two separate credit scores, a small business owner can get two separate cards from the same vendor. This effectively doubles buying power.
Another benefit is that even startups can do this. Going to a bank for a business loan can be a formula for disappointment. But building company credit, when done correctly, is a plan for success.
Consumer credit scores depend on payments but also additional components like credit use percentages.
But for small business credit, the scores truly only depend on whether a business pays its debts on time.
Company Fundability™
A small business needs to be Fundable to loan providers and merchants.
That's why, a business will need a professional-looking web site and email address. And it needs to have website hosting from a hosting vendor.
In addition, the company telephone number should be toll-free (800 exchange or comparable).
A business will also need a bank account devoted purely to it, and it must have every one of the licenses necessary for operating.
Start a New Business in Kansas – Dealing with the Internal Revenue Service
Visit the IRS web site and get an EIN for the business. They're free. Choose a business entity like corporation, LLC, etc.
A business can get started as a sole proprietor. But they should change to a type of corporation or an LLC.
This is in order to limit risk. And it will optimize tax benefits.
A business entity will matter when it pertains to tax obligations and liability in case of a lawsuit. A sole proprietorship means the entrepreneur is it when it comes to liability and tax obligations. No one else is responsible.
Starting Off the Business Credit Reporting Process
Begin at the D&B web site and get a free D-U-N-S number. A D-U-N-S number is how D&B gets a small business into their system, to generate a PAYDEX score. If there is no D-U-N-S number, then there is no record and no PAYDEX score.
Once in D&B's system, search Equifax and Experian's sites for the small business. You can do this at www.creditsuite.com/reports. If there is a record with them, check it for accuracy and completeness. If there are no records with them, go to the next step in the process.
In this way, Experian and Equifax will have something to report on.
Vendor Credit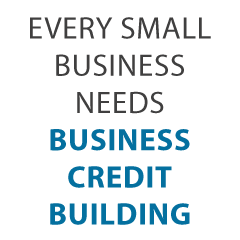 First you should build trade lines that report. This is also called vendor credit. Then you'll have an established credit profile, and you'll get a business credit score.
And with an established business credit profile and score you can start to get more credit.
These kinds of accounts have the tendency to be for the things bought all the time, like marketing materials, ink and toner, and office furniture.
But to start with, what is trade credit? These trade lines are credit issuers who will give you preliminary credit when you have none now. Terms are generally Net 30, versus revolving.
Hence, if you get approval for $1,000 in vendor credit and use all of it, you need to pay that money back in a set term, like within 30 days on a Net 30 account.
You want 3 of these to move onto the next step.
Start a New Business in Kansas –Monitor Your Business Credit
Know what is happening with your credit. Make sure it is being reported and attend to any errors ASAP. Get in the practice of checking credit reports and digging into the specifics, and not just the scores.
We can help you monitor business credit at Experian, Equifax, and D&B for considerably less.
Update Your Records
Update the information if there are mistakes or the info is incomplete.
Fix Your Business Credit
So, what's all this monitoring for? It's to dispute any inaccuracies in your records. Errors in your credit report(s) can be taken care of. But the CRAs usually want you to dispute in a particular way. Disputing credit report mistakes typically means you precisely detail any charges you contest.
Start a New Business in Kansas – A Word about Building Business Credit
Always use credit sensibly! Don't borrow more than what you can pay off. Keep track of balances and deadlines for payments. Paying in a timely manner and completely will do more to boost business credit scores than virtually anything else.
Growing business credit pays. Great business credit scores help a company get loans. Your loan provider knows the company can pay its debts. They understand the small business is bona fide.
The small business's EIN connects to high scores and lending institutions won't feel the need to ask for a personal guarantee.
Business credit is an asset which can help your company for many years to come.
Learn more here and get started toward opening a new business in Kansas.
Want to start a new business someplace else in America? Then check out our handy guide to starting a business in any state in the country.
Kansas's Response to COVID-19
This is what Kansas is doing about the coronavirus. On March 12, Governor Laura Kelly declared a state of emergency. The Governor has also temporarily prohibited utility and internet disconnects.
On April 12, TV station KAKE provided detailed information on the CARES Act for Jayhawks.