Starting a Business in Maryland
A new business in Maryland is in reach. Have you been wondering: just how do I start a business in Maryland? And more importantly, can I do so no matter what the economic conditions are? Can I start a new business in Maryland during a recession?
New Business in Maryland: Pros and Cons
Business Insider named Maryland the sixth worst state to start a new business in, per a 2016 article. And this is for the whole nation. The state has a small percentage of workers available for new businesses. However, a smart business owner can potentially get around that by recruiting employees from neighboring Delaware and Virginia.
There is also a high cost of living. Plus, this state has more business deaths than business births. It has the third worst business survival score.
Recent Changes
In 2018, Forbes names Maryland number 27. And in 2022, CNBC agrees, also putting Maryland at number 27.
Forbes praises Maryland for its great labor supply. Quality of life and economic climate are around average. Growth prospects, business costs, and regulatory environment are all worse than average.
CNBC says Maryland is #10 for workforce and #13 for access to capital.. And it's #14 for technology & innovation. But its grade is brought down by 44s for both cost of living and cost of doing business. Nearby DC has, obviously, influenced prices.
Only you can decide if it's worth it to start a new business in Maryland.
New Business in Maryland: Programs
"Maryland Made Easy" is a program which focuses on how state agencies can streamline and simplify regulations to make doing business in the state easier. The "One Maryland Tax Credit" allows businesses which invest in an economic development project in a qualified county to qualify for tax credits worth up to $5 million.
Plus there the program offers startup business tax credits worth up to $500,000. The program covers qualifying costs incurred with the acquisition, construction, installation, rehabilitation, and equipping of eligible projects.
Invest Maryland
The "Invest Maryland" program is a tax credit program meant to fuel investment by offering insurance companies the chance to advance pay taxes at a discounted rate. This is in exchange for an investment in the program.
A minimum of 50% of these investments goes to the Maryland Venture Fund, for the purpose of supplying capital to businesses to create jobs and advance innovation.
Start-up Tax Credit Program
The state also offers a "Start-up Tax Credit" program.
This program is meant to help cover the expense of moving a business from outside Maryland. Eligible costs include office equipment, telecommunications, and furnishings. The credit goes up to $500,000 of eligible costs or $10,000 times the number of new positions created, whichever ends up being less.
Start a New Business in Maryland – Maryland Top Industries
Per the Maryland government website, the top industries in that state are IT and cybersecurity, and bio health and life sciences. More top Maryland industries are advanced manufacturing, aerospace and defense. Even more top industries in Maryland are military and federal, and energy and sustainability. Other Maryland top industries are financial services and agribusiness.
Smart business owners can take find new opportunities and advantage of the bigger industries in the area by offering goods or services such as data and other computer work. More options are trucking for any industry. Another choice is data security for computer systems.
Here is exactly how to start business in Maryland.
Start a New Business in Maryland – Maryland New Business Secretary of State Requirements
Register a Business Name
Register a business name online at the Maryland Business Express website.
A Maryland corporation must have a unique name. Before a business owner can file Articles of Incorporation, they should check to be sure that the name that they have chosen for the corporation is not already being used by another corporation.
Search online records and government databases to see if a name is available.
Also request information from the State Department of Assessments and Taxation, Trade Name Search and Registration, 301 West Preston Street, Baltimore MD 21201 or call the office at (410) 767-1340.
To reserve the corporate name until ready to file Articles of Incorporation, contact the State Department of Assessments and Taxation, Trade Name Search and Registration, 301 West Preston Street, Baltimore MD 21201 or call the office at (410) 767-1340.
Business Permits and Licenses
Go to the Maryland Department of Commerce for information about licenses. You can also go to the Maryland Department of Labor, Licensing and Regulation.
Local Permits and Licenses
The Department of Commerce has a list of the licenses and permits as required by different counties (but not cities) in Maryland.
Start a New Business in Maryland – Business Registration
Try the Maryland Business Express online system. Forms are also available through the Department of Assessments and Taxation.
Tax Registration
You can sign up with the Comptroller of Maryland.
Start a New Business in Maryland – Virtual Offices
Alliance offers Maryland virtual business addresses in the following cities:
Washington, DC area
Alliance Virtual Offices has office space in Beltsville, Bethesda, and Chevy Chase. Also they have space in slightly more remote Lanham and Riverdale.
Outside the Beltway
Alliance has space in Columbia, which is in the Baltimore area. It also has space in Annapolis, Frederick, and Laurel.
DaVinci adds Maryland virtual business space in Baltimore, Edgewater, and Gaithersburg. They also have space in Hagerstown, Rockville, Takoma Park, and Waldorf.
For other areas of the state, try Regus.
Or business owners might want to seek out local business owners. Or they can try computer user groups to find help in this area. Other options may include seeking virtual business office space in nearby states. These are Delaware, Pennsylvania, Virginia, and West Virginia.
Start a New Business in Maryland – Establish Business Credit
Company credit is credit in a business's name. It doesn't connect to an owner's consumer credit, not even when the owner is a sole proprietor and the sole employee of the company.
Accordingly, a business owner's business and personal credit scores can be very different.
The Benefits
Because company credit is independent from personal, it helps to protect a small business owner's personal assets, in the event of court action or business bankruptcy.
Also, with two distinct credit scores, an entrepreneur can get two different cards from the same merchant. This effectively doubles purchasing power.
Another advantage is that even new ventures can do this. Going to a bank for a business loan can be a recipe for frustration. But building small business credit, when done properly, is a plan for success.
Personal credit scores are dependent on payments but also other factors like credit usage percentages.
But for company credit, the scores actually only depend on if a small business pays its bills timely.
Start a New Business in Maryland – Company Fundability™
Establishing business credit is a process. A small business must be Fundable to lending institutions and merchants.
Therefore, a small business will need a professional-looking website and email address. And it needs to have site hosting from a supplier like GoDaddy.
Additionally, the business phone number should be toll-free (800 exchange or similar).A business will also need a bank account dedicated solely to it, and it must have all of the licenses essential for operating.
Dealing with the IRS
Visit the Internal Revenue Service web site and acquire an EIN for the company. They're free. Select a business entity such as corporation, LLC, etc.
A business can start off as a sole proprietor. But they should switch to a kind of corporation or an LLC.
This is in order to decrease risk. And it will make best use of tax benefits.
A business entity will matter when it concerns taxes and liability in the event of a lawsuit. A sole proprietorship means the entrepreneur is it when it comes to liability and taxes. Nobody else is responsible. And don't look at a DBA filing as being anything more than a steppingstone to incorporating.
Beginning the Business Credit Reporting Process
Begin at the D&B web site and get a free D-U-N-S number. A D-U-N-S number is how D&B gets a business in their system, to produce a PAYDEX score. If there is no D-U-N-S number, then there is no record and no PAYDEX score.
Once in D&B's system, search Equifax and Experian's sites for the business. You can do this at www.creditsuite.com/reports. If there is a record with them, check it for correctness and completeness. If there are no records with them, go to the next step in the process.
By doing this, Experian and Equifax will have activity to report on.
Vendor Credit
First you ought to build trade lines that report. This is also known as vendor credit. Then you'll have an established credit profile, and you'll get a business credit score.
And with an established business credit profile and score you can begin to get retail and cash credit.
These varieties of accounts have the tendency to be for the things bought all the time. Like marketing materials, shipping boxes, and office furniture.
But to start with, what is trade credit? These trade lines are credit issuers who will give you initial credit when you have none now. Terms are commonly Net 30, instead of revolving.
Therefore, if you get approval for $1,000 in vendor credit and use all of it, you must pay that money back in a set term, like within 30 days on a Net 30 account.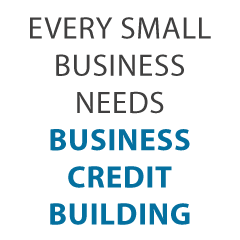 Vendor Credit – It Makes Sense
Not every vendor can help in the same way true starter credit can. These are vendors that will grant an approval with negligible effort. You also need them to be reporting to one or more of the big three CRAs: Dun & Bradstreet, Equifax, and Experian.
You want 3 of these to move onto the next step.
Bank Credit Cards
Have you been sensibly handling the credit you've gotten up to this point? Then progress to more universal bank credit cards.
These are normally MasterCard credit cards. If you have more trade accounts reporting, then these are feasible.
Start a New Business in Maryland – Monitor Your Business Credit
Know what is happening with your credit. Make sure it is being reported and fix any errors as soon as possible. Get in the habit of checking credit reports. Dig into the particulars, not just the scores.
We can help you keep track of your business credit at major CRAs for considerably less.
Update Your Records
Update the information if there are mistakes or the info is incomplete.
Start a New Business in Maryland – Fix Your Business Credit
So, what's all this monitoring for? It's to challenge any errors in your records. Mistakes in your credit report(s) can be fixed. But the CRAs often want you to dispute in a particular way. Disputing credit report mistakes normally means you precisely itemize any charges you dispute.
A Word about Building Business Credit
Always use credit responsibly! Never borrow more than what you can pay off. Keep an eye on balances and deadlines for payments. Paying off on time and completely will do more to elevate business credit scores than virtually anything else.
Establishing business credit pays off. Good business credit scores help a business get loans. Your lender knows the company can pay its debts. They understand the small business is authentic.
The company's EIN links to high scores and loan providers won't feel the need to require a personal guarantee.
Business credit is an asset which can help your small business in years to come.
Learn more here and get started toward opening a new business in Maryland.
Want to start a new business someplace else in America? Then check out our handy guide to starting a business in any state in the country.
Maryland's Response to COVID-19
On March 5, Governor Larry Hogan declared a state of emergency and a catastrophic health emergency. On March 17, the Governor announced significant reductions in local and commuter bus, and light rail services to slow the spread of the virus.
If an employee receives unemployment benefits as a result of a coronavirus-related business shutdown, the employer's unemployment taxes could increase. Unemployment benefits are proportionately charged to each employer based on weeks worked and wages earned in each individual's base period.
Contributory employers could see an increase in their tax rate, which would result in higher taxes.But reimbursing employers will not be charged dollar for dollar for benefits paid.  This should help avoid higher than expected unemployment costs.
There was a March 23, 2020 update, where Governor Larry Hogan ordered all nonessential businesses to briefly close. Also, Governor Hogan issued an order on April 29 which exempts CARES Act payments from garnishment for debts.