Everyone is struggling right now. COVID-19 knocked the global economy for a loop. Have you taken advantage of all the unique funding options available for relief related to the coronavirus pandemic? Did you apply for the Paycheck Protection Plan? If you did, and you find yourself still struggling, it may be time to check into alternative business loans.
How to Get Alternative Business Loans and Can They Work for You?
If you have exhausted all of the state and federal funding available, or you are having trouble getting access, it may be time to consider alternative business loans to help bridge or fill the funding gaps left by the shattered economy.
What Are Alternative Business Loans?
These are loans that come through private lenders rather than banks. The majority of them operate online. For the most part, the process is fast and easy. You fill out an application online, and typically you receive approval in as little as a few hours. Once approved, funds are often in your account in a day or two.
The quick, simple process makes alternative business loans an attractive option. This is especially true if you have trouble qualifying for loans from traditional lenders due to credit score issues or lack of collateral.
Why Is It Easier to Qualify for Alternative Business Loans?
If these alternative loans are so fast and easy, why even bother with traditional loans? Well, interest rates and terms are considerably less favorable than those you may get with a traditional lender.
That's because, to extend credit to those that do not qualify with a bank, alternative lenders have to relax a little on their eligibility requirements. As a result, they take on a lot more risk with their loans. To make up for it, they increase interest rates and loan terms. It helps to balance things out.
Alternative Business Loans: How Do I Start? Where Do I Start?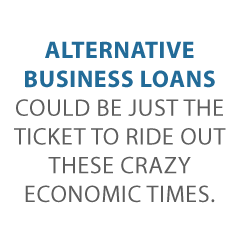 Once you know you are in a position to need alternative business loans, you can start shopping around. How? Research is key. Thorough research is important to make sure you find the best fit for your business.
While many alternative business loans have similar requirements, there are some vastly different and innovative platforms out there as well. Read all the reviews, but don't forget to look at the actual lender websites too. Only you know what your situation is. You are the one that knows your credit score, how long you have been in business, and how much debt you can handle.
Start by figuring out eligibility. You may not be able to anticipate what every single lender will want to see. However, there are a few things that most lenders will want to know before approving a loan. Things such as credit score, annual revenue, and length of time in business are pretty common.
If you know your score and what your annual revenue is before you begin looking, you will be able to weed out the ones you do not qualify for from the start. There are so many that you will definitely see the need to do this. Here are just a few as an example.
Kick Off Your Alternative Business Loan Search with These Lenders
If you start with a search for an online lender, Fundbox is going to be one of the first to pop up. It is a line of credit rather than a loan, but it is a great funding option because there is no minimum credit score requirement.
They offer an automated process that is super-fast. Repayments are automatic, meaning they draft them electronically, and they occur on a weekly basis. One thing to remember is that you could have a repayment as high as 5 to 7% of the amount you have drawn currently, as the repayment period is comparatively short. This means you need to be sure you have enough funds in whatever account you connect them to so that it can cover your payment each week.
BlueVine
You will find with most any online lender, they often offer options more similar to invoice factoring and lines of credit. This is because those options present fewer risks than straight term loans. BlueVine is no different.
Upstart
Upstart is an online lender that uses a completely innovative platform for loans. The company itself questions the ability of financial information and FICO on their own to truly determine the risk of lending to a specific borrower. They choose to use a combination of artificial intelligence (AI) and machine learning to gather alternative data instead. They then use this data to help them make credit decisions.
This alternative data can include such things as mobile phone bills, rent, deposits, withdrawals, and even other information less directly tied to finances. The software they use learns and improves on its own. You can use their online quote tool to play with different amounts and terms to see the various interest rate possibilities.
Upstart's innovative platform makes them one to research for sure.
Fora Financial
Founded in 2008 by college roommates, online lender Fora Financial now funds more than $1.3 million in working capital around the United States. There is no minimum credit score, and there is an early repayment discount if you qualify.
OnDeck
Obtaining financing from OnDeck is quick and easy. First, you apply online and receive your decision once application processing is complete. If you receive approval, your loan funds will go directly to your bank account. The minimum loan amount is $5,000 and the maximum is $500,000..
Lending Club
Popular online lender Lending Club offers term loans. You can get a quote in less than 5 minutes. Funds are available in as little as 48 hours if approved. There are no prepayment penalties.
Kiva
Kiva is an online lender that is a little different. For example, the interest rate is 0%, so even though you have to pay it back it is absolutely free money. They don't even check your credit. However, there is one catch. You have to get at least 5 family members or friends to throw some money in the pot as well. In addition, you have to pitch in a $25 loan to another business on the platform.
Accion
If your personal credit is okay, Accion may be a good fit for small business startup loans. It is a microlender, a nonprofit, that offers installment loans to both startups and already existing businesses.
Credibly
Credibly is also a good option for business loans if you are already generating some revenue. They offer short term loans for both business expansion and working capital. You must be in business for at least 6 months to qualify, and they will approve loans to those with credit scores as low as 500.
Credit Line Hybrid: Another Great Alternative
A credit line hybrid is basically revolving, unsecured financing. It allows you to fund your business without putting up collateral, and you only pay back what you use.
It's not as hard to qualify as you may think. You do need good personal credit. That is, your personal credit score should be at least 685. In addition, you can't have any liens, judgments, bankruptcies or late payments. Also, in the past 6 months, you should have less than 5 credit inquiries, and you should have less than a 45% balance on all business and personal credit cards. It's also preferred that you have established business credit as well as personal credit.
If you do not meet all of the requirements, all is not lost. You can take on a credit partner that meets each of these requirements. Many business owners work with a friend or relative to fund their business. If a relative or a friend meets all of these requirements, they can partner with you to allow you to tap into their credit to access funding.
Alternative are out there. You just have to find the ones that are best for you and your business!