Note: we updated our BlueVine review in April of 2020.
Online Lender Reviews: The BlueVine Review
Get winning funding! We hope our BlueVine review will help you make the smartest possible business decision you can make.
BlueVine is one of several lenders in the online space. They offer Invoice Factoring and Lines of Credit. They confirmed the information we had found on them. We look at the specifics and drill down into the details.
BlueVine Review: Background
BlueVine is online here: https://www.bluevine.com. Their physical address is:
401 Warren Street #300
Redwood City, California 94063.
You can telephone them at: (888) 216-9619. Their contact page is here: https://www.bluevine.com/contact-us/. They have been in business since 2013.
Invoice Factoring
You don't have to factor everything and can fund only the invoices you select. There are no reserves or minimums, and you can use factoring as long as you need to. Their system syncs with your accounting software and they allow for a connection with QuickBooks Online, and they also work directly with FreshBooks and Xero. Rebates are distributed on the same day.
Details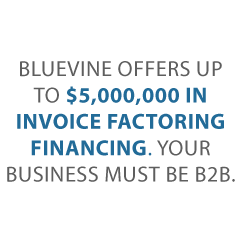 They offer up to $5,000,000 in invoice factoring financing. Your business must be B2B.
Your business must have revenues of $10,000 or more per month. Also, you need to be in business for three or more months. And you need to have a FICO score of 530 or better.
NOTE: BlueVine will penalize you for deadbeat clients. So if they don't pay their invoice, you are responsible for paying
Fees
Pay rates as low as 0.25% per week.
Lines of Credit
They offer a true revolving line of credit for up to $250,000. You get 24 hour approval. Your business must have revenues of $10,000 or more per month. You have to be in business for at least 6 months. And you must have a FICO score of 600 or better.
Fees
Their interest is as low as 4.8%. There are no maintenance fees and no unused credit fees.
Term Loans
Get term loans for up to $250,000. You must be in business for six months or more. And you need to have a FICO score of 600 or better. You must have at least $10,000 in monthly revenue.
Fees
Their interest is as low as 4.8%.
Factors Considered for Financing Approval
These are: strength of customers and business cash flow. But they are also personal credit history (less important); and business credit history (which is also less important).
Information You Need to Provide
BlueVine is looking for general business information like EIN and address. They also ask for information about the business owner applying. And this will include your Social Security number. You must provide either your three most recent bank statements or read-only access into your business bank account.
Secured or Unsecured?
They do not provide unsecured financing. Securing comes from a general lien on your business assets, as backed with a personal guarantee. Personal assets cannot be used as collateral.
BlueVine Review: Advantages
One advantage is how easy invoice factoring is with BlueVine. Plus their interest rate is fairly low. Furthermore, your personal credit does not have to be stellar, and you can get invoice factoring with a 530 or better personal FICO score.
BlueVine Review: Disadvantages
One disadvantage is that with invoice factoring you will suffer a penalty if your clients do not pay their invoices. Another disadvantage is that you can't use their services if your business is B2C (business to consumer). And you also can't use their services if you're in the medical or health care industry.

Demolish your funding problems with 27 killer ways to get cash for your business.
Alternatives to our BlueVine Review and Other Lenders
Has our BlueVine review turned you off to them? Not to worry, as there are alternatives. The best one is building business credit. But it doesn't happen overnight.
Building Business Credit
Growing small business credit is a process, and it does not happen automatically. A small business needs to actively work to build corporate credit. Nevertheless, it can be accomplished readily and quickly, and it is much more efficient than establishing consumer credit scores. Vendors are a big component of this process.
Performing the steps out of order will result in repeated rejections. Nobody can start at the top with company credit. For instance, you can't start with store or cash credit from your bank. If you do you'll be rejected 100% of the time.
Company Legitimacy
A corporation needs to be legitimate to loan providers and merchants. That's why, a corporation will need a professional-looking web site and e-mail address, with website hosting purchased from a vendor like GoDaddy. And also business phone and fax numbers need to be listed on ListYourself.net.
Likewise the business phone number should be toll-free (800 exchange or similar).
A corporation will also need a bank account dedicated solely to it, and it has to have every one of the licenses needed for operating. These licenses all must be in the precise, accurate name of the company, with the same company address and telephone numbers. Keep in mind that this means not just state licenses, but possibly also city licenses.
Dealing with the Internal Revenue Service
Visit the Internal Revenue Service website and get an EIN for the business — they're totally free. Choose a business entity such as corporation, LLC, etc. A company can start off as a sole proprietor but will probably want to switch to a type of corporation or partnership to decrease risk and make the most of tax benefits.
A business entity will matter when it involves taxes and liability in the event of a lawsuit. A sole proprietorship means the entrepreneur is it when it comes to liability and taxes. Nobody else is responsible.
If you operate a business as a sole proprietor at least file for DBA ('doing business as') status. If you do not, then your personal name is the same as the business name. Therefore, you can find yourself being personally liable for all company debts.
In addition, per the Internal Revenue Service, using this structure there is a 1 in 7 possibility of an IRS audit. There is a 1 in 50 possibility for incorporated businesses! Avoid confusion and considerably reduce the odds of an IRS audit at the same time.
Setting off the Business Credit Reporting Process
Start at the D&B web site and get a totally free DUNS number. A DUNS number is how D&B gets a corporation into their system, to generate a PAYDEX score. If there is no DUNS number, then there is no record and no PAYDEX score.
Once in D&B's system, search Equifax and Experian's websites for the company. You can do this at https://www.creditsuite.com/reports/. If there is a record with them, check it for correctness and completeness. If there are no records with them, go to the next step in the process. By doing so, Experian and Equifax will have something to report on.
Trade Lines
First you should build trade lines that report. This is also referred to as vendor credit. Then you'll have an established credit profile, and you'll get a business credit score. And with an established business credit profile and score you can begin getting revolving store and cash credit.
These kinds of accounts tend to be for the things bought all the time, like shipping boxes, outdoor work wear, ink and toner, and office furniture.
But to start with, what is trade credit? These trade lines are creditors who will give you preliminary credit when you have none now. Terms are normally Net 30, instead of revolving. So if you get an approval for $1,000 in vendor credit and use all of it, you must pay that money back in a set term, like within 30 days on a Net 30 account.
Details
Net 30 accounts must be paid in full within 30 days. 60 accounts need to be paid in full within 60 days. Unlike with revolving accounts, you have a set time when you have to pay back what you borrowed or the credit you made use of.
To begin your business credit profile the proper way, you need to get approval for vendor accounts that report to the business credit reporting bureaus. As soon as that's done, you can then make use of the credit, pay back what you used, and the account is reported to Dun & Bradstreet, Experian, or Equifax.
Not every vendor can help like true starter credit can. These are merchants that will grant an approval with very little effort. You also need them to be reporting to one or more of the big three CRAs: Dun & Bradstreet, Equifax, and Experian.
You want 3 of these to move onto the next step, which is revolving store credit.


Demolish your funding problems with 27 killer ways to get cash for your business.
Revolving Store Credit
Once there are 3 or more vendor trade accounts reporting to at least one of the CRAs, move to revolving store credit. These are service providers like Office Depot and Staples.
Fleet Credit
Are there more accounts reporting? Then progress to fleet credit. These are businesses like BP and Conoco. Use this credit to purchase fuel, and repair and take care of vehicles. Make sure to apply using the corporation's EIN.
Cash Credit
Have you been sensibly handling the credit you've up to this point? Then move to more universal cash credit. These are businesses such as Visa and MasterCard. Keep your SSN off these applications; use your EIN instead.
If you have more trade accounts reporting, then these are in reach.
Monitor Your Business Credit
Know what is happening with your credit. Make sure it is being reported and deal with any inaccuracies ASAP. Get in the practice of checking credit reports. Dig into the details, not just the scores.
We can help you monitor business credit at Experian and D&B for 90% less.
Update the relevant information if there are errors or the details is incomplete.
Challenging Inaccuracies
What's all this monitoring for? It's to challenge any problems in your records. Mistakes in your credit report(s) can be corrected. But the CRAs often want you to dispute in a particular way.
Disputing credit report inaccuracies typically means you mail a paper letter with duplicates of any proofs of payment with it. These are documents like receipts and cancelled checks. Never mail the originals. Always mail copies and keep the originals.
Disputing credit report mistakes also means you specifically spell out any charges you challenge. Make your dispute letter as crystal clear as possible. Be specific about the problems with your report. Use certified mail so that you will have proof that you mailed in your dispute.
Business Credit Can Work for You
Always use credit sensibly! Don't borrow beyond what you can pay off. Keep an eye on balances and deadlines for payments. Paying off on schedule and fully will do more to raise business credit scores than pretty much anything else.
Establishing corporate credit pays. Good business credit scores help a business get loans. Your lending institution knows the corporation can pay its debts. They know the small business is for real. The small business's EIN attaches to high scores, and creditors won't feel the need to ask for a personal guarantee.


Demolish your funding problems with 27 killer ways to get cash for your business.
BlueVine Review: Takeaways
BlueVine is a great option if your personal credit score is not so hot. Their interest rate is surprisingly low for allowing such low personal credit scores.
However, you will be the one to pay if your clients do not. So if you're going to use BlueVine, make sure you've got dependable clients. And of course if your company is in the health care or medical industries, or you are a business to consumer organization, BlueVine is utterly off the table.
A Word to the Wise about our BlueVine Review
And finally, as with every other lending program, whether online or offline, remember to read the fine print and do the math.
Go over the details with care, and decide whether this option will be good for you and your company. In addition, consider alternative financing options that go beyond lending. These include building business credit, in order to best decide how to get the money you need to help your business grow.
Today, we want to hear from our audience! Share your voice with us about your experiences with online lenders.
Summary
Reviewer
Janet Gershen-Siegel
Review Date
Reviewed Item
BlueVine
Author Rating
Product Name
BlueVine
Price
USD 0
Product Availability
Available in Stock