Do you have a retail business with cash flow issues? Need to buy inventory quickly, make payroll, or cover rent or mortgage payments? Then you need a retail business loan. 
Like any other small business, a retail business will need funding at times. A retail loan is just one possible financing option of many.
What is a Retail Business Loan?
In a lot of ways, a retail establishment is a lot like any other kind of small business. Sales can go up or down or even become nonexistent. Inflation hits them like it does everyone else. And supply chain issues are likely to hit them harder than other industries.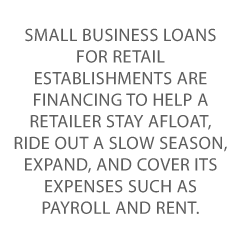 As a result, an entrepreneur in the retail space is going to need money.
Small business loans for retail establishments are financing to help a retailer stay afloat, ride out a slow season, expand, and cover expenses such as payroll and rent.
Retail business loans can come in the form of a familiar term loan, or specific financing for equipment or inventory. 
A retail firm can get a business loan or its equivalent from a bank, credit union, online lender, the SBA, and elsewhere. Financing can even come in the form of company credit cards. 
It is a lot less likely that a retail establishment would get funding via a mechanism such as grants, crowdfunding, angel investing, or venture capital. But it is not impossible, particularly if a retail establishment sells a new, game-changing product. 
Still, the owner of a retail firm should not count on those forms of financing. They are considerably more likely to get funding via retail business loans.
Retail Business Loan Types
Type 1 – Small Business Loan
We may think of a bank loan when we are first considering small business loans for a retail shop, but there are a lot of other lenders for business term loans out there.
One such example is National Funding. If your retail store can prove $250,000 in annual sales, and you have at least six months in business, then you can get a retail store business loan through them.
Unlike a traditional lender, National does not need to see a personal credit score of 750 or better. As an alternative lender, they can offer small business loans to any retail business owner with fair to excellent credit. 
Secure operating capital for daily expenses, materials, payroll, and more. A retail store can borrow from $5,000 to $500,000. National is an online lender, so you will fill out an online loan application with them. Get your retail business financing as fast as 24 hours after approval. 
More specifically, they offer several types of retail business loans: a working capital loan, a short-term loan, and equipment financing. A small business owner has more than one loan option to fit their retail store's ever-evolving funding needs. 
A shop owner can even get a short-term business loan with a bad credit score. The loan term will typically range from 6 to 18 months. Keep in mind that repayment terms are daily in many instances, rather than monthly payments. 
If you pay this small business loan back on time, then another benefit of this loan program is that it will positively affect your personal credit score. 
Type 2 – Business Line of Credit
A business line of credit is a lot like a personal or business card. That is, you are only paying interest on whatever you use. This is in contrast to a term loan, where a retail business ends up having to pay interest on the entire loan amount.
With a small business line of credit, you get a certain amount of capital to spend via the lender. You take it out for whatever purpose you like, such as to cover a cash flow shortfall. 
For example, if the line of credit is for $1,000 but you only take out $300 worth of small business capital, then you are only paying interest on that $300. And, once you have paid it back, you can tap into the full $1,000 line of credit again and again.
The only difference between it and small business credit cards is that often the line does not have the plastic.
Contrast this with a cash advance on a company card, where fees and interest are often rather high—and interest accrues immediately. 
Often, you will need to secure the line with collateral. While there are unsecured lines of credit out there, if your personal credit is less than ideal, a lender will often want some collateral to serve as an assurance that they will be paid back in some manner or another.
Your retail business can use equipment, land, or buildings as collateral, much like you can use any of these items to secure a business loan.
Type 3 – Inventory Financing
Inventory is a huge and ongoing expense for many retail businesses. Funding its acquisition is top of mind, particularly right before a busy season. And, if your business has a slow season, then you will need to concern yourself with funding inventory storage as well.
Also, a retail company will need inventory management software and it may need to pay rent on a warehouse.
With supply chain issues, a retail company will do well to be able to purchase inventory as soon as they can. But if they do not have enough capital with which to do so, they can lose out. And, in fact, they can end up losing out twice.
When the competition buys the inventory you need because you couldn't hurry up and purchase it, then they are probably going to get your customers as well. Being able to get funding to acquire inventory will prevent this from happening in the first place.
It is even possible to get an inventory line of credit. Business financing providers may be willing to offer an inventory line of credit to a retail business with variable inventory business expenses. 
If your retail business struggles to stay stocked during the busy season or keep up with customer demand, an inventory line of credit may be of help.
Like other lines of credit, you are only paying interest on the amount in use. This kind of flexibility makes this form of business funding ideal for making sure your retail company always has enough of the right kind of inventory, at the right time.
Type 4 – SBA Loan
One of the better-known types of business loans is financing from the government. As a result, the SBA is another place to go for business loans.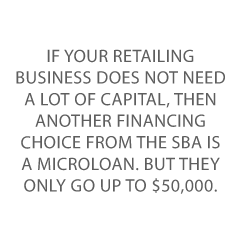 The Small Business Administration will want a great deal of documentation. You should have good business credit and good personal credit. They will also want to see a solid business plan. 
There is more than one SBA loan that can apply.
The most popular SBA loan is the 7(a). Standard uses for the 7(a) loan include: 
Long- and short-term working capital 

Revolving funds based on the value of your existing inventory and receivables 

The purchasing of equipment, machinery, furniture, fixtures, supplies, or materials 

The purchasing of real estate, including land and buildings 

Construction of a new building or renovation of an existing building 

Establishing a new retailing business or assisting in the acquisition, operation, or expansion of an existing business 

Refinancing existing retail business debt, under certain conditions
Another applicable SBA loan is the 504. Use a 504 for buying or constructing: 
Existing buildings or land 

New facilities 

Long-term machinery and equipment financing
Or use it for the improvement or modernization of: 
Land, streets, utilities, parking lots, and landscaping 

Existing facilities 
However, this kind of retail shop loan cannot  be used for: 
Working capital or inventory 

Consolidating, repaying, or refinancing debt 

Speculation or investment in rental real estate
If your retailing business does not need a lot of capital, then another financing choice from the SBA is a microloan. But they only go up to $50,000.
Type 5 – Merchant Cash Advances
A merchant cash advance (MCA) is a natural form of funding for a retailing company. This is because a merchant cash advance leverages a retailer's incoming cash flow. So it's not a good startup business loan.
Unpaid invoices are worth money! With a merchant cash advance, the invoices are from credit card sales. If you have given your suppliers or customers better terms, you may be waiting for payment for quite some time.
A newer retailer in particular might want to offer a net 30 or net 60 in order to attract vendors and build relationships. Yet the retailer's own bills need to be paid, too.
But with a merchant cash advance, you can get a substantial percentage of your unpaid invoices. And you can get this money a lot faster than you would from the customer or supplier. 
Your customers and suppliers need never know that your retailing company is working with a merchant cash advance provider.
But keep in mind that an MCA is often available only with rather high-interest rates. But if your retailing business can turn around payments quickly, you can avoid a lot of that.
An MCA is good for a retail company owner with less than ideal-personal credit because the MCA company really only cares about the reputation of the businesses you have unpaid invoices.
In this instance, it is easier for an owner to get than a personal loan or many of the other forms of business loans covered herein. Much like with equipment financing, personal credit scores are not a major factor, if at all.
How many kinds of retailing business loans can you say that about?
Requirements For A Retail Business Loan
Depending on the type of business lending, requirements may vary. With an MCA or equipment funding, your personal credit scores can be lower than the norm. However, you still have to prove you will pay back a financial institution.
With an MCA, it's all about the reputation of the companies from which you have outstanding unpaid credit card invoices. And with equipment funding, it is all about the value and age of the equipment in question.
When it comes to inventory financing, the value of the inventory is a significant factor. For aperishable inventory, this type of financing often is not available. 
Business lines of credit will need collateral much of the time—unless you don't mind paying higher interest rates. 
With a small business lending product from a bank or a credit union, in general, you will need to provide tax returns for both the business and its ownership. You will also have to have good business credit, and owners will need to have good personal credit. 
Banks and other traditional lending institutions often want to see a business plan and business bank statements as well.
With SBA loans, the requirements are rather similar to those for banks and other more traditional lenders. In addition, the SBA requires that your retail establishment is in the United States. It must also meet the SBA's standard definition of a "small business".
The SBA assigns a size standard to each NAICS code. The majority of manufacturing companies with 500 employees or fewer, and most non-manufacturing businesses with average annual receipts under $7.5 million, are going to qualify as small businesses.
Takeaways
There are numerous types of funding available for small retail businesses.
And there is also business credit, a way to pay for your expenses and improve your business's future at the same time.
If all of these choices are daunting, then you have come to the right place. Contact us today to talk about these options—and more. Credit Suite can help you make the right decision for your retailing business.