If you would rather rent out the real estate you own, rather than fix and flip it, rental property loans can help you purchase and renovate the real property.
Let us show you how to maximize your business financing by purchasing supplies from starter vendors with a business credit card can even help you build business credit for real estate while you're at it.
What is a Rental Property Loan?
A form of commercial real estate financing, a rental property loan is a first-lien mortgage loan secured by a single-family rental or SFR. That is, the real property serves as the collateral for the loan.
The purpose of the loan is to serve as a mortgage for the purchase of an income-producing property. That includes buying properties to generate rental income or to renovate and sell for a profit (more commonly called house flipping).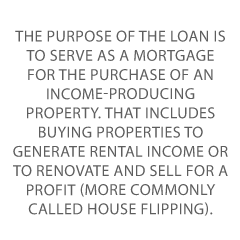 The investment properties in question will be occupied by tenants rather than owner-occupiers. To qualify, the property must be ready to rent. Often the tenant will be there for a long term. However, investment property loans also can be used for short-term rentals, such as vacation rentals.
These loans can be fixed rates or have an adjustable rate. A real estate investor will do well to go online and compare various investment property loans. A smart comparison will include not only interest rates but also payback terms and credit score requirements.
In order to secure lending from a traditional lender, you will need to put down more than 20% because no mortgage insurance will cover investment property lending.
Options for Rental Property Loans
Loan 1 – Rental Property Financing with Lima One
Lima One has rental property loans for a single home or a string of investment properties. You can also get short-term rentals through them. For individual homes, you can get $75,000 to $1 million.
For multiple investment properties, Lima's investment loan has no maximum loan amount or unit count. You can get 5, 10, or 30-year options. Get fixed rate, ARMs, full amortization, interest only, or balloon mortgages.
For short-term options, you will need a credit score of 700 or better.
Loan 2 – Home Loan with Rocket Mortgage
Rocket Mortgage is an online provider. A home loan with them could be a great option for an investment property where you will live on-site, as a live-in landlord.
You can get a conventional loan, a VA loan, an FHA loan, or a jumbo loan through them. However, you cannot use them for a construction loan or a HELOC.
This provider is best for people who have a credit score of 580 or above.
Loan 3 – Flip Loan from Stormfield Capital
At a site like Stormfield Capital, you can get a hard money loan from a private lender. Get fix 'n flip loans, commercial bridge loans, or rental property loans.
There are no FICO credit score minimums for all three types of real estate investment loans. Get same-day approval and receive the cash in two weeks. Fund up to 90% of your real estate project cost at a starting mortgage rate of 7.99%.
They are an asset-based lender and can offer a loan term irrespective of your personal credit score.
Loan 4 – Home Equity Loan from Navy Federal Credit Union
You can get a home equity loan from the Navy Federal Credit Union. They offer both a fixed-rate loan and a HELOC.
Their fixed-rate loan is for up to $500,000 with no application or origination fee. Get 5, 10, 15, or 20-year options. Borrow up to 100% of your home's equity.
With the HELOC, borrow up to 95% of your home's equity. Get up to $500,000 and a 20-year draw period with a 20-year repayment period. There is an interest-only option available.
Loan 5 – Hard Money Lenders Like New Silver
New Silver offers to fix 'n flip, rent, and ground-up (construction) financing. Each loan has a minimum of $100,000. For fix 'n flip and ground up, you must have a FICO credit score of 650 or better and at least 2 experiences in the past 3 years.
Their fix 'n flip has a minimum as-is value of $100,000. Single-family or multi-family up to 50 units is acceptable.
Their rent loan is 30-year fixed with mortgage rates starting at 7%. Minimum credit 680+. Single-family (1-4 units) only.
Their ground-up loan has a term of up to 12 months. Single-family only.
Loan 6 – VA Loan from NBKC Bank
These rental loans are partially guaranteed by the Veterans Administration. It is a $0-down mortgage option issued by private lenders. VA loans tend to have a lower interest rate than you would get with a conventional loan.
Also, you can get this type of investment loan without having to pay for mortgage insurance.
NBKC Bank offers VA loans along with home equity loans, business loans, and even fintech. You can also get bridge loans through them.
Although they are located in Kansas City, they lend throughout the United States.
Requirements for Rental Property Loans
While every lender is going to be different, these are some of the more typical requirements to expect when applying for a residential rental property loan:
A FICO credit score of at least 620
No more than a 36% debt-to-income (DTI) ratio
Down payment of 25% or more based on the property type and the borrower's credit
Interest rates and loan fees will be slightly higher to compensate the lender for their additional risk. PMI (private mortgage insurance) is not applicable when the down payment is 20% or more (LTV, or loan to value, is less than 80%).
The investor must have cash reserves to cover six months of any mortgage payment. Keep in mind that single-family, small multifamily, condos, and townhomes can all qualify for real estate investment loans.
A lender may also want to see recent proof of income for the past two years, such as W2 forms, pay stubs, or tax returns. This is to prove you have held the same job for at least two years.
The more loans you have, the higher your credit score must be and you will also need to put more money down. With Fannie Mae, for example, your first 1 – 4 loans require a 630 FICO score and 20% down. But your fifth loan to your tenth will require a 720 and 25% down.
You will not need to work with a mortgage broker and, in fact, that could be to your detriment.
Working directly with a lender, without an intermediary, means you are in closer contact with the mortgage loan officer and other decision-makers and may be able to exert more control over the process.
How to Apply for a Rental Property Loan
 Step 1 – Decide if You Truly Want to Become a Landlord
Given the eviction moratoria which happened with the coronavirus pandemic started, any would-be landlord should think twice before taking the plunge. And even without a moratorium on evictions, there are states where the laws tilt very heavily in favor of renters.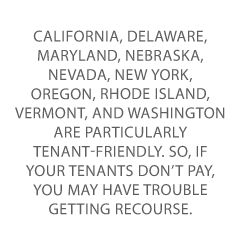 California, Delaware, Maryland, Nebraska, Nevada, New York, Oregon, Rhode Island, Vermont, and Washington are particularly tenant-friendly. So, if your tenants don't pay, you may have trouble getting recourse.
Renting real estate can be very lucrative. But there can also be many headaches to go along with the cash flow. Before committing your time, money, and FICO score, you should make sure you are ready to go all in.
Step 2 – Start With Your FICO Score
Minimum personal credit score requirements may vary, but in general, you will need to have at least a 620. But in order to get the best interest rate and terms, you should have a FICO score of 740 or higher. This is considered to be in the "very good" range.
If your score is lower, you can take the time to fix your credit and consider working with a partner with better personal credit.
Step 3 – You Will Need a Down Payment
With a conventional mortgage for your residence, you can put down as little as 3%. This depends on the specific lender and loan program.
But if your down payment is less than 20%, you will have to pay for private mortgage insurance, which protects the lender from some financial loss if you default on the loan. Yet PMI doesn't apply to mortgages on investment or rental properties.
As a result, you will most likely have to make a larger down payment of at least 15% to 20% to finance a rental property. And some properties, like multi-unit investments, will require at least 25% down.
Step 4 – Check Your Debt Income Ratio (DTI)
Your debt-to-income ratio measures the percentage of your monthly gross income going to paying off debt. To qualify for a mortgage for rental property, your DTI should ideally be 36% – 45%.
Often, borrowers can count 75% of their potential monthly rental income (as determined during appraisal) as additional qualifying income. This helps reduce their DTI. But lenders don't consider 100% of rental income in order to account for potential vacancies.
But your lender may not consider future income if you don't have a history as a landlord. If so, your ability to get a mortgage for a rental may hinge on personal income alone.
A lender will be looking at your debt service coverage ratio (DSCR), a key measure of a company's ability to repay its loans, take on new financing, and make payments.
Step 5 – Pay for an Investment Appraisal
The home appraisal process calls for an extra report detailing the average rent collected on similar homes in the area. In some cases, the income from this report can be used to help you qualify for the loan.
Appraisal fees are high. This is due to a lender's extra work to estimate both the property value and the average rent value.
If you're buying a multifamily home, expect an extra $100 to $300 above the standard $300 to $400 it costs for a regular appraisal, as every unit must be inspected and valued.
Step 6 – Get Together Your Application and Your Documentation
Apart from an application, you will likely have to provide:
Photo ID
Bank/Brokerage account statement to check liquidity (like a savings account, or company cash flow) to use in the transaction and to make payments after closing, like property taxes.
Schedule of Real Estate Owned (REO) for a breakdown of all the properties you own. It helps the lender understand your experience, the types of properties you invest in, and your rental portfolio's profitability and cash flow.
Entity documentation like articles of incorporation, operating agreements, and a certificate of good standing.
The current lease shows to rent and some data on the tenant. This can be optional.
Insurance information to show a lender-required minimum was met to cover the property in case of emergencies. Often, the lender will ask to be added as an additional insured.
Rental Property Loans Rates and Costs
Lenders must mark up investment property loan rates to cover the extra risk that the loans might default. As a result, interest rates and fees are often higher on investment property loans.
Expect them to be 100 – 400 basis points higher than on a conventional mortgage. A basis point is one-hundredth of a percent.
Therefore, if a conventional mortgage is 4.5%, an investment property loan on the same property to the same borrower would be 5.5% or more.
If an investor ends up taking out a hard money loan, the interest rate can be significantly higher.
Appraisals will also cost more than a conventional mortgage, often $300 – $400 more.
The more property loans you have, the higher your FICO score must be and you will also need to put more cash down. With Fannie Mae, for example, loans 1 – 4 require a 630 FICO score and 20% down. But loans 5 – 10 require a 720 and a 25% down payment
Closing costs will vary depending on buyer qualifications.
A FICO score of 700 or better, and being able to put down over 20% will help assure a borrower can get the best rates for a property loan.
Takeaways
Getting a loan for a rental property is possible, and an investor can help their cause by improving personal credit scores and putting as much money down as possible.
Expect to pay for an appraisal, and to have to get together several documents.
Contact us today to learn more about how Credit Suite can help you finance a rental property.