Do you know how to build your business credit? These tips can help!
We Can Show You How to Build Your Business Credit
Business credit is something that many new business owners are not familiar with. It takes some by surprise that their personal credit does not have to be the cornerstone of their business. If your business credit isn't great, this is a good thing.
However, you have to work to build your business credit just like you have to work to build personal credit.
The fact is, business credit is a completely different beast, and it takes some work to get it going. Once established, it is necessary to start building it up so that you can obtain the best possible funding opportunities for your business.
How to Build Your Business Credit: What is A Business Credit Score?
It can be helpful to understand a little about what a business credit score is and how it works before you start to try to build your own.
There are three business credit reporting agencies when it comes to personal credit which are well-known. These include Experian, TransUnion, and Equifax.
When you start talking about business credit scores, Dun & Bradstreet comes into the mix, and when it comes to this, they are the gold standard.
PAYDEX
The PAYDEX score is used businesses in a way similar to how the FICO is used for individuals. You know how that goes, right? If the score isn't in the sweet spot, you can wave your chance at funding goodbye.
Lenders use the PAYDEX Score to determine first, whether or not they will extend credit. Then, if they decide to, they use this score to make decisions about terms. What will the interest rate be? How much will they lend? What will the terms of repayment be?
The PAYDEX figures in to all of it.
Details
The score is calculated by evaluating payment performance over the past 12 months and on report as a score between 1 and 100. A score of 80+ is felt to be good.
Commercial Credit Score
The Commercial Credit Score is a prediction of the likelihood that a business will become delinquent on its bills. It on report as three separate scores. For a lender, it is almost like looking into a crystal ball.
They can get a quick picture of whether the borrower is creditworthy.
The first is the commercial credit score. It is a number from 101 to 670, and a score of 500 is felt to be good.
The commercial credit percentile is reported as a number between 0 and 100 and is a comparison of likelihood to become delinquent against other companies in the D&B database.
So it is almost like a grade on a curve. Even if you do a great job, if others are doing better you are going to be on the lower part of the curve. A good score is considered to be 80 or above.
Commercial Credit Class
The commercial credit class is a division of companies within the D&B database based on their likelihood to become delinquent. If you were in high school, this would be the cliques. Everyone wants to be in the cool kids club.
That would be Class 2, as these companies are the least likely to become delinquent. A Class 2 ranking is considered good, like not the homecoming queen, but not a nerd either.
It is important to understand what it is that composes your business credit score and what it used for before you start trying to build your business credit.
How to Build Your Business Credit: What Does it Take to Build Your Business Credit?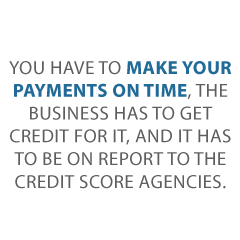 Whether you are starting from scratch or you have a bad business credit score that you are trying to improve, the steps for building, improving, and maintaining a great score are the same.
You have to make your payments on time, the business has to get credit for it, and it has to be on report to the credit score agencies.
If anything of these factors are missing, there is problem. If payments are made but they are in your personal name, then it will affect your personal credit and not your business credit.
And if payments are made but not on report to the credit reporting agencies, they do not affect your score at all.
Of course, you should make payments on time regardless, but if your goal is to improve your business credit and make it stronger, those payments have to be on report.
How to Build Your Business Credit: It's All in the Name
The business name that is. The first step to building business credit is to have all of your business utilities and phone bills switched to your business's name. These are bills that you have to pay each month, regardless, to continue operating.
All of those on time payments can go a long way toward credit building.
If you do not have an EIN, get one. Your social security number cannot be your business identification number if you are going to have a business credit score separate from your personal business score. It's won't help you build your business credit.
Get Bills in Your Company's Name
After the utilities and phone bills are in the business name, pay them all on time. Loan payments are not the only payments on report to credit agencies. So utilities and phone bills are an easy way to begin. After all, you have to have lights and a way to communicate.
Note, you may have to request that they report payments to credit agencies. Not all utility and phone companies do this automatically. They may do it directly, or they may provide you with a letter for you to send the agency yourself.
They may also decline. If this is the case, try to find a provider that will work with you. You can find a list of starter venders that will help with this here.
How to Build Your Business Credit: Don't Forget to Save
Wherever you have your business checking account, open a business savings account as well. Put some money it. It doesn't have to be a lot, but it should be as much as you can afford, and you should add to it regularly.
Most banks have several options for business savings accounts. It doesn't have to be anything fancy to serve this purpose but be sure to take a look at your options. If you can get a good interest rate or other benefits while you are at it, so much the better.
Not only is it a good idea to have funds in savings for a rainy day, but it can help build a relationship with your bank, which will in turn help with the next step.
How to Build Your Business Credit: Borrow to Build Your Business Credit
Use the savings account to secure a small business loan from your bank. Even if you do not need the money, this is a critical step if building your business credit.
By using the savings account to secure the loan, you ensure that you do not need to already have business credit to get the loan.
It doesn't have to be a traditional term loan. A line of credit will work also, but you will need to make regular draws and payments for it to serve the purpose.
Alternatives
If a traditional bank is proving to be absolutely out of the question, consider one of the excellent online or microlenders that are available now. This is a world where traditional lending institutions are not the only name in the game.
Since you have the cash, use the funds to invest in your business. Expand, take advantage of deals from wholesalers, or spruce the place up a bit.
Just be certain to make the payments on time or early. This is where the credit building power comes in. Failing to do so will be counterproductive.
How to Build Your Business Credit: Get a Business Credit Card
Do not be afraid of a business credit card. Used properly they can be amazing tools for building your business and your business credit.
Do your research. Find the card with the best interest rate, but don't stop there. Pay attention to other benefits. Many cards offer cash back incentive, travel points, and other rewards that can help you continue to grow.
If you have to start with a lower limit, higher interest rate, and no incentives or rewards, that's fine. Just make your payments faithfully and upgrade when you can. If you do your part, it won't take long.
How to Build Your Business Credit: Evaluate Your Vendors
Take a look at those vendors you do business with in the regular course of your business. Who do you buy supplies from? What wholesalers to do use regularly?
Most vendors turn delinquent payments over to collections, who in turn report to the credit agencies. On time payments are on reported directly by the vendors. But not all vendors do this automatically. Ask them if they do, and if not, ask them if they will.
If they will not, consider finding new vendors that will report your on-time payments.
How to Build Your Business Credit: Make Your Payments!!!
Do you see a pattern here? It doesn't matter if you follow every single step if you do not make your payments on time. Late payments are on report the same as on-time payments. So if you want to build your business credit, you definitely do not want late payments on the credit report.
How to Build Your Business Credit: Regularly Review Business Credit Reports
Despite the fact that most lenders use D&B for business scores, you need to obtain a copy of your business credit report annually from each agency. You will need to contact them to determine how to do this, but it is your right to have a copy of the report. There may be a fee.
Review each report carefully for errors. If you find mistakes, contact the reporting agencies to determine their policy for removal. Be sure to check for creditors that you do not have accounts with as well as erroneous late payments on the report.
Also make certain that personal accounts are not showing up on your business report.
Check for Errors in Your Business Credit Reports
If you find mistakes, you are likely going to need to request the correction in writing. You will also need to obtain a new copy in a few months to ensure the credit reporting agency made the corrections.
Ask the agency how long the corrections should take and check after that amount of time has passed.
If you do not find mistakes, then once a year is reasonable for checking reports.
It is a great thing to have business credit separate from your personal credit. Also, it means that if you already have a poor personal credit score, you can still build and run a business successfully.
It also means that problems with your business do not have to affect your personal credit score.
How to Build Your Business Credit and Conquer Your Funding Problems for Good
Building your business credit isn't hard, but it does take time and commitment. You have to put the gears in motion and then you have to keep them oiled.
You can't neglect payments, and you have to continually monitor reports to make sure they are accurate. If you do these things, you will be well on your way to building a strong business credit score.
Discover this new way to build your business credit.