Brex is a money management tool for businesses. They offer many services, but the big draw for startups and small businesses is the option for a business credit card that reports to Experian and Dun & Bradstreet, thus helping them build a strong business credit score.
Who Is Brex Really For?
They offer a number of services that can help many businesses manage their finances in a more streamlined, efficient manner. But, what types of business do they work best for? Will they work for your business?
What Brex is Meant to Do
This is a business money management system that integrates with your accounting software. It allows you to track expenses and, depending on the level of service you choose, can also help with paying bills and controlling spending. This is the purpose.
Start by opening a Brex cash account. This is not a bank, but they do have a partnership with the FDIC to ensure your funds are secure.
Everyone that opens a cash account gets a corporate card. It works similar to how a debit card does, drawing from your cash balance daily. However, unlike a debit card, they report these draws as payments on your account to Dun & Bradstreet.  In turn, your business credit score grows. This is, assuming your business is set up properly to have an established business credit profile.
Since this card is secured by the balance in your cash account, and limited to that balance, you do not have to worry about underwriting. However, since the balance in the cash account is money you already have, it cannot really be an option for funding your business. Rather, it's a way to manage the funds you already have and use them to build business credit.
Brex for Funding
There is also another option if you qualify. They do offer a more traditional card. This option offers limits that will go up to 20x higher than that of a typical corporate card. Instead of checking your personal credit score, they base approval and credit limits on business financial information, including available cash, spending patterns, and more. This means it may be more accessible to those that do not have a great credit score.
If you qualify for this card, you will have to pay your entire balance monthly.  This is a step up from paying daily as you go, like with the cash card. It's more like net financing.  You cannot carry a balance from month to month, but it is more flexible than the cash card because you are not limited to the balance in your cash account.
Both cards offer nice rewards in terms of points that you can redeem for a number of things like:
Cash back
Statement credit
Gift cards
and more
Also, you can get cards for your team members and set individual spending limits. This is a major plus for managing spending. There are even virtual card options for online spending. Brex integrates with common accounting programs including Quickbooks, Xero, NetSuite, and Gust, among others.
Since you pay the card off from month to month, there is no interest. There is also no fee for standard service, but you can upgrade to premium service at a cost. Currently premium accounts start at $49.99 and offer more expense management options.  You can use rewards points, if you have them, to pay for premium service.
Using Brex to Build Business Credit
While Brex is a fabulous option for managing business finances, it doesn't really work for business funding when it comes to startups.  Here's why. The corporate credit card that most startups qualify for only has a limit up to the amount of cash you have in your cash account.
Of course, that's not a bad thing for managing financing or building business credit. There are no fees, and your positive payment history goes to two of the big three business credit reporting agencies. It's a win-win.
However, you are only able to use funds you already have on hand. Payment is taken from your cash account daily, and you cannot carry a balance. This means that, while this card is a great tool for helping you build business credit and managing funds you already have, it doesn't actually help you get additional funds for your business.
The corporate charge card isn't a bad deal and can help with cash flow management and funding. However, it's more of a starting point if you cannot qualify for a true business credit card. It's a stepping stone to get another account reporting to business credit, so that you can qualify for more funding in the future.
Brex Online Reputation
The Better Business Bureau has Brex rated at an A+. They have 4 reviews, all which are bad, and 3 complaints over the course of 4 years they have been in business. That isn't terrible, but it is concerning that all of the bad reviews are pretty recent. One is related to a bonus offer, and the other 3 are customer service related.
You should definitely be aware, but this is a very small number of negative issues being reported for the 4 years they have been in business.
TrustPilot has many more reviews and gives them an excellent rating at 4.8 stars. The small percentage of negative reviews on TrustPilot tend to be from those who did not qualify for accounts. Those who have accounts and use the system seem to be happy.
Is Brex Right for Your Business?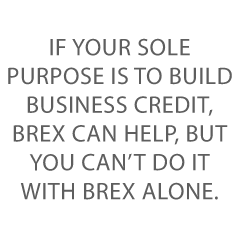 The answer to this question really depends on what you are looking to accomplish. If you need a system that helps you manage funds in real time, this is a great option.  It's also an option if you are having trouble getting approval for business credit cards.
It's worth a shot to see if you qualify for the corporate charge card.
If your sole purpose is to build business credit, Brex can help, but you can't do it with Brex alone. Your business has to be fundable, which can take time. Also, you need more accounts reporting than just one. Brex can be a part of this, but you need more.
Business credit building is a process. There are a number of steps, starting with how your business is set up and going all the way through applying for the right accounts at the right time.  A system like the Business Credit Builder can walk you through the whole thing, saving you a lot of time and frustration.