Check Out These Types of Business Credit Cards
As a small business owner it can be quite a challenge deciding what is the best of business credit card. And this is for you and your business. All of these types of business credit cards can seem a little bit confusing.
When looking for the best types of card for your business you will first want to know about the different types of business credit cards that are available today.
Business Debit Cards
A Business Debit Card is a card that works like a business checkbook. This is because the limit is the amount of funds you currently have available in your business checking account. Every time you use it to make a purchase the amount charged is deducted right from your account.
Prepaid Business Cards
A Prepaid Business Card is a convenient alternative to carrying cash and works just like a secured consumer credit card. You add funds to your account and whatever amount you add is available to use for purchases.
Secured Business Credit Cards
A Secured Business Credit Card is specifically designed for businesses with no credit or less than perfect credit history. An initial security deposit is necessary. This establishes your card's credit limit. In most cases a minimum deposit of $500 is necessary. And once you begin making purchases you will receive invoices like a regular credit card.
Unsecured Business Credit Cards
An Unsecured Business Credit Card works just like a normal, revolving, unsecured consumer credit card. Credit limits are based upon many factors depending on the issuer. And they can range from personal credit and/or business credit ratings, years in business, annual revenues and so on. These credit cards give your business the opportunity to earn incentives and rewards.
Business Charge Cards
A Business Charge Card has all the convenience of a credit card. But it's without the high price of interest. When using this card you'll have to pay your balance in full each billing cycle.
Because you can't carry a balance, a charge card doesn't have a periodic or annual percentage rate. So there is no rate for a charge card issuer to disclose.
No PG Business Credit Cards
A No PG Business Credit Card is a card you can get without a personal guarantee. This card has a link to your EIN, not your SSN. And it requires no personal credit check or guarantee for approval. Some Specifics on These Types of Business Credit Cards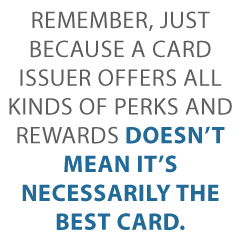 If you plan on paying your balance off each month, a card offering travel mile rewards or cash back bonuses may be the best business credit card for you. However, if you plan on maintaining an ongoing balance, a low introductory or standard APR might be a better option.
Remember, just because a card issuer offers all kinds of perks and rewards doesn't mean it's necessarily the best card. Always read the fine print so you completely understand the terms and conditions and fees associated with the card.
It's also important to note that even though business credit cards are not covered under the 2009 CARD Act certain issuers are extending the CARD Act protections to its card holders. This is just another factor to consider when applying for a business credit card for your business.
The Upshot on Types of Business Credit Cards
Click Here to see if you qualify for business credit cards for your business.