Get that Secret Sauce of Success with a Business Credit Builder Program
A business credit builder program can help you build business credit – fast!
Building business credit means that your business gets chances you never thought you would. You can get brand-new equipment, bid on realty, and cover the company payroll. And you can do so even when times are a bit lean. This is particularly helpful in holiday businesses, where you can go for calendar months with just nominal sales.
As a result of this, you should tackle developing your business credit. Improve and maintain your scores and you will have these possibilities. Do not, and either you do not get these business opportunities, or they will set you back you a lot more. And no company owner wants that.
Recognize what affects your business credit before you can make it better.
A Business Credit Builder Program: How it Really Works
Let's take a look at unsecured business credit as a way to build business credit. These will report to business CRAs, not consumer CRAs. You do not need proof of cash flow or collateral. There is no time in business requirement. Only pay on what you owe, not like a loan.
You can usually get a 0% introductory rate (normally 6 – 18 months). This is ideal for startup ventures and high-risk industries. It is how business credit builder programs work.
The General Concept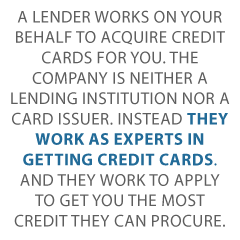 A lender works on your behalf to acquire credit cards for you. The company is neither a lending institution nor a card issuer. Instead they work as experts in getting credit cards. And they work to apply to get you the most credit they can procure.
Nearly all the time, their tactics to get you credit result in much more than you could get on your own. This is because they go for several cards for you.
Get Fantastic Credit Cards
They work to get you two varieties of cards. The first is consumer cards, which report to consumer credit reporting agencies. And the second is company credit cards, which do not report to consumer CRAs.
Details
Credit is acquired with no security, assets, or collateral. Lender has no collateral to collect in case of default. Since there is no collateral, and they don't look or care about your cash flow, the only thing that matters is your personal credit.
With a 650 you will get just personal cards. But with a 700 credit score, you will get both company and personal cards.
Advantages
Having several cards fosters competition; get your limits raised often within six months or less from first approval. You can get approvals to $150,000 per entity, such as a corporation. Most lenders do not offer or advertise this.
You will get money, and build company credit, too. Within 3 – 4 months, use your newly built company credit to get even more money.
Qualifications
Here's how to qualify for unsecured business credit. You need quality credit with no derogatory reporting. This means: no bankruptcies, ever, on the report, but you could get an approval with bankruptcy, if not on report.
Any judgments and tax liens must be repaid. You can have no credit counseling, and no late payments in the most recent 12 months. You can have no active outstanding collections in unpaid status, less than $500 may be okay. And you can have no foreclosures or late mortgage payments.
You need to have at least one bank card with a three-year history or $3,000 limit. If there is no car loan or mortgage, then you will need two bank cards.
Balance/Limit Ratios
They consider your balance/ limit ratios on existing revolving accounts. The lower the ratio, the higher the amount of the approval. A 30% ratio is a requirement. This looks at overall percentage, and individual percentage on each account.
Credit inquiries are a substantial factor tying into approval. More than six inquires in six months will be too much. Lenders do not wish to see the person is applying for new credit, especially no other revolving accounts.
Guarantors Welcome
Use a guarantor or a credit partner to increase the numbers; often these people want a piece of the business in trade for their aid. Creditors want to know you'll pay them back. Most sources will charge 9 – 12% success-based fees. Only pay the fee off what you secure.
Fees
Pay an average of 10% on the amount you borrow. Lenders on all loan programs charge fees; you certainly pay 5% or higher even on an SBA loan. But this program, like most others including the SBA, will "roll-in" your fee. So you do not pay up front. As soon as you get your credit cards, the fee is charged; this is one invoice per card.
A Word to the Wise
Responsible credit management is a must. Always use credit responsibly! Don't borrow more than you can pay off. Keep track of balances and deadlines for payments. Paying on time and in full does more to raise scores than virtually anything else.
A Business Credit Builder Program – Tips: Credit History Length Matters
This is generally the length of time your small business has been using business credit. Of course newer companies will have very short credit histories. Although there is not a lot you can particularly do about that, do not panic.
Credit reporting bureaus will also consider your personal credit score and your personal record of payments.
If your own personal credit is good, and particularly if you have a reasonably long credit history, then your personal credit can come to the rescue of your business. That is, you did not just get your first credit card fairly recently.
Naturally the opposite is also true. So if your consumer credit history is bad, then it will affect your business credit scores. And it will do so until your small business and consumer credit can be separated.
A Business Credit Builder Program – Tips: Your Payment History is Important
Tardy monthly payments will influence your company credit score for a good seven years. If you pay your small business (and personal) financial obligations off, as rapidly as possible and as fully as possible, then look at what happens! You can make a very real difference when it relates to your credit scores.
Be sure to pay on time and you will experience the benefits of punctuality.
A Business Credit Builder Program – Tips: Your Personal Credit Can Impact Your Corporate Credit
Having a bad business year? Then it could land on your consumer credit score. And just in case your firm has not been in existence for too long, it will directly have a bearing on your business credit. But you can separate the two by taking measures to unlink them.
For example, you can get credit cards just for your small business, or you can open up business checking accounts and other bank accounts (or perhaps get a business loan). So, then the credit reporting agencies will begin to treat your private and company credit separately.
Also, be sure to incorporate. Or at the very least file a DBA (doing business as) status. But never look at a DBA filing as being anything more than a steppingstone to incorporating.
You can also take care of your company's monthly bills with your business credit card or checking account. And make sure it is the company's full name on the bill and not yours.
A Business Credit Builder Program – Tips: The Credit Reporting Agencies Can Just Plain Get It Wrong
Like every organization out there, credit reporting bureaus like Equifax and Experian are only as good as their files. If your company's name resembles another's, or your name is a lot like another small business owner's, there can potentially be some oversights.
So check those reports, and your small business report at Dun & Bradstreet, PAYDEX. Stay on top of these reports and contest charges with records and crystal clear communications. Do not just allow them to stay wrong! You can repair this!
And while you're at, it you should also be checking the credit reporting agency which just handles consumer and not business credit. So, that is TransUnion. If you do not know exactly how to pull a credit report, do not stress. It's easy.
A Business Credit Builder Program: Takeaways
Once you recognize what has an effect on your business credit score, you are that much closer to creating better business credit.
Learn more here and get started toward working with a business credit builder program.