Business Credit Programs Rock!
Check out business credit programs and start to get the funding your business needs and deserves, today.
Building business credit means that your company attains opportunities you never believed you would. You can get new equipment, bid on realty, and deal with the company payroll, even when times are a bit lean. This is specifically helpful in seasonal business enterprises, where you can go for several months with simply very little sales.
Looking for effective business credit building?
Given this, you ought to focus on developing your business credit. Boost and maintain your scores and you will have these possibilities. Do not, and either you do not get these chances, or they will cost you a lot more. And no company owner wants that. You have to recognize what affects your company credit before you can make it better.
Business Credit Programs: Your Payment History is Important
Late monthly payments will affect your small business credit score for a good seven years. If you pay your business (and personal) financial obligations off, as fast as possible and as fully as possible, then you can make a very real difference when it concerns your credit scores. See to it to pay without delay and you will enjoy the benefits of promptness.
Business Credit Programs: Credit History Length Matters
This is in a nutshell the length of time your small business has been using business credit. Needless to say newer small businesses will have brief credit histories. Although there is not a lot you can specifically do about that, do not stress.
Credit reporting agencies will also consider your personal credit score and your own history of payments. If your individual credit is good, and in particular if you have a reasonably extensive credit history, then your individual credit can come to the rescue of your company. That is, you did not just get your first credit card a short while ago.
Normally the converse is also true. So if your individual credit history is bad, then it will affect your business credit scores. And it will until your small business and personal credit can be split.
https://creditsuite.wistia.com/medias/wyn20olapx?embedType=async&videoFoam=true&videoWidth=640
Business Credit Programs: Your Personal Credit Can Influence Your Business Credit
Are you having a substandard business year? Then it could land on your consumer credit score. And in the event your company has not been in existence for too long, it will directly have an effect on your company credit. However, you can unlink both by taking steps to split up them.
For example, if you get credit cards just for your firm, or you open business checking accounts and other bank accounts (or maybe get a business loan), then the credit reporting agencies will start to address your consumer and business credit separately.
Also, make sure to incorporate, or at least file a DBA (doing business as) status. You can also take care of your company's expenses with your company credit card or checking account, and insure it is the small business's full name on the bill and not yours.
Business Credit Programs: The Credit Reporting Agencies Can Get It Wrong
Just like as every single organization around, credit reporting agencies just like Equifax and Experian are only as good as their information. If your company's name is like another's, or your name is a lot like another entrepreneur's, there can potentially be some errors. So monitor those reports, and your business report at Dun & Bradstreet, PAYDEX.
Remain on top of these reports and contest charges with records and clear-cut communications. Do not just allow them to stay incorrect! You can fix this! And while you're at, it you should also be keeping an eye on the credit reporting agency which only handles personal and not small business credit, TransUnion.
Business Credit Programs: How the Programs Work
Let's investigate our credit line hybrid as a way to establish business credit. These will report to business CRAs, not consumer CRAs. You do not need proof of cash flow or collateral. There is no time in business requirement. Only pay on what you owe, not like a loan.
You can normally get a 0% introductory rate. So this is generally 6 to 18 months. This is optimal for start-ups and high-risk industries. It is how business credit builder programs work.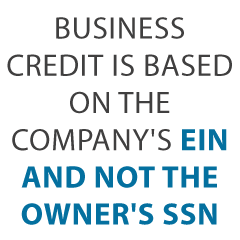 The Basic Concept
A lending source works on your behalf to get credit cards for you. The company is neither a lending institution nor a credit card issuer. Instead they operate as specialists in getting credit cards. And they work to apply to get you the most credit they can get.
Virtually always, their techniques to get you credit result in far more than you could get on your own. This is because they go for numerous cards for you.
Get Fabulous Credit Cards
They work to get you two varieties of cards. The first is consumer cards, which report to consumer credit reporting agencies. And the second is company credit cards, which do not report to consumer CRAs.
Details
They get you credit with no security, assets, or collateral. Lender has no collateral to collect in case of default. Because there is no collateral, and they don't look or care about your cash flow, the only thing that matters is your personal credit.
With a 650 you will get just personal cards. But with a 680 credit score, you should get both company and personal cards.
Advantages
Having many cards creates competition; get your limits raised generally within six months or less from initial approval. You can get approvals to $150,000 per entity, such as a corporation. Most lenders do not offer or advertise this.
You will get money, and build company credit, as well. Within 3 to 4 months, use your newly established small business credit to get even more money.
Qualifications
Here's how to get approval. You need high quality credit with no derogatory reporting. This means: no bankruptcies, ever, on the report, but you could get an approval with bankruptcy, if not on report.
Any judgments and tax liens must be paid off.
Guarantors Welcome
Use a guarantor or a credit partner to boost the numbers; usually these people want a piece of the business in trade for their assistance. Creditors want to know you'll pay them back. Most sources will charge 9 to 12% success-based fees. Only pay the fee off what you secure.
Fees
Pay an average of 10% on the amount you borrow. Lenders on all loan programs charge fees; you certainly pay 5% or more even on an SBA loan. But this program, like most others including the SBA, will "roll-in" your fee. So you do not pay up front. As soon as you get your credit cards, the fee is invoiced; this is one invoice per card.
A Word to the Wise
Responsible credit management is a must. Always use credit responsibly! Don't borrow more than you can pay back. Keep an eye on balances and deadlines for payments. Paying on time and in full does more to raise scores than virtually anything else.
Business Credit Programs: Takeaways
Once you find out what has an effect on your company credit score, you are that much nearer to developing improved business credit.  Get started toward building business credit attached to your company's EIN and not your SSN.