Are you a small business owner looking for small business loans in Ohio? Entrepreneurs looking to qualify for Ohio small business loans can get technical assistance from any Small Business Development Center.
The Ohio SBDC can also help with preparing a business plan, which can often be a prerequisite for getting small business loans in Ohio.
Top Small Business Loan Options In Ohio
Option 1 – Term Loans from Fora Financial
Fora Financial offers up to $1.4 million in working capital with every Ohio small business loan option. They will do one soft pull credit inquiry but, once approved, will perform a full credit inquiry.
No collateral is necessary, and there are prepayment discounts available. You can use the financing from this commercial loan as you see fit for most small business expenses. This includes maintaining cash flow. 
They will make their funding recommendation within 24 hours. If approved, you'll receive a lump-sum payout within 24 – 72 hours. 
They also offer a revenue-based business loan where the repayments depend on your incoming small business revenue. 
Option 2 – an SBA Loan from Huntington National Bank
Huntington National Bank offers more than one type of loan in the SBA loan program, including the SBA Express loan. You can also get a Small Business Administration 504 loan, 7(a) loan or an Economic Injury Disaster Loan. 
For these types of loans, you will need to provide:
SBA borrower's information form

Business tax returns

Business certificate or license

Your business lease

Statement of personal history

Personal financial statement

Personal income tax returns
They do not list a minimum credit score necessary to get these kinds of financing, but expect a credit inquiry, and keep in mind these are not fast business loans.  
Option 3 – Rental Property Loans (Real Estate Financing) from OUCU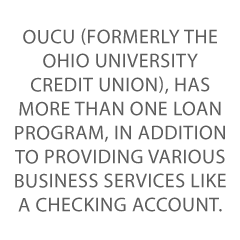 OUCU (formerly the Ohio University Credit Union), has more than one loan program, in addition to providing various business services like a checking account. 
You can get a rental property loan for investment real estate, with a term of up to 30 years. Borrow up to $7 million. Fixed rates are available, and single-family to multi-family options are also on offer.
Or get a business line of credit for working capital, for up to $1 million. As with other lines of credit, you will only pay interest on the balance you are using.
OUCU serves businesses in Athens, Fairfield, Hocking, Jackson, Licking, Meigs, Morgan, Muskingum, Perry, Vinton, and Washington Counties. 
Option 4 – a Small Business Grant Through the Ohio Development Services Agency
As of late November of 2022, this lender agency had given out over 22,000 small business grants. Investments were for everything from technology to strategic business investments and providing any minority business enterprise with financial assistance.
This Ohio department also offers a microloan program. Get up to $45,000 in 0% interest financial assistance with this loan program. You will need to have been in business for at least one year in order to qualify for financing. 
They will help startup businesses with business planning and counseling, but startups are not eligible for their loan programs until they reach a certain time in business milestones. So do not look to them for a new business in Ohio small business loan.
They are connected to the Ohio Business Gateway.
Option 5 – ECDI (Economic and Community Development Institute)
ECDI provides small business loans of up to $500,000 to for-profit businesses. There is a $25 application fee for each applicant. All business partners who own 20% or more of the business must complete an application.
You will have to provide a personal guarantee (so they will check your personal credit) and meet equity addition or collateral requirements. The longest term is 10 years, and there is no prepayment penalty. 
You cannot use the loan proceeds for real estate acquisitions. They will not grant loans to nonprofit organizations or to persons or businesses that have defaulted on a federal loan or have been convicted of certain specific financial crimes.
Option 6 – an Economic Development Grant from JobsOhio
JobsOhio offers this grant to small businesses to promote economic development, business expansion, and job creation. It is a requirement that your Ohio business project creates jobs in the state. This is a necessity for eligibility.
Make fixed asset expenditures or infrastructure investments in items such as land, buildings, machinery and equipment, and freight shipping related to the project.
There are restrictions on the use of this grant. You cannot use the money to pay salaries or for food and entertainment. You also cannot use it for lease and rent payments, or interest on borrowed money.
This grant is reimbursement based and requires supporting documentation. 
Option 7 – Fast Capital from Fifth Third Bank
Fifth Third provides unsecured business lines of credit and term lending in amounts of up to $100,000. You will not need to put up collateral. Documentation requirements are minimal. Financing will come through their partner, Fundation.
Get an Ohio business loan in as little as 48 hours. 
Fifth Third also provides SBA loans and real estate loans. Use term lending and SBA financing to finance equipment or provide limited cash equity for a down payment. Small business owners pay a fixed rate with term lending, SBA lending, or real estate loans.
With SBA lending, you can also get Ohio small business funding to start or acquire a small business.
Option 8 – Company Credit Cards and Lines of Credit from TD Bank
TD Bank loans throughout the country, and not just to Ohio small businesses. They offer company credit cards which will report to the business credit bureaus, thereby helping you establish and improve your business credit.
They offer two cards through Visa with $149 annual fees and a cashback credit card and a select rate card (also Visa cards) which have no annual fee.
To qualify for their company credit cards, you will have to provide proof with supporting documents that your business exists and if applicable, will need to share documentation from other business partners. But they will also work with sole proprietors.
Online Loan Options
Provider 1 – Business Lines of Credit from Bluevine
Bluevine can offer up to $250,000, with rates going as low as 6.2%. You can get a very fast decision (as in, as short as just 5 minutes). There are no monthly fees to pay.
To qualify for lending from Bluevine, you must have:
625 or better FICO score

6 or more months in business (therefore, these aren't truly

startup business loans

)

$10,000 or more in monthly revenue

Business is operating or incorporated in an eligible US state
Ohio is included on their list of eligible states. 
To apply, you must provide basic details about you and your business, a bank connection or bank statements for the past 3 months, and your business must be in good standing.
Provider 2 – MCAs from Gud Capital
Gud Capital has a variety of lending options available. 
With MCAs, get factoring rates as low as 1% for a one-year term. Funding time is 7 – 14 business days. 
Or you can get USDA Business and Industry loans. These are for rural areas with populations less than 50,000 people. The government guarantees loans originated by private commercial lenders. Lenders guarantee 80% for loans of $5 million or less.
Use a USDA loan for a variety of purposes. These include:
Startup

Repair, modernization and development

Purchase and development of land, buildings and/or facilities in rural communities

Leasehold improvements

Purchase supplies, equipment, machinery, and inventory

Refinance business debt (if this creates jobs)

Business and industrial acquisitions
Provider 3 – a Term Loan or Line of Credit from OnDeck
At OnDeck, you can get a term loan for up to $250,000 in working capital. Repayment terms go up to 24 months. Or get a line of credit, with credit limits of up to $100,000 and a 12-month repayment term.
For both types of funding, you will need to have a personal FICO score of at least 625. Your small business must have annual revenues of at least $100,000. You will need to already have a business bank account, and be in business for at least one year.
Note: their term loan is secured with a general lien on business assets.
Provider 4– An MCA from National Business Capital
National Business Capital provides a number of options including MCAs. Get up to $5 million in one to three days. To qualify, you must be in business for at least six months, with gross annual sales of $120,000 or more. There is no minimum FICO requirement.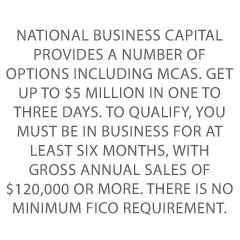 Their varying business loans also include a business line of credit, SBA lending, and equipment financing. They will fund cannabis businesses. They have a lender marketplace where you can compare term loans. 
An application for a term loan will not affect your FICO score. They also offer Performance Advance™ financing.
How to Qualify for a Business Loan in Ohio
Have a Good Credit Score
A good personal FICO score helps you get financing anywhere. Business lenders and credit issuers want to see objective proof you pay back any credit card or other debts on time.
Since your FICO score makes up some of your Experian and FICO SBSS scores, it always helps to keep this score high. And since the SBA uses FICO SBSS scores when determining eligibility for its loans, a good personal FICO score is even more vital.
Keep a good personal FICO score by paying your bills on time. Don't apply for too much credit all at once, keep older accounts open, keep utilization under 30%, and have a few different types of credit accounts.
Have a Proper Business Plan
You should never skimp on your business plan! Here is where, if you do not have experience creating such a plan, it makes sense to call in a professional. A good business plan helps you get the best business loans.
A business plan is precisely that—a roadmap of how you want your company to go from startup to success. 
Lenders are not the only entities that will want to see your business plan. Small business credit providers, including starter vendors, are likely to want you to be able to produce your business plan before they will extend credit to you at all.
Business Revenues
Proven business revenue will always help you get business financing. This also means existing businesses must be in business for at least 6 months. Both metrics, together, assure lenders and credit issuers that your business is on the right track.
While past results are no guarantee of future success, they do show you can do this. Business revenues are also what separates successful businesses from the rest of the herd. A business with proven past revenues is far less likely to fail.
Even profitable businesses can go under. But a lender will be more inclined to lend to you if your New York small business can show it is bringing in revenue. This means your advertising and marketing efforts are working.
It also means that you at least in part understand your market and are fulfilling their needs with your product or service.
Takeaways
Getting a small business loan in Ohio should not feel like a daunting task! Ohio is a business-friendly state with numerous government programs and financing designed to help small businesses succeed and grow.
Be sure to contact us today for more information on Ohio business credit and lending or anywhere else in the United States.