Recession Business Credit for Residential Real Estate Agents and the Rest of Us!
COVID-19 got you down? It's not going to last forever. In the meantime, you can build recession business credit. Get a jump on then competition and use this pause in our lives to get ahead.
Every entrepreneur asks this same question: how do I build recession business credit?
The United States economy has been through any number of changes throughout the years. Our economic fortunes can depend on breakthroughs in modern technology, diplomatic ties (or cutting those ties), the weather, and a lot more. Business credit, luckily, is an asset which you can build even during economic recessions. Nevertheless, you may need to get a little imaginative with it, and with other forms of company funding.
Business credit is credit in a company's name. It doesn't link to a business owner's consumer credit, not even when the owner is a sole proprietor and the sole employee of the company.
As such, a business owner's business and consumer credit scores can be very different.
Recession Business Credit – Get The Advantages
Due to the fact that recession business credit is separate from individual, it helps to safeguard a business owner's personal assets, in the event of a lawsuit or business insolvency.
Also, with two distinct credit scores, a small business owner can get two separate cards from the same merchant. This effectively doubles purchasing power.
Another advantage is that even new ventures can do this. Going to a bank for a business loan can be a recipe for disappointment. But building small business credit, when done properly, is a plan for success.
Consumer credit scores rely on payments but also other components like credit utilization percentages.
But for company credit, the scores actually only hinge on if a business pays its invoices on time.
Recession Business Credit – Start The Process
Growing company credit is a process, and it does not occur automatically. A small business has to proactively work to establish business credit.
However, it can be done readily and quickly, and it is much swifter than establishing consumer credit scores.
Merchants are a big part of this process.
Doing the steps out of order will lead to repetitive rejections. Nobody can start at the top with company credit.
Recession Business Credit – Get Started with Small Business Fundability™
A small business needs to be Fundable to lenders and vendors.
Hence, a business will need a professional-looking website and e-mail address. And it needs to have site hosting bought from a supplier like GoDaddy.
And also, company phone numbers ought to have a listing on ListYourself.net.
At the same time, the company phone number should be toll-free (800 exchange or comparable).
A business will also need a bank account dedicated solely to it, and it has to have all of the licenses essential for running.
Licenses
These licenses all have to be in the particular, accurate name of the small business. And they must have the same small business address and phone numbers.
So keep in mind, that this means not just state licenses, but potentially also city licenses.
Recession Business Credit – Start Credibly Dealing with the Internal Revenue Service
Visit the Internal Revenue Service web site and get an EIN for the small business. They're free. Pick a business entity like corporation, LLC, etc.
A small business may get started as a sole proprietor. But they absolutely need to change to a form of corporation or an LLC.
This is to diminish risk. And it will take full advantage of tax benefits.
A business entity matters when it involves tax obligations and liability in the event of a lawsuit. A sole proprietorship means the owner is it when it comes to liability and tax obligations. No one else is responsible.
The best thing to do is to incorporate. You should only look at a DBA as an interim step on the way to incorporation.
Recession Business Credit – Set off the Business Credit Reporting Process
Start at the D&B web site and obtain a totally free D-U-N-S number. A D-U-N-S number is how D&B gets a company in their system, to generate a PAYDEX score. If there is no D-U-N-S number, then there is no record and no PAYDEX score.
Once in D&B's system, search Equifax and Experian's sites for the business. You can do this at www.creditsuite.com/reports. If there is a record with them, check it for correctness and completeness. If there are no records with them, go to the next step in the process.
This way, Experian and Equifax will have activity to report on.
Starter Vendor Credit
First you must establish tradelines that report. Then you'll have an established credit profile, and you'll get a business credit score.
And with an established business credit profile and score you can begin to get credit for numerous purposes, and from all sorts of places.
These types of accounts often tend to be for things bought all the time, like marketing materials, shipping boxes, outdoor workwear, ink and toner, and office furniture.
But first of all, what is trade credit? These trade lines are credit issuers who give you starter credit when you have none now. Terms are generally Net 30, instead of revolving.
Therefore, if you get approval for $1,000 in vendor credit and use all of it, you must pay that money back in a set term, such as within 30 days on a Net 30 account.
Details
Net 30 accounts have to be paid in full within 30 days. 60 accounts need to be paid fully within 60 days. Unlike revolving accounts, you have a set time when you have to pay back what you borrowed or the credit you made use of.
To launch your business credit profile the right way, you ought to get approval for vendor accounts that report to the business credit reporting bureaus. As soon as that's done, you can then use the credit.
Then pay back what you used, and the account is on report to Dun & Bradstreet, Experian, or Equifax.
Vendor Credit – It Helps
Not every vendor can help like true starter credit can. These are vendors that grant approval with marginal effort. You also want them to be reporting to one or more of the big three CRAs: Dun & Bradstreet, Equifax, and Experian.
As you get starter credit, you can also start to get more credit. Here are some stellar choices from us: https://www.creditsuite.com/blog/5-vendor-accounts-that-build-your-business-credit/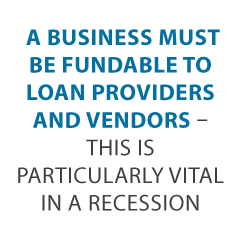 Recession Business Credit – Get Benefits from Accounts That Don't Report
Non-Reporting Trade Accounts can also be helpful. While you do want trade accounts to report to a minimum of one of the CRAs, a trade account which does not report can still be of some worth.
You can always ask non-reporting accounts for trade references. And credit accounts of any sort will help you to better even out business expenditures, thereby making budgeting simpler. These are companies like PayPal Credit, T-Mobile, and Best Buy.
Recession Business Credit – Monitor My Business Credit
Know what is happening with your credit. Make certain it is being reported and take care of any mistakes ASAP. Get in the practice of taking a look at credit reports and digging into the details, and not just the scores.
We can help you monitor business credit at Experian, Equifax, and D&B for 90% less than it would cost at the business CRAs.
Update Your Data
Update the relevant information if there are inaccuracies or the information is incomplete.
Recession Business Credit – Fix My Business Credit
So, what's all this monitoring for? It's to dispute any inaccuracies in your records. Mistakes in your credit report(s) can be fixed.
Disputes
Disputing credit report errors typically means you specifically itemize any charges you dispute.
Recession Business Credit – A Word to the Wise
Always use credit smartly! Don't borrow more than what you can pay back. Keep track of balances and deadlines for payments. Paying off on schedule and fully will do more to elevate business credit scores than nearly anything else.
Establishing small business credit pays off. Great business credit scores help a business get loans. Your lender knows the small business can pay its debts. They understand the company is bona fide.
The business's EIN attaches to high scores and credit issuers won't feel the need to demand a personal guarantee.
How Do I Build My Business Credit: Takeaways
Business credit is an asset which can help your small business for years to come. Learn more here and get started toward establishing small business credit. The COVID-19 pandemic is not going to last forever.