What Is Purchase Order Financing?
And why does purchase order financing matter? Seasonal sales, business growth and expansion, and large orders can restrict your business cash flow.
Many clients want to pay on terms of net 30 or 60, but many of your suppliers demand payment on delivery.
At the same time you have to cover other expenses including shipping, labor costs, materials, packing, and many more further restricting your cash flow.
This type of financing helps free up your cash flow so you can grow your business and your profits.
You can get funds based on outstanding orders with existing clients.
The Specifics of Purchase Order Financing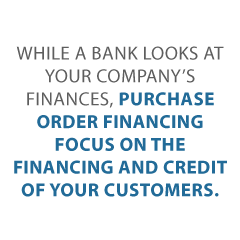 While a bank looks at your company's finances, these loans focus on the financing and credit of your customers.
This means you can get this type of financing even if you have damage to your personal or business credit profiles.
There are a few different types of purchase order financing currently available to help you and your business.
One option that is currently available is to obtain funds. These funds are paid directly to your suppliers.
You can receive advances up to 100% of the purchase cost to your supplier. The bank will then pay your supplier and you receive immediate access to your goods.
The bank will collect the invoice payments from your client. And it will also pay you the balance between the order value and the amount paid to your supplier.
You receive the net total minus any fees once the creditor receives payment.
How Do Letters of Credit Work for Purchase Order Financing?
So, a second purchase order financing option is to issue a letter of credit to your suppliers.
This letter is a commitment to pay the supplier on their fulfillment of certain conditions. The conditions are normally related to the supplier providing necessary documentation. Governance for these Letter of Credits also comes from the regulations of the International Chamber of Commerce.
What is a Supplier Guarantee in Purchase Order Financing?
Plus, a third option is a Supplier Guarantee. This is a commitment to pay the supplier from the available cash. This cash comes from the funding of the receivables relating to the purchase transaction.
The amount of purchase order financing available to you will depend on the volume of outstanding purchase orders you have.
It is very practical to get over $500,000 in financing if you have that amount or greater in orders.
Funds can commonly be delivered within a week after approval, and interest rates and terms are typically very good.
An Alternative to Purchase Order Financing: Building Business Credit!
Company credit is credit in a company's name. It doesn't link to an entrepreneur's consumer credit, not even when the owner is a sole proprietor and the sole employee of the business.
As a result, a business owner's business and consumer credit scores can be very different.
The Advantages
Considering that small business credit is separate from consumer, it helps to secure an entrepreneur's personal assets, in case of a lawsuit or business insolvency.
Also, with two separate credit scores, a small business owner can get two different cards from the same vendor. This effectively doubles buying power.
Another advantage is that even start-ups can do this. Heading to a bank for a business loan can be a formula for disappointment. But building company credit, when done correctly, is a plan for success.
Personal credit scores rely on payments but also additional components like credit use percentages.
But for small business credit, the scores really merely hinge on if a small business pays its debts timely.
The Process
Establishing business credit is a process. It does not happen without effort. A business has to proactively work to establish small business credit.
That being said, it can be done readily and quickly, and it is much speedier than establishing personal credit scores.
Merchants are a big part of this process.
Performing the steps out of order results in repetitive denials. Nobody can start at the top with business credit. For instance, you can't start with retail or cash credit from your bank. If you do, you'll get a rejection 100% of the time.
Company Fundability
A business needs to be fundable to credit issuers and merchants.
As a result, a company needs a professional-looking website and e-mail address. And it needs to have website hosting from a supplier such as GoDaddy.
In addition, business telephone and fax numbers need to have a listing on 411. You can do that here: http://www.listyourself.net.
At the same time, the business phone number should be toll-free (800 exchange or the equivalent).
A company also needs a bank account dedicated strictly to it, and it needs to have all of the licenses necessary for running.
Licenses
These licenses all have to be in the identical, correct name of the company. And they must have the same company address and telephone numbers.
So note, that this means not just state licenses, but possibly also city licenses.
Working with the Internal Revenue Service
Visit the Internal Revenue Service web site and get an EIN for the business. They're totally free. Pick a business entity like corporation, LLC, etc.
A small business may start off as a sole proprietor. But they absolutely need to change to a form of corporation or an LLC.
This is to minimize risk. And it will maximize tax benefits.
A business entity matters when it concerns taxes and liability in the event of litigation. A sole proprietorship means the business owner is it when it comes to liability and taxes. Nobody else is responsible.
The best thing to do is to incorporate. You should only look at a DBA as an interim step on the way to incorporation.
Starting the Business Credit Reporting Process
Begin at the D&B website and get a totally free D-U-N-S number. A D-U-N-S number is how D&B gets a small business into their system, to generate a PAYDEX score. If there is no D-U-N-S number, then there is no record and no PAYDEX score.
Once in D&B's system, search Equifax and Experian's websites for the small business. You can do this at www.creditsuite.com/reports. If there is a record with them, check it for accuracy and completeness. If there are no records with them, go to the next step in the process.
By doing so, Experian and Equifax have activity to report on.

Starter Vendor Credit
First you should establish tradelines that report. Then you'll have an established credit profile, and you'll get a business credit score.
And with an established business credit profile and score you can start to get credit for numerous purposes, and from all sorts of places.
These sorts of accounts often tend to be for things bought all the time, like marketing materials, shipping boxes, outdoor work wear, ink and toner, and office furniture.
But to start with, what is trade credit? These trade lines are credit issuers who give you starter credit when you have none now. Terms are generally Net 30, versus revolving.
Therefore, if you get an approval for $1,000 in vendor credit and use all of it, you must pay that money back in a set term, like within 30 days on a Net 30 account.
Details
Net 30 accounts need to be paid in full within 30 days. 60 accounts have to be paid in full within 60 days. In comparison with revolving accounts, you have a set time when you have to pay back what you borrowed or the credit you used.
To launch your business credit profile the proper way, you need to get approval for vendor accounts that report to the business credit reporting bureaus. Once that's done, you can then use the credit.
Then pay back what you used, and the account is on report to Dun & Bradstreet, Experian, or Equifax.
Vendor Credit – It Helps
Not every vendor can help in the same way true starter credit can. These are merchants that grant approval with nominal effort. You also want them to be reporting to one or more of the big three CRAs: Dun & Bradstreet, Equifax, and Experian.
As you get starter credit, you can also start to get credit from retailers. This is to continue to demonstrate you are trustworthy and pay promptly. Here are some stellar choices from us: https://www.creditsuite.com/blog/5-vendor-accounts-that-build-your-business-credit/
Accounts That Do Not Report
Non-reporting trade accounts can also be helpful. While you do want trade accounts to report to at the very least one of the CRAs, a trade account which does not report can yet be of some worth.
You can always ask non-reporting accounts for trade references. Also, credit accounts of any sort can help you to better even out business expenditures, thereby making financial planning less complicated.
Store Credit
Store credit comes from a variety of retail companies.
You must use your SSN and date of birth on these applications for verification purposes. For credit checks and guarantees, use the company's EIN on these credit applications.
Fleet Credit
Fleet credit is from companies where you can purchase fuel, and repair and take care of vehicles. You must use your SSN and date of birth on these applications for verification purposes. For credit checks and guarantees, make certain to apply using the company's EIN.
Cash Credit
These are service providers such as Visa and MasterCard. You must use your SSN and date of birth on these applications for verification purposes. For credit checks and guarantees, use your EIN instead.
So, these are normally MasterCard credit cards.
Monitor Your Business Credit
Know what is happening with your credit. Make sure it is being reported and fix any mistakes ASAP. Get in the practice of checking credit reports. Dig into the particulars, not just the scores.
We can help you monitor business credit at Experian and D&B for 90% less than it would cost you at the CRAs.
At Equifax, you can monitor your account at: www.equifax.com/business/business-credit-monitor-small-business.
Update Your Data
Update the data if there are errors or the info is incomplete.
A Word about Business Credit Building and Purchase Order Financing
Always use credit smartly! Don't borrow beyond what you can pay off. Keep an eye on balances and deadlines for repayments. Paying off promptly and in full does more to increase business credit scores than virtually anything else.
Establishing small business credit pays. Great business credit scores help a business get loans. Your loan provider knows the small business can pay its financial obligations. They know the business is for real.
The business's EIN attaches to high scores and loan providers won't feel the need to call for a personal guarantee.
Takeaways for Business Credit Building and Purchase Order Financing
Business credit is an asset which can help your small business in years to come. Learn more here and get started toward growing small business credit.
Is Purchase Order Financing Right for You?