Does it feel like the universe is against you when it comes to funding your business? Are lenders denying you financing and you are clueless as to why? It might be business credit, or more specifically, a lack of business credit. 
Whether you have a brand-new business like the Starship Enterprise or a more seasoned entity like the Millennium Falcon, you need interstellar business credit to keep everything going smoothly, no matter how many asteroids you encounter.
You can build business credit at warp speed. It's perfect for when you need to finance repairs on the TARDIS or upgrade the Serenity.
This page contains affiliate links to products. We may receive a commission for purchases made through these links.
What is Business Credit?
Business credit is credit in the name of a business. When you build business credit properly, you can keep your personal credit separate from how you finance your business. A business can even have its own credit agency report. 
Did you honestly think that a company as large and established as Spacely Sprockets wouldn't have its own credit?
To be able to build business credit, you need to have a separate business entity. As all Ferengi know, that means incorporating. A good separation between your business and personal credit is a lot like when Moonbase Alpha and our moon blasted away from Earth orbit back in 1999.
That is, clean, fast, and with no way to rejoin.
Unlike with personal credit, you have to intentionally build business credit. On the Jupiter II, that means acting a lot more like John and Maureen Robinson than Dr. Zachary Smith.
Keep in mind that most vendors will not report your payments to the business credit report agencies, but they have no trouble reporting any late payments (or failures to pay at all). Vendors that report positive credit experiences are rare.
They're as valuable as Gort. Klaatu barada nikto, indeed.
Business credit unto itself is valuable. You can make it part of a sales agreement should you ever sell your business to retire on Alpha Centauri.
How Can I Become Fundable in Outer Space?
In order to get financing for your space business, you will need to build what is called a Fundability Foundation™. Starting business credit means making it clear to lenders from the Solar System to the Outer Limits, that your business will pay its debts on time and in full.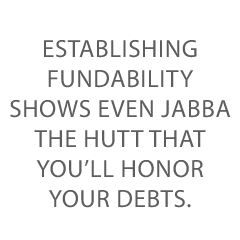 Establishing Fundability™ shows even Jabba the Hutt that you'll honor your debts. You probably think you have that all under control, but if you are getting denied and cannot figure out why, it very well could be a problem in the foundation. 
Set Up Your Business Properly
No matter how many times you go through wormholes, a lender or credit provider will want to know that you hang your spacesuit somewhere. A virtual business address can be a smart solution when you're skipping between dimensions.
Your new business setup should also include a separate communication or phone number. With a virtual address, your business phone can be professionally answered by a person as professional as Uhura. You'll also need a professional website and email address. 
Show that your company isn't just a hobby, even if you just stepped out of the Stargate. Getting your EIN also takes your business out of the Twilight Zone and into legitimacy. That is, it becomes Fundable.
Get Set Up With the Business Credit Reporting Agencies
There are 3 main business credit reporting agencies in the universe that you will want to start with. 
Dun & Bradstreet
Dun & Bradstreet is the oldest and largest credit reporting agency. Go to D&B's website and search for your business. Not there? That means you probably do not yet have a D-U-N-S number and thus your business is flying under their radar. 
You MUST apply for a D-U-N-S number from them. 
If you do not have one and your creditors report payments, your business will not be recognized in the D&B system regardless of how it is set up. You can get one for free. 
Once you have a D-U-N-S number, you'll need at least 3 payment experiences before they assign a PAYDEX score. A payment experience is just a reported purchase from a business, which reports to a credit reporting agency. 
Experian
Experian will assign your business an identification number called a BIN after you have a payment experience reported to them. Other than making sure your business is set up properly and you work with creditors that report to them, there is nothing else you have to do.
Equifax
Equifax assigns companies an Equifax ID. It doesn't appear that you will need to sign up for or request one, no matter where you are in the Milky Way. 
We know about net 60 vendors that report to at least one of these three bureaus, so you can use business credit cards with EIN only to repair any asteroid damage.
Method 3 – Get All Necessary Licenses and Open a Business Bank Account
Contact Planets, State, County, and City Government offices to see if there are any required licenses and permits to operate your type of business. Licensing requirements differ depending on state, town, and industry. 
You also must have a separate, dedicated business bank account. You can't just use your personal bank account with the Sirens of Titan. 
Keep in mind, you have to keep business and personal funds separate for the IRS anyway. Having a separate business account makes that process easier and reduces the risk of audit at tax time. 
More than that, many credit issuers require a business bank account before they will approve you for an account. In addition, the date you open your business bank account with any financial institutions is the day that lenders consider your business to have started. 
What Can Business Credit Do For My Space Station?
Much like Steve Austin, what can't it do? With business credit at your disposal, as long as you handle it responsibly, you can build and grow your business to infinity and beyond without damaging or over-taxing your personal credit. 
One of the easiest ways to do this is to use vendor credit whenever possible. This allows you to purchase inventory, supplies, and more as needed without depleting cash on hand. As the money comes in from sales or completed contracts, you repay. 
For example, if you have a particular item that sells like intergalactic hotcakes, and the wholesaler is offering a stellar deal for buying extra in bulk, you can take advantage. If you have a business credit account with that vendor, you can purchase the inventory at a lower cost. 
Then, when you sell at your regular price, your profit is increased, and you can repay the lender from the proceeds. 
Or, imagine being able to bid on a contract that you would not be able to take otherwise because you can use credit with your suppliers to complete the contract. When the contract is paid, you can pay your vendors. 
Both of these scenarios would allow you to grow your business faster, and these are just two examples. Here are a couple of popular vendor options, but there are many more out there. You can get Tier 1 business credit!
Uline
Are you constantly cleaning up after shapeshifters and Dark Side force chokes? Uline reports to Dun & Bradstreet and carries shipping boxes, trucks, dollies, janitorial supplies, and more. Since they report to D&B, you have to have a DUNS number before you get started with them. 
They will also ask you for a bank reference and two other references. Initially, you may need to prepay. After that, they are likely to approve you for Net 30 terms. Then, you will be able to purchase a ton of products without an immediate cash outlay. 
This includes everything from office supplies to cleaning supplies, and more. 
The CEO Creative
The last thing you want is an interplanetary incident if your marketing logo is so amateurish that it offends Daleks. To keep them from exterminating you and your crew, set up credit with The CEO Creative.
They offer custom design options so you can professionally brand your business without breaking the bank. Create business cards, magnets, brochures, and more to get the word out across the galaxies. 
Terms are typically Net 30 and they currently report to Equifax and Credit Safe. 
General Motors
Need to save for a new Quantum Leap accelerator? Business credit from General Motors can help you with that. The automotive giant can actually help small businesses to establish corporate credit. They offer a business credit card which even a relatively new company owner can get.
There will be a soft pull on your credit, and you will have to provide a personal guarantee. They also bank references and trade/credit references.
There will have to be some form of business credit history, so a brand-new startup will not qualify for this card until it can build at least some business credit reporting to the business CRAs.
How Do You Use Trade Credit to Build a Rocket?
Whether you're a xenomorph or a Na'vi, you can use starter business credit to construct the rocket of your dreams—even when your dreams are of electric sheep. 
The key is having your business set up properly and working with the right lenders and credit providers as you go. That is, working with those that will report positive payment history to at least one business credit report agency.
Not all of them will, though many will report negative payment history.
If you do this and handle the credit responsibly, you will eventually have a strong business credit report that will open up a whole new world of financing options. You can use them to fund your build and blast off. Which vendors are most useful for this? 
Wex Fleet
When you need fuel for your robot construction crew, turn to Wex. Of course, fuel cards are good to help you build your business credit. WEX Fleet is a favorite because they have two types of net terms and they offer rewards.
The WEX Fleet card is on net 15 terms, whereas the WEX FlexCard is net 22 or revolving. Qualification requirements for these two types of cards are identical. They report to Dun and Bradstreet and Experian. 
Hardware Express
For your next purchase of self-sealing stem bolts, why not build business credit at the same time? Hardware Express sells water heaters, HVAC products, ducting, and pipe fittings along with other plumbing supplies.
In addition to the standard foundation, they require one year in business, and they will not accept a virtual address. This net 30 accounts will report to Experian.
Credit Suite
The next time you're in the market for new space shields for your spacecraft, consider equipment financing.  You can take advantage of our equipment financing and leasing programs if you have been in business for at least one year.  
You will need to provide details on the equipment you are getting.  After a quick credit review, you can be approved for as much as $10,000,000 in equipment financing. 
This type of financing often affords more favorable terms than typical business financing programs and better benefits. Our equipment financing programs work for both established and startup businesses.
We work with hundreds of lenders in any star system, and from Venus to Q'onoS, they're all in our Business Credit Builder. We can help you find the perfect one for your needs.
Takeaways
In the end, whether you are supporting the rebellion or holding down the fort right on your own planet, business credit is the best way to keep your business not only going, but growing. 
Credit Suite can help you find the financing you need, and we can help you figure out what may be causing denial. Regardless of what dimension you're in, we'll get you out of the Twilight Zone and on the right track.