Those who died in military service did so for our freedom. Part of that freedom is the ability to open a business. In fact, you can even get a government business loan to do so. However, that option will not work for everyone. How can you fund a startup when you can't get a government business loan?
Discover Other Ways to Fund a Business When a Government Business Loan Isn't An Option
First, you may not qualify. They typically require good credit and some sort of collateral. Likewise, even if you do qualify, a government business loan may not be enough.  What are the other options?
1.The Credit Line Hybrid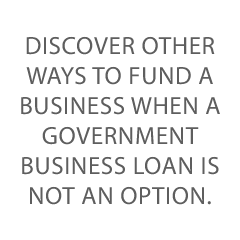 The Credit Line Hybrid is a funding option that may offer an even better interest rate than a government business loan.  Yet, you get the money faster and easier also.  Furthermore, you don't have to supply any bank statements or check stubs.  You can get funding in a few days rather than weeks, without supplying any collateral or documents.
It is revolving, unsecured financing that allows you to fund your business without putting up collateral, and you only pay back what you use.
How to Qualify for the Credit Line Hybrid
Your personal credit score should be at least 700.  In addition, you can't have any liens, judgments, bankruptcies or late payments.  Furthermore, in the past 6 months, you should have less than 6 credit inquiries.  Also, you should have less than a 45% balance on all business and personal credit cards. You need to have at least two credit cards with limits of $2,000 or more and at least a year and a half of good payment history as well.
Yet, if you do not meet all of the requirements, you can still get this funding. You can take on a credit partner that meets each of these requirements.  Many business owners work with a friend or relative to fund their business.  If a relative or a friend meets all of these requirements, they can pair with you to allow you to tap into their credit to access funding.
How Much Funding Can You Get?
Generally, you can get up to $150,000. Sometimes, you can get interest rates as low as 0% for the first few months, allowing you to put that savings back into your business.
The process is pretty fast, especially with a qualified expert to walk you through it.  Another benefit is, with the approval for multiple credit cards, there is competition.  This makes it easier, and even likely if you handle the credit responsibly, that you can get interest rates lowered and limits raised every few months.
2. Retirement Account Financing
This Credit Suite program offers a flexible and powerful way for a startup to leverage assets that are in a 401(k) plan or IRA. It even has the blessing of the IRS. In fact, they  have their own name for it. It's called a Rollover for Business Startups (ROBS).
How to Qualify for Retirement Account Financing?
No financials have to be submitted, and you do not need good credit. In fact, all the lender will ask for is a copy of your two most recent 401(k) statements.
If the plan has a value of more than $35,000,  you can get approval. This is true even if you have really bad personal credit. You can get however much of your 401(k) is "rollable." Sometimes, you can secure a low-interest credit line or loan for 100% of your current 401(k) value.
The plan you use cannot be from a business where you currently work. It will have to be from previous employment. Also, you can't still be contributing to it.
The cost is 5.25% (prime +2) and the term is 5 years. There is a $1,995 lender fee rolled in as well, which  includes 5 years of management and consulting.
3. Line of Credit
The difference between a traditional loan and a traditional business line of credit is that the line of credit is revolving credit rather than a term loan. Like a credit card, you only pay back what you use. Also, lines of credit typically have lower interest rates than business credit cards. The trade off is, there are no rewards like cash back or air miles.
At Credit Suite, our funding partners offer an unsecured line of credit that has a minimum FICO score requirement of 600.  You also must show business tax returns with net profits over $20,000 if you have been in business between 6 months and a year.  If you have been in business for over a year, you need to show $10,000 in monthly revenue. These requirements are much easier to meet than those typically set forth by lenders.
Terms are 6 to 18 months and interest rates range from 12% to 25%.  You can get up to $250,000.
4. Alternative Lenders
There are a number of non-bank lenders that will lend to startups. You do have to be careful, as there are a lot of predatory lenders out there. They also tend to have higher interest rates.  However, they aren't all bad. Here are a few decent options for startup loans if a government business loan isn't available.
BlueVine
BlueVine requires that you be in business for at least 6 months.  If you have at least $120,000 in annual revenue, you may qualify for a loan from them.  The minimum credit score for a line of credit from  BlueVine is 600. Furthermore, if you want invoice factoring, you can get approval with a score as low as 530, 3 months in business, and $10,000 in monthly revenue.
Kiva
Kiva is different. First, the interest rate is 0%.  As a result, even though you have to pay it back, a loan from them is free money. There is no credit check at all. However, you have to get at least 5 family members or friends to donate to help fund your business as well. In addition, you have to pitch in a $25 loan to another business on the platform yourself.
Accion
Accion also may also be a good fit if a government business loan isn't happening.  It's a nonprofit that offers microloans. The minimum credit score is 575. You don't have to already be in business, but if you are not, you must have less than $500 in past due debt. In addition, your business needs to be home or incubator based.
Remember, details such as interest rates and loan requirements can change, so be sure to check lenders directly for the most up to date information.
5.Crowdfunding
This option for startup funding is growing in popularity. With crowdfunding, you get a lot of smaller investments from a lot of people, or a crowd if you will. It is different from getting the bulk of your small business funding from one or two larger investors.
First, you have to figure out which crowdfunding platform is best for your situation. Kickstarter and Indiegogo are two of the most popular. Be sure to take note of the rules each platform has for when you gain access to funds.  They can vary greatly.
6.Angel Investors
These are investors that are typically less formal than regular investors. An angel investor can be anyone. For example, it could be a family member or someone you met through networking.
The best way to find an angel investor is to ask people you know. Another option is an angel investors website or network. For example, Gust keeps a database of investors, companies, and programs.
Wait! Don't Apply for Any Funding Before Your Read This
As you work on starting your business, you need to think about building business credit so that you can get the funding you need as your business grows. Unlike your personal credit score, you have to initially work to establish your business credit score.  The best way to do this is to work with a business credit expert from the beginning.
The process is not hard, but if you don't know what you are doing, it can be difficult to navigate. A business credit expert can help you start off on the right food, and guide you through the process in the right order.  This will save time and money, ensuring you build a strong business credit profile from the start. See for yourself with a free consultation.