Every entrepreneur asks themselves "How do I fund my business?" Some times it's "What is the best way to fund my business?"  The answers to each are many and varied, and they depend on a number of variables.  Specifically, the question right now may be "How do I fund my business during a global pandemic?"  We have the answers you seek. 
Your Top 4 Questions About How Do I Fund My Business, and The Answers You Need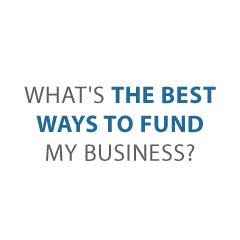 When asking yourself how do I fund my business, you are likely only thinking of traditional loans and investors.  First, it's important to know that there are other options. That said, loans are the easiest and most reliable, despite the many pitfalls and barriers. This is true even if you have one of the best recession proof businesses around.  The need for business funding never goes away. No doubt you are asking yourself what other options you have however, especially if loans are not currently an option.  
How Do I Fund My Business without Debt?
Truthfully,  taking on debt during the course of running a business is virtually unavoidable.  However, there are debt free funding options that you can use to reduce the amount of debt you have to take on.  Aside from investors, there are grants and crowdfunding options out there.

Learn bank rating secrets with our free, sure-fire guide.
Crowdfunding
With crowdfunding, you don't have to find just one or two investors that have large sums of money.  In fact, you can find a lot of investors to fund your business a few bucks at the time. Honestly, some may kick in as little as $5.
Crowdfunding Platforms
There are many crowdfunding platforms.  Yet, they aren't all the same.  You have to check them each out and figure out which one will work best for your business.  Here are a few to start with.
Of course, there are other platforms out there, but this is a good list to start with.
Grants
There are not a ton of grants out there compared to other funding options, and competition is stiff.  Still, they are an option if you are wondering how to fund my business without debt. 
Also, requirements vary from grant to grant. Furthermore, most are only awarded to a certain number of recipients. Despite this, they are still worth looking into if you fall into one of these basic categories. 
Businesses run by veterans
Businesses in low income areas
There are also some corporations that offer grants in a contest format that do not require much other than that you meet the corporation's definition of a small business and win the contest. 
Companies like FedEx and LendingTree have grant contests each year. 
How Do I Fund My Business with Bad Credit? 
Consequently, If traditional loans are not an option due to bad credit, you might look into private lender options. There are a lot of them, but they aren't all created equal.  You will have to do your research to avoid scams. Also, though all private lender rates are typically higher than their traditional counterparts, you will want to make sure you get the best rate you can. Here is some information to get you started. 
Fundation
Fundation provides both term business loans online and lines of credit. It is most known for its working capital financing options. These are funds meant to help cover the day-to-day costs of running a business rather than larger projects. Typically, these funds come in the form of a line-of-credit
StreetShares
StreetShares started as a service to veterans, but now offers term loans, lines of credit, and contract financing. They also offer small business loan investment options. The maximum loan amount is $250,000, and preapproval only takes a few minutes. They use a soft pull on your credit so it doesn't affect your score. They require a minimum credit score of 620. 
BlueVine
There are two options for small business financing with BlueVine. They include lines of credit and invoice factoring. Loans start at  $5,000 and go up to $100,000. Your annual revenue must be $120,000 or more, and the borrower must be in business for at least 6 months. Also, with BlueVine, there is a personal credit score requirement of 600 or higher. 
Fundbox
Fundbox offers an automated process that is super-fast. They have no specific credit score requirement. You simply have to be an established business with regular monthly revenue.
Fora Financial
Founded in 2008 by college roommates, Fora Financial now funds more than $1.3 million in working capital around the United States. There is no minimum credit score, and there is an early repayment discount if you qualify. 
OnDeck 
Obtaining financing from OnDeck is quick and easy. First, you apply online and receive your decision once application processing is complete. If you receive approval, your loan funds will go directly to your bank account. The minimum loan amount is $5,000 and the maximum is $500,000.  There is a personal credit score requirement of at least 500.

Learn bank rating secrets with our free, sure-fire guide.
Lendio
The secret to Lendio's success is excellent customer service and a short, easy application process. The loan-connections service it offers slashes the time it takes to find the right business loans online. This is due to its heavily vetted network of lenders. Your personal credit score must be 560 or above. 
Credibly
Credibly specializes in unsecured business loans. The minimum loan amount is $5,000 and the maximum is $250,000. They require a person credit score of at least 500 and at least 6 months in business.  You also have to show at least $15,000 in average monthly deposits. 
Kabbage
Kabbage offers a small business line of credit that can help accomplish your business goals quickly. The minimum loan amount is $500 and the maximum is $250,000. They require you to be in business at least one year and have $50,000 or more in annual revenue or $4,200 or more in monthly revenue over the last 3 months. 
How Do I Fund My Business If I Don't Know Where to Start? 
Well, you don't.  You have to know where to start, so we are going to tell you. You start with the foundation.  How your business is set up has everything to do with fundability. Fundability is the ability to get funding for your business. How do you set up your business to be fundable? 
Separate Contact Information
Your business must have its own: 
fax number 

email address (more on that later)
Get an EIN
An EIN is an identifying number for your business that works in a way similar to how your SSN works for you personally.  You can get one for free from the IRS.
Incorporation is Necessary
Honestly, not incorporating your business as an LLC, S-corp, or corporation is not an option.  However, which form you choose, is.  It does not matter as much for fundability, but it makes a difference for your budget and liability protection.  Talk to your attorney or a tax professional about which option will work best for your needs..  
Also, when you incorporate, you become a new entity.  You basically have to start over. You'll lose any time in business and a positive payment history you may have built up.  For this reason, you need to incorporate as soon as possible.
Get a Business Bank Account Now
In addition, you have to open a separate, dedicated business bank account.  There are a few reasons for this.  For these purposes, the main one is it will help create the separation from owner you need to build fundability. 
Licenses
For a business to be legitimate it has to have all of the necessary licenses it needs to run.  Do the research you need to do to ensure you have all of the licenses necessary to legitimately run your business at the federal, state, and local levels. 
Website
Spend the time and money necessary to ensure your website is professionally designed and works well.  Pay for hosting too. Don't use a free hosting service.  Also, remember that email address you need? Make sure it has the same URL as your website. Don't use a free service such as Yahoo or Gmail. 
How Do I Fund My Business in the Future? 
What happens after you have a fundable foundation?  Are you automatically going to have all the answers to all of the how do I fund my business questions? No, you won't.  In fact, you won't even be fundable yet. To fund your business into the future, you need to know everything that affects fundability so that you can make sure yours is strong. So, what exactly does affect the fundability of your business? 
Business Credit Reports
Where do business credit reports come from?  There are a lot of different places, but the main ones are Dun & Bradstreet, Experian, Equifax, and FICO SBSS.  Since you have no way of knowing which one your lender will choose, you need to make sure all of these reports are up to date and accurate. 
Other Business Data Agencies 
In addition to the business credit reporting agencies that directly calculate and issue credit reports, there are other business data agencies that affect those reports indirectly.  Two examples of this are LexisNexis and The Small Business Finance Exchange. 
Identification Numbers 
In addition to the EIN, there are identifying numbers that go along with your business credit reports.  Some of them are simply assigned by the agency, like the Experian BIN.  One, however, you have to apply to get.  It is absolutely necessary that you do this. 
Dun & Bradstreet is the largest and most commonly used business credit reporting agency.  Every credit file in their database has a D-U-N-S number.  To get a D-U-N-S number, you have to apply for one through the D&B website. 
Business Credit History
Your credit history is a huge factor in the fundability of your business.  
It consists of a number of things including: 
How many accounts are reporting payments?

How long have you had each account? 

What type of accounts are they?

How much credit are you using on each account versus how much is available?

Are you making your payments on these accounts consistently on-time?
The more accounts you have reporting on-time payments, the stronger your credit score will be. 
Business Information
This is a problem because a ton of loan applications are turned down each year for fraud concerns due to things not matching up.  Maybe your business licenses have your personal address but now you have a business address.  You have to change it. Perhaps some of your credit accounts have a slightly different name or a different phone number listed than what is on your loan application. Do your insurances all have the correct information?

Learn bank rating secrets with our free, sure-fire guide.
Financial Statements
Both your personal and business tax returns need to be in order.  Not only that, but you need to be paying your taxes, both business and personal.    
Business Financials
It is best to have an accounting professional prepare regular financial statements for your business. Having an accountant's name on financial statements lends credence to the legitimacy of your business. 
If you cannot afford this monthly or quarterly, at least have professional statements prepared annually. Then, they are ready whenever you need to apply for a loan. 
Personal Financials
Often tax returns for the previous three years will suffice.  Get a tax professional to prepare them.   This is the bare minimum you will need.  Other information lenders may ask for include check stubs and bank statements, among other things. 
Bureaus
There are several other agencies that hold information related to your personal finances that you need to know about.  Everyone knows about FICO.  Your personal FICO score needs to be as strong as possible. It really can affect business fundability and almost all traditional lenders will look at personal credit in addition to business credit. 
Also, there is ChexSystems.  In the simplest terms, this keeps up with bad check activity and makes a difference when it comes to your bank score.  If you have too many bad checks, you will not be able to open a bank account.  Consequently, you will run into serious fundability issues. 
Personal Credit History
Your personal credit score from Experian, Equifax, and Transunion all make a difference.  You have to have your personal credit in order because it will definitely affect the fundability of your business.  That means, if it isn't great right now, get to work on it.  The number one way to get a strong personal credit score or improve a weak one is to make payments consistently on time. 
The Application Process
This is related to when you apply and what you apply for.  Is it the right time to apply for financing? Are you applying for a product you can use or even get? 
https://creditsuite.wistia.com/medias/1rpvzn0f8n?embedType=async&videoFoam=true&videoWidth=640
How Do I Fund My Business?  The Answer Lies with Fundability
In the end, the key to funding any business at any time is to have strong fundability.  As a result, you have to start from the foundation and continually work to build business credit and keep all information up-to-date and accurate.  Do this, and you will be able to find the answers to all of your "How do I fund my business" questions.