Dun & Bradstreet is the primary company used to evaluate business credit and issue a credit score known as Paydex.
There are also other companies that provide similar credit evaluation services to businesses based on their independent databases.
One of them is Experian Business who offers a credit score known as Intelliscore.
Experian, one of the three major consumer credit rating bureaus and also provides business credit evaluations for over 27,000,000 small businesses and corporations.
Experian's model is designed for companies that provide goods and services to small businesses.
Some of the items listed on Experian's reports include…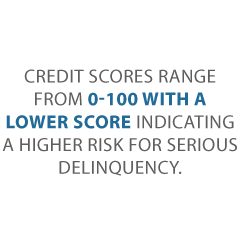 > Business credit scores and credit summary
> Key facts about the business
> Corporate registration and contact information
> Summaries of collections and payments
> Uniform Commercial Code filing information
> Banking, insurance and leasing information
> Bankruptcy filings
> Judgment filings
> Tax lien filings
Credit scores range from 0-100 with a lower score indicating a higher risk for serious delinquency.
Experian does provide both consumer and business credit risk models, but there are considerable differences between the two.