What is Equipment Financing?
You can easily get the equipment you need for your business. One of the best and smartest ways to get the equipment you need is by using equipment financing.
You can deduct the interest you pay on the lease. And you will not need a large down payment to get approval.
This is one of the reasons over 80% of U.S. businesses use equipment lease financing to get equipment for their businesses.
The Benefits of Equipment Financing When Purchasing Business Equipment
Using equipment financing, you can improve your business cash flow and increase capital.
You can keep your normal cash flow, and leave your money in the bank. So, you can avoid major out of pocket expenses incurred by buying the equipment up front. And you can benefit from multip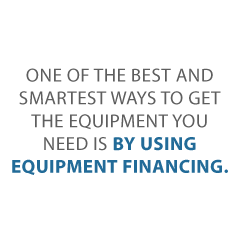 le tax advantages.
Equipment leasing is one of the most common types of business funding available today.
When leasing machinery, you will find most leasing options offer you fixed-rate funding. This means your interest rate and payments will stay the same from month to month during the term of your lease.
What About Other Choices for a Business?
Whether you need office machinery or large commercial machines used for manufacturing, equipment financing is a perfect option for you and your business.
You can also use this form of financing if you are starting a new business which needs equipment to operate.
So, there is typically no down payment required on equipment leasing loans. The lender will collect 1 to 2 of your monthly payments upon approval.
This amount of money you need is usually equal to 3 to 7% of the total equipment cost.
You will have low monthly payments available. And the financing company can tailor your payments to fit your company's individual needs.
You can also include taxes and other charges such as installation charges into your new equipment lease.
And What About Business Credit versus Equipment Financing?
With better cash flow, you'll be better able to keep up with credit payments. This means a better PAYDEX score and more.
Business Credit Building
Small business credit is credit in a company's name. It doesn't connect to an owner's consumer credit, not even when the owner is a sole proprietor and the solitary employee of the business.
As a result, a business owner's business and personal credit scores can be very different.
The Benefits
Since company credit is independent from personal, it helps to safeguard a business owner's personal assets, in case of a lawsuit or business bankruptcy.
Also, with two separate credit scores, a small business owner can get two separate cards from the same vendor. This effectively doubles purchasing power.
Another advantage is that even start-ups can do this. Going to a bank for a business loan can be a recipe for disappointment. But building small business credit, when done right, is a plan for success.
Consumer credit scores are dependent on payments but also various other factors like credit utilization percentages.
But for business credit, the scores truly merely hinge on if a company pays its bills punctually.
The Process
Growing company credit is a process. It does not happen without effort. A small business has to be fundable to lending institutions and merchants.
Due to this fact, a company needs a professional-looking web site and e-mail address. Get website hosting from a supplier like GoDaddy.
Also, business telephone numbers must have a listing on 411. You can do that here: http://www.listyourself.net/ListYourself/.
Additionally, the company phone number should be toll-free (800 exchange or similar).
A business also needs a bank account devoted purely to it, and it needs to have every one of the licenses essential for running.
Licenses
These licenses all must be in the perfect, correct name of the company. And they need to have the same business address and phone numbers.
So bear in mind, that this means not just state licenses, but possibly also city licenses.
Working with the IRS
Visit the Internal Revenue Service web site and get an EIN for the business. They're free. Pick a business entity like corporation, LLC, etc.
A business may get started as a sole proprietor. But they absolutely need to switch to a form of corporation or an LLC.
This is to diminish risk. And it will maximize tax benefits.
A business entity matters when it concerns taxes and liability in case of a lawsuit. A sole proprietorship means the entrepreneur is it when it comes to liability and tax obligations. Nobody else is responsible.
Instigating the Business Credit Reporting Process
Begin at the D&B website and get a totally free D-U-N-S number. A D-U-N-S number is how D&B gets a small business into their system, to produce a PAYDEX score. If there is no D-U-N-S number, then there is no record and no PAYDEX score.
Once in D&B's system, search Equifax and Experian's sites for the company. You can do this at www.creditsuite.com/reports. If there is a record with them, check it for accuracy and completeness. If there are no records with them, go to the next step in the process.
By doing this, Experian and Equifax have activity to report on.

Starter Vendor Credit
First you need to establish tradelines that report. Then you'll have an established credit profile, and you'll get a business credit score.
And with an established business credit profile and score you can begin to get credit for numerous purposes, and from all sorts of places.
These sorts of accounts often tend to be for things bought all the time, like marketing materials, shipping boxes, outdoor work wear, ink and toner, and office furniture.
But to start with, what is trade credit? These trade lines are credit issuers who give you starter credit when you have none now. Terms are commonly Net 30, rather than revolving.
Therefore, if you get an approval for $1,000 in vendor credit and use all of it, you need to pay that money back in a set term, like within 30 days on a Net 30 account.
Vendor Credit – It Helps
Not every vendor can help in the same way true starter credit can. These are vendors that grant approval with marginal effort. You also need them to be reporting to one or more of the big three CRAs: Dun & Bradstreet, Equifax, and Experian.
As you get starter credit, you can also start to get more credit. Here are some stellar choices from us: https://www.creditsuite.com/blog/5-vendor-accounts-that-build-your-business-credit/
Uline
Uline is a true starter vendor. You can find them online at www.uline.com. They sell shipping, packing, and industrial supplies, and they report to Dun & Bradstreet and Experian. You MUST have a D-U-N-S number and an EIN before starting with them. They will ask for your business bank information. Your business address must be uniform everywhere. You need for an order to be $50 or more before they'll report it. Your first few orders might need to be prepaid initially so your company can get approval for Net 30 terms.
How to apply with them:
Add an item to your shopping cart
Go to checkout
Select to Open an Account
Select to be invoiced
Marathon
Check out starter vendor Marathon. Marathon Petroleum Company provides transportation fuels, asphalt, and specialty products throughout the United States. Their comprehensive product line supports commercial, industrial, and retail operations. This card reports to Dun & Bradstreet, Experian, and Equifax. Before applying for multiple accounts with WEX Fleet cards, make sure to have enough time in between applying so they don't red-flag your account for fraud.
Your SSN is necessary for informational purposes. If concerned they will pull your personal credit talk to their credit department before applying. You can give a $500 deposit instead of using a personal guarantee, if in business less than a year. Apply online. Terms are Net 15. Get it here: www.marathonbrand.com.
Grainger Industrial Supply
Grainger Industrial Supply is likewise a true starter vendor. Find them online at www.grainger.com. They sell hardware, power tools, pumps and more. They also do fleet maintenance. And they report to D&B. You need a business license, EIN, and a D-U-N-S number.
To qualify, you need the following:
A business license (if applicable)
An EIN number
A company address matching everywhere
And a company bank account
A D-U-N-S number from Dun & Bradstreet
Your business entity must be in good standing with the applicable Secretary of State. If your business does not have established credit, they will require additional documents. So, these are items like accounts payable, income statement, balance sheets, and the like.
Apply online or over the phone.
Accounts That Do Not Report
Non-reporting trade accounts can also be helpful. While you do want trade accounts to report to a minimum of one of the CRAs, a trade account which does not report can also be of some worth.
You can always ask non-reporting accounts for trade references. Plus, credit accounts of any sort should help you to better even out business expenses, thus making budgeting easier.
Monitor Your Business Credit
Know what is happening with your credit. Make certain it is being reported and attend to any errors ASAP. Get in the practice of checking credit reports. Dig into the particulars, not just the scores.
We can help you monitor business credit at Equifax, Experian and D&B for 90% less than it would cost you at the CRAs.
A Word about Building Business Credit
Always use credit smartly! Don't borrow beyond what you can pay off. Keep track of balances and deadlines for payments. Paying in a timely manner and in full does more to increase business credit scores than pretty much anything else.
Growing small business credit pays off. Good business credit scores help a business get loans. Your credit issuer knows the business can pay its financial obligations. They recognize the company is for real.
The small business's EIN links to high scores and lending institutions won't feel the need to ask for a personal guarantee.
Takeaways for Equipment Financing and Business Credit
Business credit is an asset which can help your small business for years to come. Learn more here and get started toward establishing small business credit.
Equipment Financing: The Upshot
Equipment loans are perfect for any business owner looking to purchase equipment. If that is you, then you can be a great position to take advantage of this type of funding.