Do You Know These Credit Score Hacks? They're Even More Important in an Economic Downturn
It's looking a lot like the novel coronavirus is leading to an economic downturn. But you can still hack a great business credit score. Here's how.
Economic downturn got you down? Beat the recession with these credit score hacks for every business owner.
Establishing business credit means that your firm acquires chances you never believed you would. You can get all-new equipment, bid on buildings, and cover the company payroll. And you can do so even when times are a bit lean. This is especially helpful in seasonal firms, where you can go for months with simply negligible sales.
Because of this, you need to focus on building your company credit. Improve and maintain your scores and you will have these chances. Do not, and either you do not get these business opportunities, or they will set you back you a lot more. And no entrepreneur wants that. You need to understand what affects your company credit before you can make it better.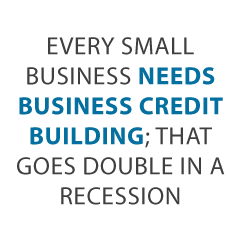 Recession Period Financing
The number of US banks and thrifts has been decreasing gradually for a quarter of a century. This is from consolidation in the marketplace along with deregulation in the 1990s, reducing barriers to interstate banking. See: https://www.fundera.com/blog/happened-americas-small-businesses-financial-crisis-six-years-start-crisis-look-back-10-charts
Assets focused in ever‐larger financial institutions is problematic for local business owners. Big banks are a lot less likely to make small loans. Economic recessions suggest financial institutions become extra mindful with lending. The good news is, business credit does not rely upon financial institutions.
Economic Downturn Credit Score Hacks: Your Payment History is Important
Late payments will impact your small business credit score for a good seven years. You will need to pay your business debts off, as fast as possible and as fully as possible. If you are able to do so, then you can make a very real difference when it concerns your credit scores. Make certain to pay without delay and you will enjoy the rewards of punctuality.
And pay your personal debts off as fast as possible. Pay them off in full if you can. Check Hack #3 for why this is so vital.
Your payment patterns and history are a driving force in your overall credit score. Over time, paying your bills on schedule will help establish your company as one that pays their financial obligations. This will undoubtedly help push your rating up and show other business you are a low risk.
If you pay attention to none of the other credit score hacks, you will still do well to practice this one.
Economic Downturn Credit Score Hacks: Your Personal Credit Can Have an Effect on Your Corporate Credit
Are you having a bad business year? Then it could end up on your consumer credit score. And in case your small business has not been in existence for too long, it will directly impact your corporate credit.
Nonetheless, you can unlink the two by taking measures to split up them. Open a separate bank account just for the business. And use your business credit cards for your business only. The same is true in reverse – don't use your personal credit to pay business expenses.
Keep this up, and the credit reporting agencies will start to treat your personal and small business credit separately.
Also, make sure to incorporate. Or at least file a DBA (doing business as) status. You can also take care of your company's invoices with your company credit card or checking account, and make certain it is the company's full name on the bill and not your own.
Your own personal credit is fair game when it concerns your Intelliscore Plus rating. Running a company is hard work, yet don't let your personal finances suffer. Make certain that you remain on top of your personal monthly expenses. Stay clear of unnecessary credit inquiries. And do not compromise your personal credit for business needs.
https://creditsuite.wistia.com/medias/wyn20olapx?embedType=async&videoFoam=true&videoWidth=640
Economic Downturn Credit Score Hacks: Credit History Length Matters
This is in essence the length of time your firm has been using business credit. Of course newer businesses will have brief credit histories. While there is not a lot you can specifically do about that, do not fret.
Credit reporting bureaus will also take a look at your personal credit score and your own history of payments. If your own personal credit is excellent, and especially if you have a fairly lengthy credit history, then your individual credit can come to the rescue of your business. That is, you did not just get your first credit card recently.
Naturally the opposite is also right– if your personal credit history is poor, then it will impact your corporate credit scores until your company and consumer credit can be split.
Economic Downturn Credit Score Hacks: The Credit Reporting Bureaus Can Get it Wrong
Irrespective of what your credit score is, it is crucial that you continue to be thorough and examine your personal and business credit reports. This can help you discover possible issues and stay informed by yourself credit profile.
Just like as each and every organization out there, credit reporting agencies like Equifax and Experian are only as good as their files. If your business's name is like another's, or your name is a lot like another business owner's, there can possibly be some mistakes.
So keep an eye on those reports, and your small business report at Dun & Bradstreet, PAYDEX. Stay on top of these reports and dispute charges with documentation and clear communications. Do not just allow them to stay wrong! You can correct this!
And while you're at, it you should also be keeping track of the credit reporting bureau which exclusively handles personal and not business credit. So that is TransUnion. If you do not know exactly how to pull a credit report, do not worry. It is easy – just Google to find the links to the CRAs.
Economic Downturn Credit Score Hacks: Use Your Credit
Keeping your financial obligations low remains sound advice. Still, opening and responsibly making the most of company credit accounts can help you broaden your available credit and enhance your credit score.
Economic Downturn Credit Score Hacks: Monitoring Your Business Credit For Less
Know what is happening with your credit. Make sure it is being reported and address any errors ASAP. Get in the practice of taking a look at credit reports. Dig into the specifics, not just the scores.
We can help you monitor business credit at Experian, Equifax, and D&B for 90% less than it would cost you at the CRAs.
Update Your Record
Update the data if there are errors or the details is incomplete.
Economic Downturn Credit Score Hacks: Fix Your Business Credit
So, what's all this monitoring for? It's to challenge any problems in your records. You can fix mistakes in your credit reports.
Disputes
Disputing credit report inaccuracies usually means you specifically detail any charges you contest.
Economic Downturn Credit Score Hacks: Takeaways
Hacks for your business credit score are really a fancy way of saying one thing. Be responsible. Pay your debts on time. Don't put too much on credit. don't neglect your personal credit. Keep your accounts open. Jump on any errors you find. Use your credit. Monitor what happens with it.  Follow these suggestions and you will be well on your way to an excellent business credit score.
Beat the economic downturn. You can prosper, even now.
Once you know what impacts your small business credit score, you are that much nearer to building improved corporate credit. Learn more here and get started toward building business credit attached to your company's EIN and not your SSN.
The COVID-19 situation is not going to last forever.