Did You Know These Recession Factors Can Devastate a New Business Credit Score?
These are three ways you can devastate a new business credit score. Do not let anything like this happen to you! These are easily preventable. Save your business credit scores!
Uh, oh. You tried to build a commercial credit score without truly thinking it through and taking into consideration what affects small business credit rating. Let's take a look at 3 factors that can devastate your business credit scores. And how to fix them.
And you do have to fix them, because this is what affects a business credit rating.
In particular, this is an issue during economic downturns.
Recession Era Financing and COVID-19
As the novel coronavirus continues to transform our economy, it becomes more imperative than ever to keep your business credit scores high. It's no time to make preventable errors – like these three.
Devastate a New Business Credit Score: 3. You Used More Credit Than Your Company Could Handle
Credit can be intoxicating. Take a look at all that free cash! Look at all the important things your company needs!
Wait; wait, whoa, time out!
It is not free cash. It's a loan, really. All credit is whether it's commercial or consumer. If you have gone on a wild credit spree, your credit rating is going to be affected. How? Delinquency.
When you are that much in hock, it may be tricky to stay on top of the payments. Late payments will directly and adversely impact your business credit score. So be responsible with credit. This isn't gambling; it's your livelihood and the livelihood of anyone who works for you.
Devastate a New Business Credit Score: 2. You Didn't Stay on Top of Your Credit Scores or Dispute CRA Mistakes
While credit reports aren't exactly page turners, you should still be staying on top of them.
Don't have time to read through credit reports? Then use a monitoring service. Experian offers Business Credit Advantage. PAYDEX has Credit Reporter. And Equifax has Business Credit Monitor. If you prefer a free version for credit alerts, you can try CreditSignal.
Fix Your New Business Credit Score Now!
The point of all of that monitoring is to spot errors and fix them. If any one of your credit reports has mistakes, then you must get on top of that, without delay. Disputing credit report errors generally means you send a letter with copies of any proofs of payment with it.
These are documents like receipts and cancelled checks.
Details of How to Fix a New Business Credit Score
Precisely detail any charges you dispute. Contesting an error quickly means your credit reports will be corrected more quickly.
Devastate a New Business Credit Score: 1. You Didn't Separate Your Company and Individual Credit (or You Didn't Do So Quickly)
The longer and more intimately your personal and business finances are entangled, the more likely it is that credit reporting agencies will take your consumer credit into account when looking at your company.
This doesn't give your company a chance to make its own credit 'name', as it were. When you examine your company credit score vs personal credit score, they should be different.
You Can Change a New Business Credit Score
Paying off your business's charges with personal charge cards or checks; not getting a separate IRS EIN number for your company; and not putting your business's bills in the company's name can all aggravate this problem.
And the Internal Revenue Service will probably have something to say about your business not having its own identifica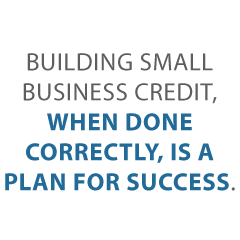 tion number.
Fix a New Business Credit Score Now!
So to repair this, your mission is as follows:
Get an EIN first. You can apply online after you determine your eligibility. That is, if your business is located within the US, etc.
Visit your local bank and open a small business banking account
Contact local vendors and get your company's bills put into the company's name. While you're at it, see if you can start to build trade credit with them
Always pay the business's bills with your business accounts or credit
Accounts That Do Not Report
Non-Reporting Trade Accounts can be helpful. While you do want trade accounts to report to at the very least one of the CRAs, a trade account which does not report can nevertheless be of some worth.
You can always ask non-reporting accounts for trade references. And also credit accounts of any sort will help you to better even out business expenses, thereby making financial planning less complicated. These are providers like PayPal Credit, T-Mobile, and Best Buy.
Monitor Your Business Credit
Know what is happening with your credit. Make certain it is being reported and take care of any mistakes as soon as possible. Get in the practice of checking credit reports and digging into the specifics, and not just the scores.
We can help you monitor business credit at Experian, Equifax, and D&B for 90% off.
Fix a New Business Credit Score Now!
Update the info if there are inaccuracies or the information is incomplete. At D&B, you can do this at: https://iupdate.dnb.com/iUpdate/viewiUpdateHome.htm.
For Experian, go here: experian.com/small-business/business-credit-information.
Equifax: equifax.com/business/small-business.
Contesting Errors Which Can Devastate a New Business Credit Score
What's all this monitoring for? It's to contest any mistakes in your records. Errors in your credit report( s) can be taken care of. But the CRAs often want you to dispute in a particular way.
Get your small business's PAYDEX report at: dnb.com/about-us/our-data.html.
You can get your company's Experian report at: businesscreditfacts.com/pdp.aspx?pg=SearchForm.
And get your Equifax business credit report at: equifax.com/business/credit-information.
Disputes
Disputing credit report mistakes normally means you precisely detail any charges you contest.
Details
Also, dispute your or your corporation's Equifax report by following the instructions here: equifax.com/small-business-faqs/#Dispute-FAQs.
Dispute inaccuracies on your or your small business's Experian report by following the directions here: experian.com/small-business/business-credit-information.
So, D&B's PAYDEX Customer Service contact number is here: dandb.com/glossary/paydex.
Also, always use credit responsibly! Don't borrow more than what you can pay off. Track balances and deadlines for payments. Paying punctually and fully will do more to increase business credit scores than virtually anything else.
Factors That Can Devastate a New Business Credit Score – Takeaways
Building corporate credit pays. Good business credit scores help a corporation get loans. Your lending institution knows the corporation can pay its financial obligations. They know the company is for real.
The corporation's EIN links to high scores, and creditors won't feel the need to ask for a personal guarantee.
Save your business credit scores! Learn more here and get started toward getting rid of these factors that can devastate a new business credit score.