CreditBuilder Issues Finally Resolved
The Federal Trade Commission (FTC) recently settled a case against Dun & Bradstreet, the business credit bureau. The case was about its CreditBuilder product.
To settle Federal Trade Commission charges that it engaged in deceptive and unfair practices, D&B agreed to an order. This order required major changes in its operations. The idea is to benefit small- and mid-sized businesses. Under the proposed order, D&B (the Respondent) will also refund some businesses that bought the company's products. Businesses bought these products, believing they would improve business credit scores and ratings.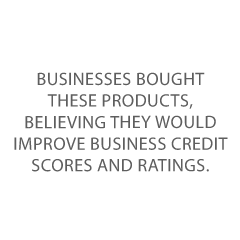 The initial complaint goes back to at least 2019 and refers to D&B business practices from 2015 and later. In this case, the FTC is the complainant and D&B is the respondent.
The Facts of the Case
Per the complaint (paragraph 2):
From at least May 2015, D&B sold and distributed products to small and mid-sized business consumers. These included products D&B claims will help a business monitor, manage, and build its business credit report. D&B claims the products offer an easy way to provide positive payment history. This is history otherwise unreported by D&B. The aim is to improve the business's credit report.
But in fact, D&B rejects most of the submissions. Thousands of businesses that have paid for these products cannot get even a single payment experience added to their reports.
D&B's Claims About its CreditBuilder Line of Products
The complaint (paragraph 16) also said:
Respondent has routinely deceptively claimed that if an affected business would simply purchase a CreditBuilder Line product and provide information to Respondent, Respondent would verify that information and add it to the credit report. For example, in pitching … (these) … products, Respondent's telemarketers have made specific deceptive claims including, "we will contact those companies that you add … [and] verify that payment history going back a full 12 months," and "[i]t's a really easy process[,] I just need a little bit of information from you and we basically take over the rest from there."
Pricing
CreditBuilder and related products were already expensive to begin with. They cost almost $900/year. And in 2018, after selling ever more expensive products, D&B came out with Credit Essentials Plus (after releasing CreditBuilder Plus and other products). It had a price tag of almost $2,500. But in 2013, CreditBuilder cost $948.
Hence, in five years, the price of the information and features in this product rose by over 163%. In contrast, the actual inflation rate for this five-year span was less than 3%.
Selling a CreditBuilder Account as a Way to Add Trade References
Many times, telemarketers for D&B told business owners that using CreditBuilder would be a fast and easy way to add trade references. But such was not the case.
In paragraph 51, the complaint says that often and for various reasons, D&B rejected trade references added by CreditBuilder Line customers. And they didn't include this information on their credit report.
Issues
D&B employees convinced business owners to sign up for expensive services. And then they never bothered to do what they promised to do, anyway.
Hence, beyond the issue of hard selling services which entrepreneurs didn't need, there's also an issue of breaking their promises. D&B was paid for services it didn't render. And this doesn't even get into what looks an awful lot like price gouging.
Furthermore, entrepreneurs had to spend considerable time and money correcting several errors on D&B's part.
And finally, these issues may even date back at least to 2013.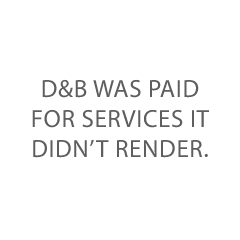 Arguments
There don't appear to have been too many arguments by Dun & Bradstreet in favor of its practices. The Federal Trade Commission makes arguments like the issues listed above.
Holding and Rationale
The matter was settled, and Dun & Bradstreet agreed to:
Change operational practices to help businesses correct their reports. This includes deleting or reinvestigating disputed data within certain time periods. Plus, a way to receive free results of revised data.
Clearly disclose its limited involvement in adding to a customer's history of payment information. And disclose its rates of accepting customers' requests to add payment information.
Provide disclosures for automatic renewals. And do so without placing a customer's subscription level to a more expensive one not ordered; and
Give customers refunds or allow them to cancel a current subscription.
By the looks of the above proposed order, D&B conceded on pretty much everything.
What This CreditBuilder Case Means for You, the Small Business Owner
Per the FTC, business owners should review credit card statements often and with care. And consider any and all subscriptions on a regular basis. If the subscription isn't needed, then get rid of it. The same goes for subscriptions you were signed up for without your knowledge and consent. If you have no idea what a subscription is for, or how it got on your bill, don't hesitate to ditch it.
At Credit Suite, we help you monitor your business credit reports. This could help you spot charges you don't recognize. But any way you monitor, we encourage you to review all statements, bills, and reports. Do so before anything like this has the potential to happen again.
And finally, we still believe trade references are an excellent addition to any business credit report. We hope Dun & Bradstreet will improve its means of adding trade references. Small business owners should be able to reap the benefits of such added data on their business credit reports.