Do you need business funding but lack the cash flow and collateral that most lenders require? In other words, you need a credit based loan. But, is that even a thing?
Are Credit Based Loans a Real Thing?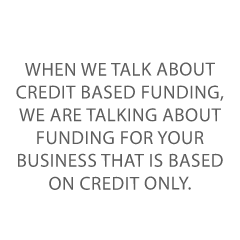 Honestly, no. Still, bear with me. When we talk about credit based funding, we are talking about funding for your business that is based on credit only.
In contrast, most traditional loans are what is called "full-doc" financing. Meaning, while creditors may take business credit or personal credit into account, other factors weigh heavily on the decision.
For example, potential borrowers are required to hand over financial statements, tax returns, check stubs, and more. As a result, the process can be much longer and more complicated.
Credit Based "Loan" Options
Yet, if the idea is that any credit is, at its core, a loan, then there are credit based loan options available. Now, these funding options do not necessarily take personal credit into account, though some may. The point is, they are "no-doc" financing options. You do not have to provide documents like:
check stubs
financial statements
tax returns
or and other documents
Some examples of credit based loan options include:
The Credit Line Hybrid
A credit line hybrid is a form of unsecured funding. Also, our credit line hybrid has an even better interest rate than a secured loan. The best part is, it's a credit card stacking program, and many of the cards report to the business credit reporting agencies. As a result, you can build business credit and fund your business at the same time.
For approval, you need a good credit score or a guarantor with good credit. Consequently, the minimum personal credit score is a FICO of 700. Yet, you will not have to supply any financials, and you can get a loan of up to $150,000. It's important to note, some of the cards in the program may report on your personal credit.
Business Credit Cards
Business credit cards are universal-type credit cards, like MasterCard. In fact, they can be used pretty much anywhere. Even better, some of these cards have rewards programs as well. However, It's important to review rewards programs thoroughly. Unfortunately, some may not be relative or attainable for your specific business.
Currently, business credit cards are the main source of credit-only based business funding. Generally, you will need to have at least 14 accounts reporting to the business CRAs. Additionally, they may require a minimum time in business or minimum number of employees. Here are a few examples, but there are many business credit card options out there.
Alpine Bank Visa Platinum Rewards
Alpine features:
No annual fee
One point per dollar spent
Decent APR, comparatively
Low spend amount to earn bonus
Amazon Prime Store Card
Of course, Amazon is such a versatile marketplace that this card can be useful for most any business. It features:
5% cashback on Amazon purchases
No annual fee
Sadly, limits seem to be low. Also, there are reviews of this card on the Amazon website. Certainly take the time to check them before applying.
Bank of Hope Business Rewards Visa® Credit Card
Bank of Hope card Features include:
No annual fee
Triple points on gas
Double points on travel and dining
One point per dollar on all other purchases
Easy to meet minimum spend for bonus points for most
Chase Bank Ink Business Cash®
Chase Bank Ink Business Cash top features include:
Fairly decent interest rates
No annual fee
5% cash back on the first $25,000 you spend on certain business products, i.e. office
CitiBank Costco Anywhere Visa® Business Card
First, you must be a Costco member to get his card. It offers:
4% cash back on eligible gasoline purchases, including buying gas at Costco limited the first $7,000 per year
After that, get 1% cash back
3% cash back on restaurant and eligible travel purchases
Earn 2% cashback on all other purchases from Costco and Costco.com
1% cash back on everything else
There is no annual fee
A Credit Based Loan Can Help You Get Funding Without Cashflow or Collateral!
Fortunately, credit based funding is a legitimate way to fund your business needs without the need for collateral or meeting cashflow requirements. As noted, the most common source of this type of funding is business credit cards, or programs like the Credit Suite Credit Line Hybrid. As you can see, there are plenty of possibilities. The trick is, you just have to find the one that will work best for your business.