Are you looking for a business expansion loan? Find out how you can qualify, even with bad credit or a short time in business. Even higher-risk businesses can get business expansion loans.
And this all works, so long as an entrepreneur expands their horizons when it comes to lenders, just as much as they want to expand their existing business.
This blog post may contain affiliate links, meaning when you click the links for some products and make a purchase, Credit Suite receives a commission at no additional cost to you.
What Is a Business Expansion Loan?
A business looks for an expansion loan when it sees an opportunity to become bigger in some manner or another. 
These small business loans are a form of financing that is used to finance the growth and development of your small business, such as opening a new location, acquiring an existing company, or expanding into a different market.
A term such as 'expansion' can cover expanding payroll and hiring more employees. Or it can mean improving a business so that it is better positioned to compete in the marketplace. 
Companies can better compete with newer equipment, larger and better-appointed locations, and better-skilled employees, for starters.
Businesses with mature strategies for growth will have many of their own ideas of what expansion means to them. Expanding can even mean improving equipment or people. Better training for employees (even college) can be considered to be a form of expanding a business.
Often, businesses looking to expand will have some time under their belts and relatively stable cash flow. Entrepreneurs are looking to the future because they have smart and thorough projections showing that the business is likely to continue doing well in the future.
These are entrepreneurs who are no longer merely treading water. They are stable and profitable—and seriously considering making the kinds of moves that will represent a quantum leap in the industry.
Any of these changes can be considered the expansion of a business. And any means of getting business loans to fuel these changes can be considered to be expansion lending.
What Can a Business Expansion Loan Be Used For?
Expanding your business means different things to different entrepreneurs.
For a seasonal business devoted to only a few specific products or services, an expansion might mean finding a complementary business to cover the off-season. A business with a brick-and-mortar presence may be interested in getting a larger building or a second one.
Expanding a business can also mean taking on new employees and improving the quality of the services your business uses. For example, if you have a bookkeeper to handle your business finances, why not graduate to a full-fledged CPA—or maybe send your bookkeeper to school?
Expansion can also mean increasing the size of your business's fleet, or upgrading what you already have. Replacing older trucks with newer models is a form of expansion. So is upgrading company cars to larger and more luxurious vehicles.
Companies can also expand by taking on new lines of business even when they aren't seasonal businesses, to begin with.
Another form of expansion is to open a brick-and-mortar location when the company was one hundred percent virtual to start. Food truck businesses can become restaurants.
Or, a company can expand by moving its location to a more lucrative part of the city or to where the zoning is more congenial or the location is more convenient for its customers and prospects.
The truth is, the expansion of your business is whatever you make of it.
Types of Business Expansion Loans
Type 1 – Commercial Real Estate Financing
Because the land serves as the collateral for these business loans, they can often be a lot easier to get. Land has an intrinsic value that even goes beyond any buildings on top of it. As a result, entrepreneurs can often get it even if they have lower consumer credit scores.
Financing for commercial real estate is also for very high amounts of money, seeing as land and commercial buildings cost so much in the first place. 
With this in mind, our commercial real estate financing has approval amounts up to $20 million. You will need to have fair consumer credit scores of 620 or better. Our lending partners will want to see bank statements.
Type 2 – An SBA Loan
For business loans, the Small Business Administration offers the 504, 7(a), and microloans. Each SBA loan could work for financing small business expansion. 
If your small business is in a declared disaster area, it is possible to get an economic injury disaster loan. But recognize that this is a personal loan. Also, it comes with restrictions. You can't use it to upgrade your home or put on an addition.
As a result, you will probably be hit with restrictions if you try to use one as a small business expansion loan.
A much better small business loan from the SBA for business expansion is the 504 (and possibly also the 7(a) as it is specifically meant for commercial real estate. Opening a new business office is a great way to use such a small business loan for business expansion.
Business loans from the SBA come with good rates but there is a lot of paperwork involved.
Type 3 – Term Loan
We often think of a term loan from a traditional bank when we think of business loans and business finance. But these days, you don't need to get financing from a lender down the street. How about an online lender? 
When you get a business loan from an online provider, often they make allowances if your time in business isn't very long or your personal credit score isn't the best. 
The beauty of this type of small business loan is that online providers are often very fast. You might get approval in as little as a few minutes! Sometimes you can get working capital in less than a day, too.
Type 4 – Merchant Cash Advance
For small business owners with poor personal credit scores, a merchant cash advance can be a viable loan option. But keep in mind that it depends on the card sales of a small business. If you don't have a lot of credit card sales, then an MCA is off the table.
An MCA is also a short-term loan, and its interest rate is high with this business loan program. Also, your maximum loan amount is likely to be dictated by your credit sales. 
So, a merchant cash advance may or may not be able to stand alone as a small business expansion loan. But you can always use such a smaller loan amount to supplement corporate expansion lending from a different provider.
Type 5 – Invoice Financing
For business owners looking to solve cash flow problems, invoice factoring is a great solution. 
With this financing choice, business owners sell their unpaid invoices to a factoring company. The factoring company pays a high percentage of the outstanding invoices, often about 80%. 
With this form of financing, personal credit doesn't matter because the factoring company only wants to know if your customers pay their bills on time.
This funding choice is perfect if you need working capital but you still want to give your customers terms, such as net 30, etc. But the amount is limited by the number of outstanding invoices, so it's not likely to be enough to purchase, say, real estate.
Use the loan proceeds to cover cash flow shortfalls and to help supplement regular business loans for expansion.
Type 6 – Business Line of Credit
A business line of credit works a lot like your small business credit card does. You can draw on a certain amount of money and you only pay the interest rate on the amount drawn. Then, when you pay off the loan amount drawn, it is available to you again.
A business line of credit can even be a part of a small business's online banking. In fact, that is likely to be the easiest way to set them up and use them. 
Credit lines for a small business tend to be more of a solution to a cash flow problem. So, much like an MCA, they can work well to supplement business expansion loans from other providers.  
Type 7 – Personal Loan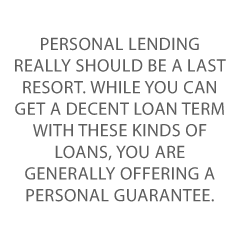 Personal lending really should be a last resort. While you can get a decent loan term with these kinds of loans, you are generally offering a personal guarantee. A lender may even take out a lien on your car, boat, or real estate. 
This means that, if you default on your payments, you can lose some of your personal property. As a result, you could be facing financial difficulties in both your personal and business life. 
Still, personal lending is a chance that some people are willing to take. In general, a HELOC (home equity line of credit) will serve your purposes the best.
How to Get a Business Expansion Loan
Much like with other forms of business finance, getting small business loans for expansion will involve some research on your part. Know your personal credit scores and take steps to improve them if necessary.
Also, get together your business's financials. These include your business plan, business tax returns, and any deeds or mortgages, or rental agreements in the business's name. This documentation also includes licensing and profit and loss statements.
If your company's financial documents were not prepared by a financial services professional, now is the time to rectify that. Working with an accountant (preferably a CPA) will help you to put your company's best foot forward when applying for financing.
Also, take stock of any form(s) of collateral that you can get together. While not every type of expansion financing will require collateral, it will never hurt to know what you have on hand and can use.
For certain industries, there will be built-in limitations on where you can get expansion funding. For example, businesses within the cannabis industry will most likely have to either go with business credit, MCAs, or invoice factoring.
That is if they cannot find a lender specializing in the industry. Even with cannabis being fully legal (even for recreation) in a lot of the United States, it is still seen as a vice industry. A traditional lender often will not touch it.
Higher-risk industries like over-the-road trucking may also have to work mainly with online lending institutions that specialize in the industry and can understand its needs and a given company's ability to pay back a loan for expansion.
Where to get a Business Expansion Loan
Lending for business expansion can come from several different sources. Your options will depend on your qualifications. They may also depend on what you would like to use such a loan for, as some lenders will have restrictions on your usage of the funds.
Just like with a lot of other lending products, you may find that you do best to cobble together a few separate types of small business loans, such as our Credit Line Hybrid, invoice financing, and a loan from the SBA.
Since the SBA requires a down payment, why not finance that down payment with the proceeds from applying for our Credit Line Hybrid?
Consider where you can qualify for expansion finance now, and where you can potentially qualify with some effort. For example, improving your business Fundability™ can only help you and your business. 
Playing the long game can help your business get any form of funding. An expansion loan is no exception.
For many kinds of businesses, a perceived higher risk level can make it difficult for them to get more traditional forms of financing. But not to worry. It quite literally pays to think creatively.
Owners of higher-risk businesses can also do well to combine together a few forms of expansion financing.
The same is true for entrepreneurs with poor personal credit. While having better consumer credit always helps, substandard personal credit is not an automatic washout when it comes to expansion funding.
Again, thinking creatively, and cobbling together a few sources of cash, can make company expansion not only possible but affordable as well.
Best Business Expansion Loan Options
Option 1 – Credit Line Hybrid
Our Credit Line Hybrid is the perfect solution for expanding your business. Get up to a maximum loan amount of $150,000 in "no doc" financing. You will need personal credit scores of 700 or better, or at least a credit partner needs to have that kind of good credit.
Get a 0% interest rate for 6-18 months and business credit cards that report to the credit bureaus. There are no collateral or cash flow requirements. Even startups can qualify!
Use the funds to do what you need to do for your business, which of course includes expanding. Application to funding in 3 weeks or less and there's no up-front application fee.
Option 2 – Funding Circle
Funding Circle is an alternative lender that offers up to a maximum loan amount of $500,000 in as little as 2 days. This financing option is only available for small businesses bringing in $50,000 or more in annual revenue. Also, you must be in business for at least 2 years to qualify.
They also want to see strong business and personal credit scores, as in, the small business owner must have at least a 660 FICO to get this financing option. 
Get a repayment term of up to 7 years with their small business term loan. There do not appear to be any restrictions, so use the money as small business expansion lending.
Option 3 – Fora Financial
Fora Financial offers business expansion loans and financing. Because a business owner can qualify with a personal credit score as low as 500, this financing choice works for bad credit. 
To qualify with them, your small business must be bringing in $150,000 per year in revenue, but you only need to be in business for 6 months or more. Note: you must have a business checking account and cannot have any open bankruptcies.
You can get up to $1.4 million in a working capital loan. Use the funding as you need to, so this business financing choice can work well as a business expansion loan. 
Option 4 – Equipment Financing
If your company expansion plans include upgrading equipment or buying what you never had before, equipment financing can be a smart way to accomplish your goals. 
The equipment serves as the collateral for the loan, so often qualifications are more relaxed than with other types of financing.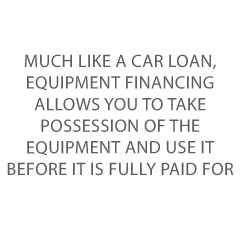 Much like a car loan, equipment financing allows you to take possession of the equipment and use it before it is fully paid for. This way, your expansion plans can be achieved a lot faster than if you had to get together the entire equipment payment all at once.
This also means that you can use the profits from using your new equipment to… pay for that equipment!
One provider is National Funding.
Option 5 – Business Credit Cards
Business credit is a great way to fund your business growth. As you purchase the products and services that you need, you can be building your business credit history and set your company up for higher credit limits and even small business loans.
After all, if your expansion plans include moving into a bigger working space, you're going to need, say, more cleaning supplies or computers and computer cables. 
In short, the better your business credit is, the better your chances of getting any form of expansion loan, both now and in the future.
Keep thinking outside the box to get funding for your business to expand. 
Takeaways
Stability in business will often cause an entrepreneur's thoughts to turn to expansion. A small business loan for expansion is a time-tested way to make this kind of economic development happen.
Contact us today to explore your options for business loans and improve your chances of qualifying for several different types of financing for expanding your business and taking it to the next level.