Are You Into Business Credit Building?
Business credit building means that your firm obtains opportunities you never felt that you would. You can get all-new equipment, bid on realty, and deal with the company payroll, even when times are a bit lean. This is specifically helpful in holiday business enterprises, where you can go for months with just minimal sales.
Due to this, you really should focus on growing your business credit. Improve and maintain your scores and you will have these opportunities. Do not, and either you do not get these opportunities, or they will set you back you a lot more. And no company owner wants that. You need to know what affects your company credit before you can make it better.
Credit History Length Matters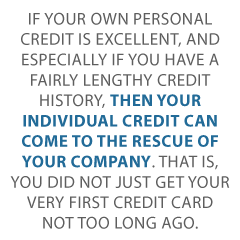 This is in essence how long your company has been business credit building. Naturally newer businesses will have brief credit histories. Although there is not a lot you can specifically do about that, do not worry. Credit reporting bureaus will also take a look at your personal credit score and your record of payments.
If your own personal credit is excellent, and especially if you have a fairly lengthy credit history, then your individual credit can come to the rescue of your company. That is, you did not just get your very first credit card not too long ago.
Of course the reverse is also true. So if your consumer credit history is poor, then it will affect your company credit scores until your small business and personal credit can be separated.
Do Not Permit Your Credit Utilization Rate to Harm Your Small business
Your credit utilization rate just means the amount of cash you have on credit. It is then divided by your total available credit. Lenders usually do not want to see this exceed 30%. So for each $100 in credit, do not borrow on in excess of $30 of that. If this percent is climbing, you'll have to spend down and work off your financial obligations before borrowing more.
Your Payment History is Important
Late payments will have an effect on your business credit score for a good seven years. If you pay your business debts off, as fast as possible and as fully as possible, then you can make a very real difference when it involves your credit scores. Be sure to pay without delay and you will enjoy the benefits of promptness.
Your Personal Credit Can Impact Your Corporate Credit
Are you having an unsatisfactory business year? Then it could end up on your individual credit score. And in case your firm has not been in existence for too long, it will directly impact your business credit. However, you can unlink the two if you take measures to separate them.
Say, if you get credit cards only for your company, or you open up business checking accounts and other bank accounts, then the credit reporting agencies will start to treat your personal and corporate credit separately. Also, incorporate, or at least file a DBA.
You can also take care of your company's statements with your business credit card or checking account. And insure it is the small business's full name on the bill and not yours.
The Credit Reporting Bureaus Can Just Plain Get it Wrong
Just the same as each company out there, credit reporting agencies like Equifax and Experian are only as good as their records. If your firm's name is like another's, or your name is a lot like another small business owner's, there can possibly be some oversights.
So keep track of those reports, and your small business report at Dun & Bradstreet, PAYDEX. Stay on top of these reports and challenge charges with documentation and transparent communications. Do not just allow them to stay incorrect! You can correct this!
And while you're at, it you should also be overseeing the credit reporting agency which exclusively handles individual and not corporate credit, TransUnion. If you do not know how you can pull a credit report, do not worry. It's simple.
Business Credit Building
Now let's look at methodology. Business credit is credit in a company's name. It doesn't attach to an owner's personal credit, not even when the owner is a sole proprietor and the solitary employee of the corporation. Hence, an entrepreneur's business and consumer credit scores can be very different. Business credit is an asset which can help your company for many years to come.
The Benefits
Given that corporate credit is separate from consumer, it helps to safeguard a small business owner's personal assets, in the event of a lawsuit or business insolvency. Also, with two separate credit scores, a business owner can get two separate cards from the same merchant. This effectively doubles purchasing power.
Another advantage is that even start-ups can do this. Heading to a bank for a business loan can be a formula for disappointment. But building small business credit, when done properly, is a plan for success.
Personal credit scores rely on payments but also various other components like credit use percentages. But for corporate credit, the scores truly merely hinge on whether a small business pays its debts promptly.
The Process
Establishing business credit is a process, and it does not happen without effort. A business will need to actively work to establish corporate credit. However, it can be done easily and quickly, and it is much speedier than establishing consumer credit scores. Vendors are a big aspect of this process.
Performing the steps out of sequence will lead to repetitive rejections. No one can start at the top with business credit. For instance, you can't start with store or cash credit from your bank. If you do you'll get a denial 100% of the time.

Learn more here and get started toward building business credit.
Business Legitimacy
A small business needs to be authentic to loan providers and vendors. Therefore, a small business will need a professional-looking web site and e-mail address, with website hosting from a company like GoDaddy. Additionally company telephone and fax numbers must have a listing on ListYourself.net.
Also the company telephone number should be toll-free (800 exchange or the like).
A business will also need a bank account dedicated strictly to it, and it has to have every one of the licenses needed for operation. These licenses all must be in the accurate, correct name of the business, with the same small business address and telephone numbers. Keep in mind that this means not just state licenses, but potentially also city licenses.
Dealing with the IRS
Visit the Internal Revenue Service website and acquire an EIN for the company – they're free. Choose a business entity like corporation, LLC, etc. A company can start off as a sole proprietor but will most likely want to change to a variety of corporation or partnership to diminish risk and take full advantage of tax benefits.
A business entity will matter when it involves tax obligations and liability in the event of litigation. A sole proprietorship means the business owner is it when it comes to liability and taxes. Nobody else is responsible.
If you are a sole proprietor at the very least file a DBA. If you do not, then your personal name is the same as the small business name. As a result, you can wind up being personally accountable for all company financial obligations.
And also, per the Internal Revenue Service, using this arrangement there is a 1 in 7 probability of an IRS audit. There is a 1 in 50 probability for corporations! Avoid confusion and drastically reduce the chances of an Internal Revenue Service audit as well.
Beginning the Business Credit Reporting Process
Begin at the D&B web site and get a free DUNS number. A DUNS number is how D&B gets a business into their system, to generate a PAYDEX score. If there is no DUNS number, then there is no record and no PAYDEX score.
Once in D&B's system, search Equifax and Experian's websites for the corporation. You can do this at https://www.creditsuite.com/reports/. If there is a record with them, check it for accuracy and completeness. If there are no records with them, go to the next step in the process. By doing this, Experian and Equifax will have activity to report on.
Trade Lines
First you should build trade lines that report. This is also referred to as vendor credit. Then you'll have an established credit profile, and you'll get a business credit score.
And with an established business credit profile and score you can begin getting revolving store and cash credit.
These varieties of accounts tend to be for the things bought all the time, like coffee, shipping boxes, outdoor work wear, ink and toner, and office furniture.
But first of all, what is trade credit? These trade lines are creditors who will give you initial credit when you have none now. Terms are usually Net 30, instead of revolving.
Therefore, if you get an approval for $1,000 in vendor credit and use all of it, you must pay that money back in a set term, like within 30 days on a Net 30 account.
Details
Net 30 accounts need to be paid in full within 30 days. 60 accounts have to be paid fully within 60 days. Unlike with revolving accounts, you have a set time when you have to pay back what you borrowed or the credit you made use of.
To begin your business credit profile properly, you ought to get approval for vendor accounts that report to the business credit reporting bureaus. As soon as that's done, you can then use the credit.
Then pay back what you used, and the account is on report to Dun & Bradstreet, Experian, or Equifax.
Not every vendor can help like true starter credit can. These are merchants that will grant an approval with very little effort. You also need them to be reporting to one or more of the big three CRAs: Dun & Bradstreet, Equifax, and Experian.

Learn more here and get started toward building business credit.
Revolving Store Credit
Once there are 3 or more vendor trade accounts reporting to at least one of the CRAs, move onto revolving store credit. These are businesses like Office Depot and Staples. These companies are more likely to have items you need.
Use the company's EIN on these credit applications.
Fleet Credit
Are there more accounts reporting? Then move onto fleet credit. These are service providers like BP and Conoco. Use this credit to purchase, fix, and take care of vehicles. Make sure to apply using the company's EIN.
Cash Credit
Have you been sensibly managing the credit you've gotten up to this point? Then progress to cash credit. These are businesses such as Visa and MasterCard. Keep your SSN off these applications; use your EIN instead.
These are typically MasterCard credit cards. If you have more trade accounts reporting, then these are in reach.
Monitor Your Business Credit
Know what is happening with your credit. Make sure it is being reported and fix any mistakes as soon as possible. Get in the practice of taking a look at credit reports. Dig into the specifics, not just the scores.
We can help you monitor business credit at Experian and D&B for 90% less than it would cost you at the business CRAs. Update the info if there are errors or the details is incomplete.

Learn more here and get started toward building business credit.
Contesting Mistakes
So, what's all this monitoring for? It's to contest any problems in your records. Mistakes in your credit report(s) can be fixed. But the CRAs typically want you to dispute in a particular way.
Disputing credit report inaccuracies generally means you mail a paper letter with duplicates of any proofs of payment with it. These are documents like receipts and cancelled checks. Never send the original copies. Always send copies and keep the originals.
Disputing credit report inaccuracies also means you precisely detail any charges you dispute. Make your dispute letter as crystal clear as possible. Be specific about the concerns with your report. Use certified mail so that you will have proof that you mailed in your dispute.
A Word about Building Business Credit
Always use credit responsibly! Don't borrow beyond what you can pay back. Monitor balances and deadlines for repayments. Paying off promptly and completely will do more to raise business credit scores than pretty much anything else.
Building company credit pays. Excellent business credit scores help a corporation get loans. Your lending institution knows the company can pay its financial obligations. They recognize the small business is bona fide. The company's EIN links to high scores and lending institutions won't feel the need to require a personal guarantee.
Takeaways for Business Credit Building
Once you find out what affects your business credit score, you are that much nearer to developing enhanced corporate credit. Learn more here and get started toward building business credit.