You Asked: How Do I Build Business Credit?

Building better business credit means that your small business gets chances you never felt that it would. You can get cutting-edge equipment, bid on real estate, and cover the company payroll, even when times are a bit lean. This is especially helpful in seasonal businesses, where you can go for calendar months with solely very little sales. So you may be asking yourself: how do I build business credit?
Due to this, you should work on growing your business credit. Improve and maintain your scores and you will have these chances. Do not, and either you do not get these business opportunities, or they will set you back you a lot more. And no small business owner wants that. You should recognize what affects your small business credit before you can make it better.
How Do I Build Business Credit? Credit History Length Is Vital
This is essentially the length of time your business has been utilizing business credit. Obviously newer businesses will have very short credit histories. While there is not too much you can specifically do about that, do not worry. Credit reporting bureaus will also look into your personal credit score and your very own record of payments. If your individual credit is good, and especially if you have a relatively lengthy credit history, then your individual credit can come to the rescue of your corporate. That is, you did not just get your very first credit card a short while ago.
Typically the reverse is also right– if your consumer credit history is bad, then it will have an effect on your corporate credit scores until your small business and personal credit can be separated.
How Do I Build Business Credit? Your Payment History Truly Matters
Overdue repayments will impact your small business credit score for a good seven years. Pay your business (and personal) financial obligations off, as speedily as possible and as completely as possible. You can make a very real difference when it comes to your credit scores.
See to it to pay on schedule and you will reap the benefits of punctuality.
How Do I Build Business Credit? Your Personal Credit can Impact Your Corporate Credit
A bad business year could wind up on your personal credit score. And in the event your business has not been around for too long, it will directly affect your corporate credit. Nonetheless, you can separate them both by taking steps to unlink them.
Say, if you get credit cards exclusively for your small business, or you open business checking accounts and various other bank accounts (or even get a business loan), then the credit reporting bureaus will begin to treat your individual and small business credit separately.
Also, make sure to incorporate, or at least file a DBA (doing business as) status. You can also pay for your company's statements with your firm credit card or checking account, and ensure it is the company's name on the bill and not yours.
How Do I Build Business Credit? The Credit Reporting Bureaus Can Get it Wrong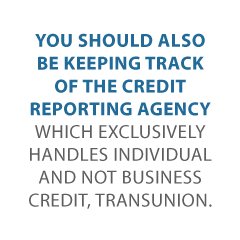 Just the same as every organization out there, credit reporting agencies such as Equifax and Experian are only as good as their files. If your business's name resembles another's, or your name is a lot like another small business owner's, there can potentially be some errors. So keep an eye on those reports, and your business report at Dun & Bradstreet, PAYDEX.
Stay on top of these reports and question charges with documentation and clear-cut communications. Do not just allow them to stay incorrect! You can correct this! And while you're at, it you should also be keeping track of the credit reporting agency which exclusively handles individual and not business credit, TransUnion. If you do not know how you can pull a credit report, do not fret. It's easy.
But Really, How Do I Build Business Credit?
Here's how.
Growing small business credit is a process, and it does not happen automatically. A business will need to proactively work to develop business credit. Nonetheless, it can be done easily and quickly, and it is much faster than building consumer credit scores. Vendors are a big aspect of this process.
Undertaking the steps out of sequence will result in repetitive rejections. Nobody can start at the top with company credit.
Small Business Fundability™
A business must be Fundable to lending institutions and vendors. Therefore, a company will need a professional-looking web site and email address, with website hosting bought from a vendor such as GoDaddy. And company telephone numbers must have a listing on ListYourself.net.
In addition the company telephone number should be toll-free (800 exchange or the like).
A corporation will also need a bank account dedicated purely to it, and it has to have all of the licenses necessary for operating. These licenses all have to be in the correct, accurate name of the business, with the same small business address and telephone numbers. Bear in mind that this means not just state licenses, but potentially also city licenses.
Dealing with the IRS
Visit the Internal Revenue Service website and get an EIN for the company. They're free. Select a business entity like corporation, LLC, etc. A company can begin as a sole proprietor but should switch to a type of corporation to lessen risk and maximize tax benefits.
A business entity will matter when it pertains to tax obligations and liability in the event of litigation. A sole proprietorship means the entrepreneur is it when it comes to liability and taxes. Nobody else is responsible.
If you are a sole proprietor at the very least you need to file for a DBA. If you do not, then your personal name is the same as the business name. Hence, you can wind up being personally accountable for all small business debts.
But don't look at a DBA filing as being anything more than a steppingstone to incorporation.
Beginning the Business Credit Reporting Process
Begin at the D&B website and get a free DUNS number. A DUNS number is how D&B gets a business in their system, to produce a PAYDEX score. If there is no DUNS number, then there is no record and no PAYDEX score.
Once in D&B's system, search Equifax and Experian's sites for the corporation. You can do this at https://www.creditsuite.com/reports/. If there is a record with them, check it for accuracy and completeness. If there are no records with them, go to the next step in the process. By doing this, Experian and Equifax will have activity to report on.
Vendor Credit
First you ought to establish trade lines that report. This is vendor credit. Then you'll have an established credit profile, and you'll get a business credit score.
And with an established business credit profile and score you can begin getting more credit.
These varieties of accounts tend to be for the things bought all the time, like shipping boxes, outdoor work wear, and office furniture.
But to start with, what is trade credit? These trade lines are credit issuers who will give you preliminary credit when you have none now. Terms are commonly Net 30, versus revolving.
So if you get approval for $1,000 in vendor credit and use all of it, you will need to pay that money back in a set term, such as within 30 days on a Net 30 account.
Details
Net 30 accounts need to be paid in full within 30 days. 60 accounts need to be paid fully within 60 days. Unlike with revolving accounts, you have a set time when you must pay back what you borrowed or the credit you used.
To start your business credit profile the proper way, you ought to get approval for vendor accounts that report to the business credit reporting bureaus. Once that's done, you can then make use of the credit.
Then repay what you used, and the account is on report to Dun & Bradstreet, Experian, or Equifax.
Not every vendor can help in the same way true starter credit can. These are vendors that will grant an approval with negligible effort. You also need them to be reporting to one or more of the big three CRAs: Dun & Bradstreet, Equifax, and Experian.
Monitor Your Business Credit
Know what is happening with your credit. Make sure it is being reported and attend to any mistakes ASAP. Get in the practice of taking a look at credit reports. Dig into the particulars, not just the scores.
We can help you monitor business credit at Experian, Equifax, and D&B for a lot less than it would cost at the CRAs. Update the data if there are mistakes or the information is incomplete.
Fix Your Business Credit
So, what's all this monitoring for? It's to challenge any problems in your records. Errors in your credit report(s) can be fixed.
Disputing credit report mistakes usually means you specifically itemize any charges you challenge.
A Word about Business Credit Building
Always use credit smartly! Never borrow more than what you can pay off. Monitor balances and deadlines for repayments. Paying promptly and in full will do more to boost business credit scores than almost anything else.
Building company credit pays off. Great business credit scores help a company get loans. Your credit issuer knows the company can pay its financial obligations. They know the company is authentic. The company's EIN connects to high scores, and loan providers won't feel the need to request a personal guarantee.
Business credit is an asset which can help your business for years to come.
Takeaways for How Do I Build Business Credit
Once you recognize what affects your corporate credit score, you are that much nearer to creating improved corporate credit. Discover this new way to answer the question: how do I build business credit?