We're Asking About Your Best Business Credit – Do YOU Know How to Build it Effectively?
So, your best business credit – do you know how to build it effectively?
Do you know the best order in which to build business credit, to avoid being turned down and bypass delays? We do.
The Best Business Credit Opens Doors
Building small business credit means that your company gets chances you never knew you would. You can get new equipment, bid on realty, and deal with the company payroll. And this is even when times are a bit lean.
This is especially helpful in seasonal companies, where you can go for several months with only negligible sales.
Credit History Length Matters When Building the Best Business Credit
This is in a nutshell how long your business has been using business credit. Naturally newer firms will have short histories. While there is not a lot you can particularly do about that, do not worry.
Credit reporting agencies will also investigate your FICO score and your very own background of payments. If your FICO is good, then your it can come to the rescue of your corporate. So this is particularly if you have a somewhat extensive history.
Obviously the converse is also right. If your FICO score is poor, then it will impact your business credit scores. And it will do so until it all can be split up.
Your Payment History is Important for the Best Business Credit
Overdue payments will impact your score for a good seven years! Make sure to pay your company debts off, as quickly as possible and as completely as possible. So then you can make a very real difference in your scores.
Make sure to pay without delay and you will reap the benefits of promptness.
Your Personal Credit Affect Even the Best Business Credit
Are you having a dissatisfactory business year? Then it could land on your individual credit score. And just in case your company has not been in existence for too long, it will directly influence your corporate credit.
Fortunately, you can unlink them both by taking steps to uncouple them.
Say, if you get cards just for your firm, or you open business checking accounts and various other bank accounts, then the CRAs will start to treat your personal and small business credit on an individual basis.
Also, make sure to incorporate.
You can also pay for your company's expenses with your business card or checking account. Also, make sure it is the business's full name on the bill and not your own.
Get the Best Business Credit Even Though the CRAs Can Get it Wrong
Just like every entity out there, CRAs such as Equifax and Experian are only as good as their files.
If your business's name is like another's, or your name is a lot like another company owner's, there could be some oversights.
So monitor those reports, and your small business report at Dun & Bradstreet, PAYDEX. Stay on top of these reports. And dispute charges with paperwork and transparent communications. Do not just let them stay wrong! You can repair this!
And while you're at it, monitor the CRA which only handles personal credit, TransUnion.
If you do not know how to pull a report, do not worry. It is easy.
The Best Business Credit Building Methods
This is credit in a business's name. It doesn't tie to a business owner's records, not even if the owner is a sole proprietor and the only employee of the business. As a result, a business owner's business and consumer scores can be very different.
The Advantages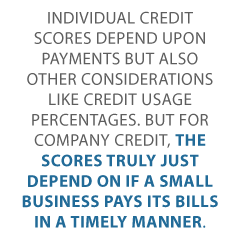 Since corporate credit is distinct from consumer, it helps to safeguard a small business owner's personal assets, in the event of legal action or business insolvency. Also, with two distinct credit scores, a small business owner can get two separate cards from the same vendor. This effectively doubles buying power.
Another benefit is that even startup ventures can do this. Visiting a bank for a business loan can be a recipe for disappointment. But building corporate credit, when done the right way, is a plan for success.
Individual credit scores depend upon payments but also other considerations like credit usage percentages. But for company credit, the scores truly just depend on if a small business pays its bills in a timely manner.
The Process
Establishing small business credit is a process, and it does not occur without effort. A business has to proactively work to build corporate credit. However, it can be done readily and quickly, and it is much speedier than establishing consumer credit scores.
Merchants are a big part of this process.
Doing the steps out of order will lead to repetitive denials. No one can start at the top with business credit.
Business Fundability™
A company must be reliable to credit issuers and vendors. That is why, a company will need a professional-looking web site and email address, with website hosting bought from a vendor such as GoDaddy.
In addition business phone numbers must have a listing on ListYourself.net.
Additionally the business telephone number should be toll-free (800 exchange or comparable).
A business will also need a bank account dedicated solely to it, and it must have all of the licenses essential for operating. These licenses all must be in the accurate, correct name of the company, with the same small business address and telephone numbers.
So keep in mind that this means not just state licenses, but possibly also city licenses.
Working with the Internal Revenue Service
Visit the IRS web site and obtain an EIN for the business. They're free of charge. Pick a business entity like corporation, LLC, etc.
A small business can begin as a sole proprietor. But they should switch to a type of corporation or partnership to decrease risk and maximize tax benefits.
A business entity will matter when it comes to taxes and liability in the event of a lawsuit. A sole proprietorship means the entrepreneur is it when it comes to liability and taxes. Nobody else is responsible.
Kicking Off the Business Credit Reporting Process
Begin at the D&B web site and get a free DUNS number. A DUNS number is how D&B gets a corporation into their system, to generate a PAYDEX score. If there is no DUNS number, then there is no record and no PAYDEX score.
Once in D&B's system, search Equifax and Experian's sites for the small business. You can do this at https://www.creditsuite.com/reports/. If there is a record with them, check it for accuracy and completeness. If there are no records with them, go to the next step in the process.
In this manner, Experian and Equifax will have activity to report on.
Vendor Credit
Start with vendor credit. First you ought to build trade lines that report. This is also called vendor accounts. Then you'll have an established credit profile, and you'll get a business credit score.
And with an established profile and score you can begin getting more credit.
These kinds of accounts have the tendency to be for the things bought all the time, like marketing materials, shipping boxes, outdoor work wear, ink and toner, and office furniture.
But to start with, what is trade credit? These trade lines are credit issuers who will give you initial credit when you have none now. Terms are usually Net 30, rather than revolving.
Therefore, if you get approval for $1,000 in vendor credit and use all of it, you will need to pay that money back in a set term, such as within 30 days on a Net 30 account.
Details
Net 30 accounts must be paid in full within 30 days. 60 accounts need to be paid fully within 60 days. Compared to with revolving accounts, you have a set time when you have to pay back what you borrowed or the credit you made use of.
To begin your business credit profile properly, you should get approval for vendor accounts that report to the business credit reporting agencies. Once that's done, you can then make use of the credit.
Then repay what you used, and the account is on report to Dun & Bradstreet, Experian, or Equifax.
Not every vendor can help in the same way true starter credit can. These are vendors that will grant an approval with negligible effort. You also need them to be reporting to one or more of the big three CRAs: Dun & Bradstreet, Equifax, and Experian.
Monitor Your Business Credit
Know what is happening with your credit. Make certain it is being reported and take care of any errors ASAP. Get in the habit of checking credit reports. Dig into the details, not just the scores.
We can help you monitor business credit at Experian, Equifax, and D&B for 90% less than it would cost you at the CRAs. Update the information if there are errors or the data is incomplete.
Fix Your Records
So, what's all this monitoring for? It's to fix mistakes in your records. Errors in your credit report(s) can be corrected.
Disputing report inaccuracies generally means you precisely detail any charges you contest.
A Word about Building the Best Business Credit
Always use credit smartly! Never borrow beyond what you can pay back. Track balances and deadlines for payments. Paying off promptly and completely will do more to elevate your scores than just about anything else.
Establishing corporate credit pays. Excellent scores help a corporation get loans. Your credit issuer knows the small business can pay its financial obligations. They know the company is bona fide.
The small business's EIN connects to high scores, and lending institutions won't feel the need to demand a personal guarantee.
Business credit is an asset which can help your corporation for years to come. Learn more here and get started toward building it.
Best Business Credit – Do You Know How to Build it Effectively? Takeaways
Once you understand what influences your company credit scores, you are that much nearer to knowing how to build it effectively. effectively? Yes, you do!