There are so many options for business credit cards out there, it can be completely overwhelming to figure out which ones will work best for your business.  First, you have to figure out what you actually qualify to get.  Then, you have to determine if you need cash back rewards, dining rewards, an air miles business credit card, hotel rewards, or whatever other option you may have. 
Love Your Business and Yourself With an Air Miles Business Credit Card
If your credit is good, you are going to have lots of rewards options.  The thing is, you want to pick the card with the best rates and terms that has the most useful rewards option for you. Sometimes it's a no brainer, and sometimes it's not.  If you travel a lot for business, an air miles business credit card may be the perfect way to show your business some love. 
Here are 5 ways to love your business and share the love with air miles you earn from your business credit card.
Save on Business Travel
It seems obvious, but many business owners do not realize how much of a savings this can be if used properly.  If you use your card frequently and earn the most miles possible, you could feasibly save thousands of dollars a year in business travel.  Of course, you would need to determine if you travel enough to make this the most profitable choice when compared to whatever other choices you have.  If you do not travel for work frequently but you do frequent business dinners, dining rewards may work better. 
If you travel often though, the savings from an air miles business credit card could be significant.
Save on Personal Travel
Here is an exciting truth.  You do not have to use air miles from a business credit card for business travel.  That means you can earn air miles on business purchases and then use them for personal travel.  
If you do a lot of personal travel, or if you want to travel, this is a way you can use an air miles business credit card to show yourself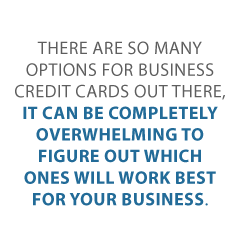 some love.  Business expenses are typically large enough to earn lots of miles, which can relate to major vacation savings for you.  So, even if you do not travel a lot for business, this could be a good option.
Get New Clients
Here's another tip.  You do not have to use miles earned from an air miles business credit card on yourself.  You can use them to purchase a ticket for someone else. Therefore, if you need to fly in a potential client or customer for a meeting, you can cover that expense with air miles. 
This can happen in a couple of ways.  You can transfer air miles to someone else, but there are usually limits on how many, and there are fees. You can also purchase a ticket for someone else directly through your air miles account.  This usually will be the option that offers the most savings, but do your research to be certain it works best in your situation. 
Keep Current Clients
In danger of losing a current client? Need to show them some love to get them to stick around? Air miles and free travel can be a great incentive.  Or, if you just want to show some good will toward all your customers in general, you could do a giveaway.  Offer a round trip ticket for two for Valentine's Day to a lucky winner!
Reinvest
Now, what do you do with all that savings? Reinvest in your business!  Every penny you save is money you can put back into your business to grow and expand.
What Are The Best Air Miles Credit Cards ? 
It's hard to say.  There are tons to choose from. The one that will work best for you and your business will depend on a number of factors.  You need to research all of your options and make an informed decision.  Remember also that limits, fees, interest rates, bonuses,  and other details can change frequently, so be sure to check with your credit card company now and then to see where you stand. 
Here are some options to consider. 
Capital One ® Spark® Miles for Business
The Capital One ® Spark® Miles for Business card has an initial annual cost of $0 for the first year. After that, it rises to $95. The regular APR is 20.99%.  Of course, this is variable due to the prime rate. 
Amazingly, you can get unlimited double miles on all purchases, with no restrictions. Earn 5x miles on rental cars and hotels if you book via Capital One Travel.
Furthermore, you can get an introductory bonus of 50,000 miles. Of course, you do have to meet the minimum spend requirement of $4,500 in the first 3 months after opening the account.However, this is a fairly low hurdle compared with the spending that can be required from other credit cards.
Ink Business Preferred ℠ Credit Card
Another great option is the Ink Business Preferred ℠ Credit Card. You pay a yearly fee of $95, and the regular APR is 15.99- 20.499%, variable. Sadly, there is no introductory APR deal.
Get 100,000 bonus points after spending $15,000 in the first three months after account opening. This works out to $1,250 toward travel rewards if you redeem through Chase Ultimate Rewards.
Also, get 3 points per dollar of the first $150,000 you spend with this card. That includes purchases on travel, shipping, internet, cable, and phone services. Plus, it includes marketing purchases made with social media sites and search engines. 
You can get 25% more in travel redemption when you redeem for travel via Chase Ultimate Rewards. 
Bank of America ® Business Advantage Travel Rewards World MasterCard® credit card
For no yearly fee while still getting travel rewards, check out this card from Bank of America. It has no yearly fee and a 0% introductory APR for purchases throughout the first 9 billing cycles. Afterwards, its regular APR is 12.24- 22.24% variable.
You can get 30,000 bonus points when you make a minimum of $3,000 in internet purchases within 90 days of your account opening. You can redeem these points for a $300 statement credit towards travel purchases.
Get unlimited 1.5 points for every $1 you spend on all purchases, anywhere, each time, no matter how much you spend.
Also earn 3 points per every dollar spent when you reserve your travel with the Bank of America ® Travel Center. There is no limit to the number of points you can get and points do not expire.
Even better, you can earn up to 75% more points on every purchase if you have a corporate checking account with Bank of America and qualify for Preferred Rewards for Business.
An Air Miles Business Credit Card Is a Great Way to Show Your Business, and Yourself, Some Love
If you qualify for an air miles business credit card, it can be a great tool.  It's a way to handle business expenses and save money at the same time. However, this only works if you tend to travel frequently, either personally or for business.  Or, of course, if you can use the miles as an incentive of some sort. 
If you do not qualify, it may be time to do something about that. Try asking a business credit expert for help.  You will be glad you did.