Understand Your FICO Score – It Could Help Your Business
Your FICO score matters when it comes to business credit building and getting loans. This is particularly true when you are just starting out. If your business has little to no credit in its name, then lenders and venders are going to want to check your FICO score.
FICO Business Credit Scores
FICO uses its SBSS (Small Business Scoring Service) Score to combine consumer bureau, economic, application, and business bureau information. Then FICO validates their SBSS models for deals such as credit line transactions, term loans, and commercial card obligations which go up to $1 million. Their idea is to assess just how your small business pays back all types of loans.
Business credit providers use this FICO score as a device to choose whether they should authorize a loan to your company at all.
The SBA uses this FICO score as well, to authorize or approve business loans. It has a basis in your business and consumer credit history and not just your company's financial health.
The score factors in the assessment of the risks inherent in your company's credit applications. With SBSS, lending institutions make their decisions in a matter of hours, as opposed to days. Lenders are more confident in their lending judgments, and your company gets swifter decisions on your loan applications.
The SBA's Participation
The FICO Small Business Score or SBSS score is the main number that the SBA considers while identifying to approve a loan, especially when it involves the SBA's 7(a) loans.
FICO SBSS
The FICO SBSS score is a method used to evaluate the creditworthiness of your small business. Business credit providers utilize the FICO SBSS (short for Small Business Scoring Service) FICO score as a means to decide if they should approve a loan to your small business at all. The SBA makes use of this score as well to authorize or approve business loans. It based on your both business and personal credit history and not just your business's financial health.
The score factors in the assessment of the risks inherent in your business's credit applications. With SBSS, lenders make their decisions in just hours, instead of days. Lenders are more self-assured in their lending judgments, and your company gets faster decisions on your loan applications.
The FICO small business score or SBSS score is also the major number which the SBA considers while determining to authorize a loan, particularly when it comes to the SBA's 7( a) loans.
Computing a FICO SBSS Score
The FICO SBSS Score shows the likelihood or probability of you, the candidate, covering your month-to-month costs on schedule. The score runs from 0 to 300. A higher score means lower risks and generally creates more positive credit terms.
The score originates from your business and personal history of credit usage along with your business's financial data. Variables also involve your company's age, and its years or complete time in business.
As of 2014, all SBA 7(a) loans must go through a business credit score pre-screen, and for SBA loans, you can possibly not obtain an approval if you had a score less than 140. However the cutoff was generally set to 160, and frequently, a score below 160 meant a denial.
Many loan providers will only accept scores above 160 or 180, to lend as much as $1 million. Yet a rating less than 160 or 180 can still qualify you for a smaller loan.
1. The Formula for the FICO SBSS Score is as Follows:
The last year of PAYDEX scores derived from Dun & Bradstreet
Amounts and kinds of any judgements versus your business
The amounts and sorts of any liens versus your small business's real or personal property
Your firm's available resources
Your firm's profits
Plus various other, less precise financial facts
If you have no record of business credit and had a limited or brief time in your business, then the possible best FICO SBSS score you can possibly expect is 140.
Learn business loan secrets and get money for your business.
2. Usage and Types of SBSS Model Lenders
A FICO SBSS rating includes the alternative to opt for specific models which are market-specific for enhanced and far better decision making. For example, one model is a farming leasing and lending model. Another model was made specifically for Canada. Additionally, the insights of the SBSS rating provide support for the SBRI (Small Business Risk Insight, from Dun & Bradstreet) as well as the SBFE (Small Business Financial Exchange) data databases.
Confirming the SBSS models is necessary for lines of credit, commercial cards, and term loans of as much as one million dollars. If you are requesting one million dollars or less from bank financing, then there are chances that your SBSS score will be under review.
3. The Type of Data in the Score
The SBSS offers the credit providers of businesses various data blends to guarantee that they can analyze your business's credit risks. For example, a certain issuer of credit can select only to examine a concept owner's application information, or the credit issuer can choose to include one or multiple business bureaus' data.
Or the credit issuer can only decide to focus on one element over another. This intelligent rating stems from various business bureaus on an automated basis, in any kind of order or whatever priority the provider of the credit prefers. For that reason, if the loan provider picks the score of Dun & Bradstreet's PAYDEX as its default, the SBSS will pull that set of information.
4. SBSS Credit Offer Index: Just How It Works and Why It Is Essential
The Credit Index is a component of the FICO SBSS Credit Score for your small business, made to assist credit issuers understand your capacity. It functions as the standards against all businesses with similar profiles.
The SBSS Credit Offer Index consists of monetary application info, business bureau documents, and credit bureau information for customer. It provides a percentile ranking of the present versus other smaller businesses with identical or comparable attributes and total requested money from all those businesses.
5. The Updated SBSS
The FICO SBSS Score was improved very recently from its earlier and original version. Reporting agencies like D&B power the newer FICO SBSS Score model. The SBFE information might be used to expect charge-offs, bankruptcy, or three plus cycles overdue or delinquency over a period of two years.
Your FICO Score Directly Impacts SBA Credit Scoring
The SBA's tool has a basis in your FICO score. Their idea is to speed up their credit choices for loan authorizations. The tool uses numerous information sources and over one hundred combinations of company and consumer analytical models. They use a designated cutoff.
Their general data on their over $60 billion portfolio demonstrate that companies with ratings at, or above the assigned cut-off will have very good payment history.
Your FICO Score Directly Impacts Experian Credit Scores
Experian's scoring system is called Intelliscore Plus.
What is the Intelliscore Plus Credit Score?
The Intelliscore Plus credit score is a statistically based credit-risk evaluation. The essential objective of Intelliscore Plus is to aid companies, investors, and possible future lending institutions make smart judgments concerning who they should or should not do business with.
Like an auto dealership uses a consumer's FICO score to quickly determine just how much of a credit risk a potential customer might be, the Intelliscore Plus credit score can give understanding on how much of a credit risk a business or entrepreneur might be.
Intelliscore Plus Credit Score Range
The Intelliscore scores range from 1 to 100. So the higher your score, the lower your risk class. The chart below details each Intelliscore Plus credit score range and its associated meaning.
Score Range/Risk Class
76 – 100 Low
51 – 752 Low – Medium
26 – 503 Medium
11 – 254 High – Medium
1 – 105 High
Learn business loan secrets and get money for your business.
Computing an Intelliscore Plus Credit Score
In the credit world, Intelliscore Plus is deemed among the most dependable tools in effectively forecasting risk. Among the ways Intelliscore Plus maintains this claim to fame is by acknowledging the significant variables that reveal if a company is likely to pay their debts.
Though there are over 800 industrial and owner variables constituting an Intelliscore Plus credit score, the variables can be broken down into these essential factors:
Payment History
The bureaus call this recency however in the real world, it's nothing more than your current payment status. This includes the number of times your accounts end up being delinquent, the number of accounts that are presently delinquent, and your overall trade balance.
Frequency
Similar to payment history, frequency represent the amount of times your accounts have been sent out to collections, the quantity of liens as well as judgments you might have, and any bankruptcies connecting with your business or personal accounts.
Frequency can likewise consist of details connecting to your payment patterns. Were you regularly slow or tardy with payment? Did you start off paying costs late, however over time, stopped doing so? These factors will certainly all be taken into consideration.
Monetary
This specific aspect concentrates on exactly how you use credit. For example, just how much of your offered credit is presently in use? Do you have a high proportion of overdue equilibrium in contrast with your credit limits?
If you will begin a company or are rather new to this game, the checklist above might seem a bit overwhelming. If you haven't started or don't have a lengthy history of business-based purchases, exactly how will Intelliscore Plus rate you?
Intelliscore Plus takes care of these scenarios by using a "blended model" to develop your rating. This means that they take your FICO score right into consideration when determining your business's credit score.
Learn business loan secrets and get money for your business.
Exactly How Do You Enhance Your FICO Score?
The big question has arrived, and while there is no golden solution, these ideas can absolutely help you enhance your rating.
Make Your Payments on Time
Your payment patterns and history are a driving force in your overall credit score. Over time, paying your bills on schedule will help establish your company as one that pays their financial obligations. This will undoubtedly help push your rating up and show other firms you are a low risk.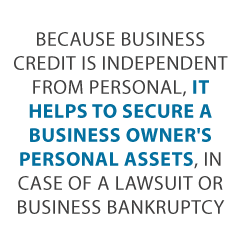 Use Your Credit
Keeping your debts low continues to be sound recommendations. Still, opening and responsibly taking advantage of company credit accounts can help you increase your available credit and increase your credit score.
Maintain a Healthy Personal Credit Profile
By now, you understand that your personal credit is fair game when it involves your Intelliscore Plus rating. Running a business is difficult work, however don't let your individual finances suffer. Guarantee that you stay on top of your personal monthly bills, stay clear of unnecessary credit inquiries, and avoid compromising your personal credit for company demands.
Check Your Credit Reports
Irrespective of what your credit score is, it is crucial that you continue to be thorough and assess your personal and business credit reports. This can help you locate feasible concerns and stay educated on your own credit profile.
Takeaways
Make sure that you have built the credit profile of your business and you are settling your business responsibilities in a timely manner. Lastly, always work on improving or fixing any damages to your customer report.
When you know where to check your business credit score, you have a much better chance of getting on top of it, and staying there.