In terms of business funding, the longer you have been in business, the better. There are some nuances to this you may not expect however. How can you get a $10,000 loan for your business when you have only been operating for 1 to 3 years?
How Long Have You Really Been in Business?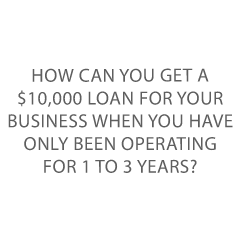 You may not have been in business as long as you think. At least, not in the eyes of credit issuers.
For example, if you have been doing business as a sole proprietor, and then decide to incorporate, some credit issuers will consider the date the business began to be the date of incorporation. Another thing that can affect time in business in the eyes of a lender is the date you open your business bank account.
Many lenders require a separate, dedicated bank account for your business, and they consider the date the business began to be the date the bank account was opened.
How Does Time In Business Affect Funding?
Generally speaking, the longer you have been in business, the more funding you can get. And you can also get better terms and interest rates when you have been in business longer.
There are not as many funding options when you have only been in business a year or fewer as there are when you have been in business 2 years, 3 years, or more. The longer you are in business, the more financing choices you will have.
$10,000 Loan Options for Companies with 1 Year in Business
When you were in business for less than one year, your funding options were pretty limited. There are ways to get money, but few of them are actually loans. These include:
The Credit Line Hybrid
Retirement and Investment Financing
Angel Investors
Venture Capital
Crowdfunding
And grants
You have more choices for $10,000 loan options once you get beyond a year in business.  Still, the Credit Line Hybrid in particular is a good choice regardless.
Credit Line Hybrid
A credit line hybrid is a form of unsecured funding. With it, you can get interest rates as low as 0%.  It's a credit card stacking program, and many of the cards report to business CRAs. This means, you can build business credit while funding your business.
You need a good credit score or a guarantor with good credit to get an approval. For the Credit Suite Credit Line Hybrid, this is a FICO score of at least 700. No financials required, and a $10,000 loan which this program is more than doable.  That is because often you can get a loan of up to $150,000.
Be aware, some cards may report on your personal credit. That means it can affect your personal credit score as well, so be sure you make your payments.
$10,000 Loan Options with 2 Years In Business
With another year in business, you can access the above funding types, plus you have the possibility of a few more. Here are some examples:
Business Revenue Lending
Although you can technically qualify with only one year in business, the annual revenue requirement is high enough that applying later may make more sense. With a similar basis for getting funding, business revenue lending can be considered a reasonable alternative.
This is a way to raise capital from investors who get a percentage of the enterprise's ongoing gross revenues in exchange for money invested. In a revenue-based financing investment, investors get a regular share of business income until a predetermined amount is paid.
Often this predetermined amount is a multiple of the principal investment. It can be between 3 – 5 times the original amount invested. Since repayment of the loan is based on revenues,  the time it takes to repay the loan will fluctuate. The faster revenue grows, the quicker you'll repay the loan, and vice versa.
The percentage of monthly revenues committed to repayment can be as high as 10%. Furthermore, monthly payments will fluctuate with revenue highs and lows and will continue until you've paid back the loan in full.
The terms for the Credit Suite business revenue lending program are:
You must be able to prove consistent revenue verifiable through bank statements
Loan Amounts from $5,000-$500,000
3-36 month terms
10-1.45%
500 credit score or higher, with no recent bankruptcies
Annual business revenue of $120,000 or more per year
Or business must bring in at least $15,000 monthly revenue with 6 months' time in business
In business for a year or more
The business must do more than 5 small transactions each month
Financial services industries are prohibited
Cash Flow Financing with Fundbox
Fundbox makes cash flow financing easy. All they need is information relating to business cash flow when deciding whether to approve. You can get a revolving line of credit for up to $100,000. Fundbox will auto debit your weekly payment from your bank account.
Even better, you don't need to show a minimum personal credit score or minimum time in business. You pay in equal installments over the course of a 12 or 24 week plan, and available credit replenishes as you pay. There is no penalty to repay early.
The business must be U.S. based and you need a 600+ personal FICO score. Other requirements include:
$100,000+ in annual revenue
A dedicated, separate business checking account
Ideally 6 months in business or more
Equipment Financing
Equipment financing is when you use a loan or lease to purchase or borrow hard assets for your business. It is a business financing option you can use to buy any physical asset. Physical assets can include items such as a restaurant oven or a company car.
When you get equipment financing through Credit Suite, you need at least one year in business. You can get approved even with challenged credit, and no financials are required.
$10,000 Loan Options After 3 Years on Business
After your company has been in business for at least 3 years, many more funding options become available. That is, in addition to those already listed. These include many of the more common options you have probably heard of.
SBA Loans
It'll be easier to get an SBA loan the longer you're in business. This is because you can more readily show your business is established, and making money. Demonstrating profitability and responsible credit and bank account management will improve your chances of getting an approval for an SBA loan.
SBA loans have great terms, so it is worth it to do what it takes to become eligible.
Term Loans
Banks are often the first place we think of when we think of financing. Yet, big banks only sign off on about 25% of the small business loan applications that come their way. Term loans often have lower interest rates than many other funding options. They also tend to be for higher loan amounts.
Generally speaking, the companies banks end up funding have:
Very strong financials
Near-perfect credit scores
Collateral
There Is More to Fundability Than Time In Business
It's important to remember that credit issuers look at much more than just time in business. Obviously things like whether or not you pay your bills or even make a profit come under consideration. However, even if you are currently paying bills and making a profit, you may not get approval if you do not have the time in business.