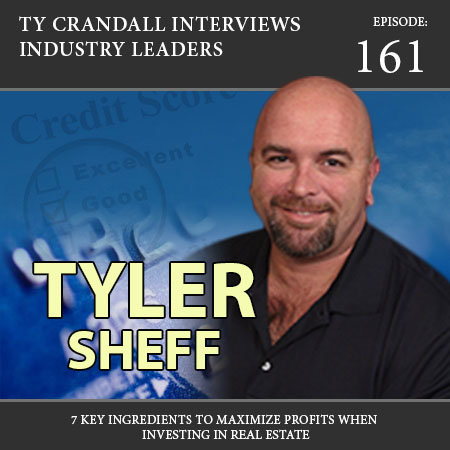 7 Key Ingredients to Maximize Profits when Investing in Real Estate
With Special Guest Tyler Sheff
Tyler Sheff, Founder of CashFlowGuys.com is a Licensed Real Estate Problem Solver, Educator, Investor and Syndicator. Tyler has been involved in Real Estate for over 16 years and now maintains a 100% focus on investing for Cashflow and helping others do the same.
As a Master Facilitator of Robert Kiyosaki's CashFlow101 Game; Tyler hosts workshops to teach the busy people how to use what they have; to obtain what they need; in order to build passive income and escape the rat race.
During This Show We Discuss…
How to find wealth by finding problems, not just properties
Where to find is the best place to find great investment properties
How you can find great properties on the MLS, contrary to what others may say
Where most of the REAL profit comes from in real estate investing
How to know whether to fix and flip, or buy and hold
How to maximize your profits as a landlord
Some of the best places to get capital for investing
How to use a 401k, stocks, bonds, or an IRA to get money to invest
The benefits of finding a great local real estate investing group
The best type of training for new real estate investors
The type of team you should build when you're in the business of real estate investing
The types of meetings and events you should have with your team regularly
How to build your personal brand as a teacher in real estate investing
Secrets to get the best deal when buying properties
Secrets to get the best deal when selling properties
The things people commonly overlook when rehabbing properties
Things that people are surprised by when they get involved in real estate investing
And much more
Show Resources
http://www.cashflowguys.com/podcast/
https://twitter.com/tyler_sheff
https://www.linkedin.com/in/tylersheff
HEAR WHAT OUR CLIENTS HAVE TO SAY
We are passionate about helping our clients secure business credit and financing, and offering both as a service. Of course, we're going to have great things to say about our company because we think what we do and how we do it is pretty awesome. What really matters is what our clients have to say, so click below to hear from some of our customers who we live to serve.