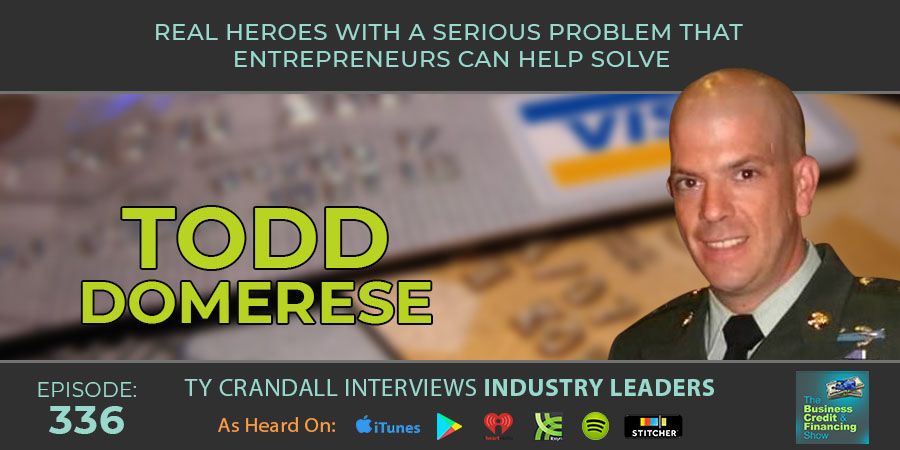 Todd Domerese: Real Heroes with a Serious Problem that Entrepreneurs Can Help Solve
Todd Domerese joined the Army at age 23 as an infantryman. In his 15 years in the Army, he has served with the 101st Airborne Division, the 25th Infantry Division, and the 1st Cavalry Division at Fort Hood, Texas. He did a 6 month long peacekeeping deployment in Kosovo in 2000, a 1 year long combat deployment to Sadr City, Iraq in 2004, and a 1 year long combat deployment to the Helmand Providence in Afghanistan in 2010. On December 27, 2004 his vehicle was hit by two improvised explosive devices simultaneously. His gunner was killed instantly, his driver had his arm torn apart by shrapnel, and Todd had a large metal fragment go through his Kevlar helmet which caused a period of unconsciousness, a large complex scalp laceration, a linear skull fracture and swelling and bruising on his brain, and multiple shrapnel pieces embedded in his face that had to be surgically removed.
Some of the disabilities Todd suffers from are severe post traumatic stress disorder, severe migraine headaches, and other residual effects from his moderate traumatic brain injury. His awards include the air assault badge, the expert infantryman badge, the combat infantryman badge, the expert marksmanship badge, the Purple Heart medal, the Army Commendation medal (2), Army Achievement medal (6), Good Conduct medal (5), National Defense Service medal, Kosovo Campaign medal, Afghanistan Campaign medal, Global War on Terrorism Expeditionary medal, Global War on Terrorism Service medal, Military Outstanding Volunteer Service medal, Noncommissioned officer professional development ribbon (2), Army Service ribbon, Army Overseas Service ribbon (4), Afghanistan NATO medal, and the Kosovo NATO medal. Todd has have been married for 14 years and has two sons- Benjamin, age 9 and Joshua, age 5.
During this show we discuss…
What Intrepid Fallen Heroes Fund is all about
The aim of Intrepid fallen heroes
Why the government isn't helping traumatic brain injury servicemen as they should
How you can help IFHF's mission right now
The biggest challenge that IFHF faces
How IFHF aids the military personnel
Psychological benefits of focusing on the mental health on a hero
How a veteran improves their mental wellness
What you can donate to IFHF
The best way to relate to veterans with PTSD
The biggest challenge for traumatic brain injury that affects servicemen
Effects of returning from battle in the age of invisible wound
Best ways to treat a hero's invisible wounds
HEAR WHAT OUR CLIENTS HAVE TO SAY
We are passionate about helping our clients secure business credit and financing, and offering both as a service. Of course, we're going to have great things to say about our company because we think what we do and how we do it is pretty awesome. What really matters is what our clients have to say, so click below to hear from some of our customers who we live to serve.