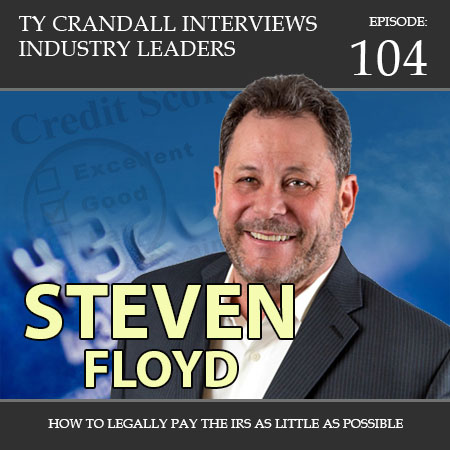 How to Legally Pay the IRS as Little as Possible
Steven Floyd has over 25 years of experience savings taxpayers thousands of tax dollars via strategic tax planning and/or resolving tax issues with the IRS. He is an Enrolled Agent and Certified Tax Coach. After graduating from USC in 1982 with a BS in Finance, he has worked in the banking industry, private sector and in 1992 opened his own practice.
Steven's passion is to have taxpayers pay the least amount of tax legally possible. And he shares his message frequently in lectures with several real estate associations and organizations and is a member of the California Society of Enrolled Agents, National Association of Tax Professionals, American Society of Tax Problem Solvers, and American Institute of Certified Tax Coaches.
Steven is also the author of the best-selling book You Can Deduct That… How Small Business Owners Can Transform Ordinary Spending into Tax Savings.
During this Show We Discuss:
Awesome advice for individuals and businesses to pay the least amount of tax legally possible
Things individuals and businesses can deduct that most would find surprising
The biggest mistakes business's make that result in paying more taxes than they should
The real difference between a deduction and tax credit
What you should do to prevent being audited
How to be proactive in tax planning instead of reactive
Super-effective tax-saving strategies that CPAs don't suggest
The best entity to set up for a business tax-wise, and why
The best vehicles for investing
The difference between a CPA and an Enrolled Agent
And much more
Resources
HEAR WHAT OUR CLIENTS HAVE TO SAY
We are passionate about helping our clients secure business credit and financing, and offering both as a service. Of course, we're going to have great things to say about our company because we think what we do and how we do it is pretty awesome. What really matters is what our clients have to say, so click below to hear from some of our customers who we live to serve.