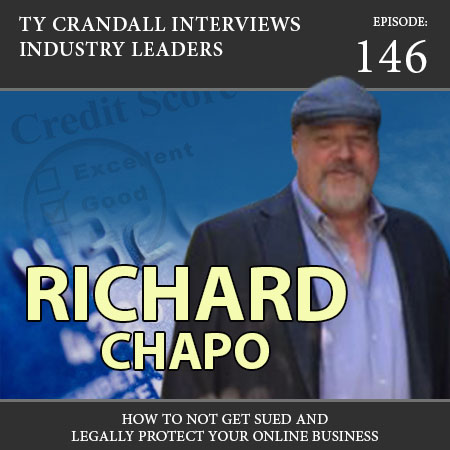 How to Not Get Sued and Legally Protect Your Online Business
A lawyer for 24 plus years, Richard Chapo ("chap-oh") is a well-known Internet business lawyer in Southern California. Richard's philosophy is to proactively position his clients to minimize their potential exposure to lawsuits. To this end, he provides advice to clients as large as multinational corporations and as small as hobby bloggers with an eye towards eliminating potential problems areas before lawsuits are filed. Richard is versed in a variety of Internet laws including the DMCA, Communications Decency Act, and Children's Online Privacy Protection Act, as well as FTC compliance guidelines, state privacy mandates, and recurring billing laws.
During this show you'll discover…
Potential legal issues people may face when running an online business
Steps people should take to protect themselves when running an online business
Potential legal issues people should be aware of when they have a website or app
How to avoid getting sued
New changes to laws that may impact those who run online businesses
What you should do right from the beginning of starting an online business to reduce your risk of lawsuits
What can be done to protect yourself against others stealing your website content, and how you can monitor to see if people are
How to protect yourself from others infringing on your copyright
New requirements are out there for online businesses that offer recurring business models
Why every business should have a privacy policy, and what should be in it
The disclosures and disclaimers you should have on your website or app
Why would promising not to sell, share, or rent the personal information of your visitors could kill your business in the long run
What you should do if you get a demand letter about using an image without permission
How to stay in compliance with the FTC
The rights you have if a person leaves an inaccurate review about you online
And much more
Show Resources
HEAR WHAT OUR CLIENTS HAVE TO SAY
We are passionate about helping our clients secure business credit and financing, and offering both as a service. Of course, we're going to have great things to say about our company because we think what we do and how we do it is pretty awesome. What really matters is what our clients have to say, so click below to hear from some of our customers who we live to serve.