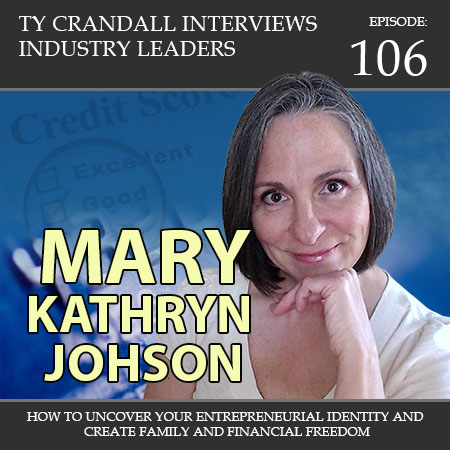 How to Uncover Your Entrepreneurial Identity and Create Family and Financial Freedom
As an Author, Entrepreneur and Mom, Mary Kathryn Johnson has created online success since 2003. A fall while pregnant with her second son landed her with two broken legs, her first book, and a business. She is now on her third business helping other parents create their own family and entrepreneurial freedom through her podcasting, writing, mentoring and online courses.
During this show we dive into...
What you can learn from other's business failures
What you can learn about learning from mistakes in your business and becoming emotionally attached
How to master outsourcing and automate your business
How to open and manage multiple online businesses at the same time
The power of coaching, mentors, and masterminds
The one sentence you should walk through to truly understand your business's identity and purpose
The secrets are to having a successful business and family life
How to separate yourself from your business to spend time with your family
And much more
Resources Discussed on the Show…
http://www.parententrepreneursuccess.com/pepower-podcast/
http://www.bulletprooftraininginstitute.com/coachtraining/
https://www.amazon.com/Big-Leap-Conquer-Hidden-Level/dp/0061735361
https://www.amazon.com/Code-Extraordinary-Mind-Unconventional-Redefine/dp/1623367085
HEAR WHAT OUR CLIENTS HAVE TO SAY
We are passionate about helping our clients secure business credit and financing, and offering both as a service. Of course, we're going to have great things to say about our company because we think what we do and how we do it is pretty awesome. What really matters is what our clients have to say, so click below to hear from some of our customers who we live to serve.