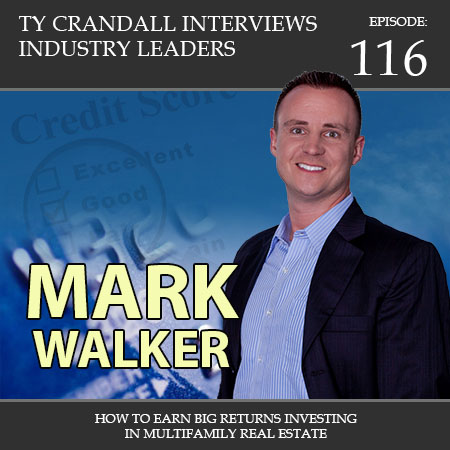 How to Earn Big Returns Investing in Multifamily Real Estate
Mark Walker has been an active real estate investor since 2004, so he brought a wealth of knowledge with him when he founded Luxmana Investments in 2011. He started out as a part-time investor––holding a full-time job in high tech––and his passion for real estate enabled him to escape the rat race of Corporate America.
Prior to Luxmana, Mark succeeded in multiple development projects in the trendy Highlands and Berkley areas of Denver, Colorado. Since then, he's acquired dozens of residential and multifamily income properties through Luxmana Investments LLC, which he founded in 2011, and Peak Margin Partners LLC, which he co-founded in 2013.
Mark holds a degree in Marketing from Oral Roberts University in Tulsa, Oklahoma, and has successfully overseen the operations of his own assets, and that of other investors, in Colorado, Texas, Florida and Illinois.
In this Show You'll Discover:
The main advantages of investing in multifamily properties is over single-family homes
Some of the main things to look for when investing in multifamily properties
Some surprising expenses that new owners of multifamily properties deal with
Types of returns you can expect to see when investing in multifamily properties
Whether you should manage your properties or use a a property management company
What a portfolio lender is and why an investor would want to seek one out
The lending criteria that commercial mortgage lenders have
How to find the right lender
The best ways to get money to invest into real estate
The best markets in the country for real estate investing right now
The keys to investing in an out-of-state real estate market
How to partner with sponsors on multifamily deals
Show Resources:
http://www.luxmana.com/creditsuite
Luxmana Investments Company URLs:
Website: http://www.luxmana.com/
LinkedIn: https://www.linkedin.com/company/luxmana-investments-llc
BiggerPockets: https://www.biggerpockets.com/co/luxmana-investments
Mark Walker Personal URLs:
LinkedIn: https://www.linkedin.com/in/mark-walker-a06957
BiggerPockets: https://www.biggerpockets.com/users/Mark_Luxmana
HEAR WHAT OUR CLIENTS HAVE TO SAY
We are passionate about helping our clients secure business credit and financing, and offering both as a service. Of course, we're going to have great things to say about our company because we think what we do and how we do it is pretty awesome. What really matters is what our clients have to say, so click below to hear from some of our customers who we live to serve.