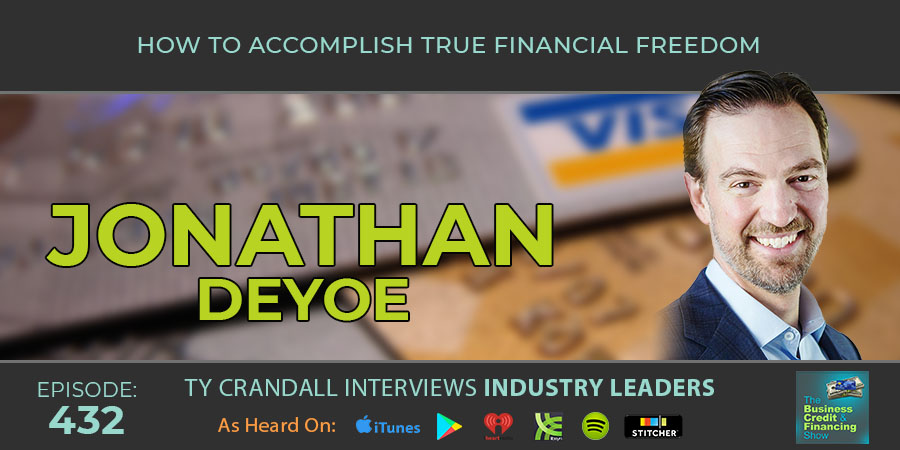 Jonathan DeYoe: How to Accomplish True Financial Freedom
Many people dream of financial freedom, but few people actually obtain it. In this show, Jonathan DeYoe shares with us the tips and path to accomplish the allusive goal of true financial freedom.
About Our Guest:
Jonathan DeYoe has led DeYoe Wealth Management since 2001, where he and his team work one on one with over two hundred families and foundations. Jonathan and his team teach simple steps to financial success and ways to mindfully overcome emotional and cognitive biases related to money.
Jonathan is the founder of Mindful.Money, where he provides keynotes and workshops at conferences and local associations. His team works with businesses to build transparent retirement plan services and financial literacy trainings for employees. Jonathan is passionate about spreading the good news of goal-focused and planning- driven wealth management to help people enjoy better financial outcomes AND happier lives!
Jonathan has been a California-based financial adviser for 24 years. He managed investments at a variety of Wall Street Companies before founding his own financial planning firms. He's a contributor on personal finance matters for the Huffington Post, Business Insider, NerdWallet, and MindBodyGreen. He has been featured in the Wall Street Journal and The New York Times.
Jonathan is a longtime Buddhist, who has practiced meditation for 25 years. He lives in Berkeley with his wife and two children.
During this show we discuss:
● 4 Ps of finance and how to use them to accomplish your financial goals
● How to set financial goals and accomplish them
● How to develop financial plan based on what makes you the happiest
● The thing that makes 401k amazing that you can duplicate with other investments
● How to prevent SB 401(k) from being eliminated due to the falling economic market
● Other options you have to make sure your retirement plan isn't on hold If your 401(k) is terminated
● Ownership in companies as a key to financial freedom
● How to develop financial goals
● How to plan to reach goals
● Why diversification in investing is important
● Why have a clear retirement goal
● How to develop healthy habits for financial goals
● 5 tips to consider when planning for your retirement finances
● 5 ways to boost my retirement savings
● Why planning becomes harder for this generation
Show resources:
https://deyoewealthmanagement.com/
HEAR WHAT OUR CLIENTS HAVE TO SAY
We are passionate about helping our clients secure business credit and financing, and offering both as a service. Of course, we're going to have great things to say about our company because we think what we do and how we do it is pretty awesome. What really matters is what our clients have to say, so click below to hear from some of our customers who we live to serve.