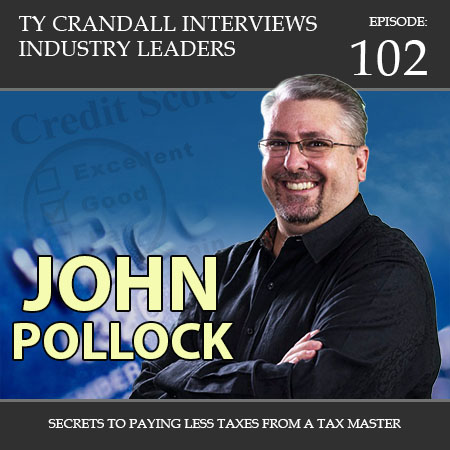 Secrets to Paying Less Taxes from a Tax Master
John Pollock is the CEO of Financial Gravity Holdings Inc., and President of Pollock Advisory Group, Inc., a Registered Investment Advisory firm. He is a Certified Tax Coach and a Certified Wealth Strategist.
John can be heard every Saturday at 12 PM on AM 660 The Answer on the Financial Gravity Show, where he discusses tax reduction strategies for small businesses and retirees.
He has been featured in Forbes Magazine, Rep. Magazine, and the Collin County Business Press and is a frequent contributor on television (TX21, FOX4, WFAA8) and Radio (KRLD, KSKY, Tax Guys Radio Show and Financial Safari). John wrote the books The Nest Egg Cookbook – Your Recipe for a Comfortable Retirement and 10 Biggest Tax Mistakes that Cost Business Owners Thousands. He contributed to the books Secrets of a Tax Free Life, and Tax Breaks of the Rich & Famous.
John is a featured speaker at conferences around the country and has a popular YouTube Channel with over 500 videos. (http://www.youtube.com/johnpollockinc).
During this Show We Discuss:
What wealthy family-owned businesses know about taxes that the average business owner doesn't
How to not pay the IRS 40% or more on the profits you earn
The difference between book keepers, CPAs, and CFOs and when your business will need each
How a business proactively prepares for handling their taxes the right way before the end of the year
What you must know about taxes if you are working from a home office
The best way to buy or lease a car in your company name
Gas or mileage, which is the better write-off
Things that can be written off your taxes as expenses that you probably don't know about
The best entity to choose based on tax benefits
The best type of retirement plan and best way to invest
Legal strategies that lower your tax liability
And much more
Resources
http://www.youtube.com/johnpollockinc
http://www.financialgravity.com/
HEAR WHAT OUR CLIENTS HAVE TO SAY
We are passionate about helping our clients secure business credit and financing, and offering both as a service. Of course, we're going to have great things to say about our company because we think what we do and how we do it is pretty awesome. What really matters is what our clients have to say, so click below to hear from some of our customers who we live to serve.