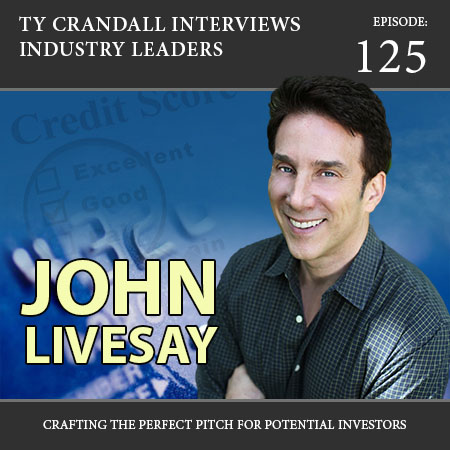 Crafting the Perfect Pitch for Potential Investors
John Livesay is a top sales expert and funding strategist with over 20 years of experience. He hosts The Successful Pitch podcast with investors from around the world and is the Pitch Mentor at Startfast.net, the number one accelerator in Upstate New York. John gives startups the pitching secret to become irresistible to investors. When John works with startups, they become master storytellers so that they can inspire investors to join their team. John has been featured by both Entrepreneur and Inc., and is the author of The Successful Pitch: Conversations on Going from Invisible to Investable.
In This Show We Cover:
Whether investors are typically interested more in the business owner, the idea, or the company itself
The best way to find and meet investors
How to find the right investor for your business
What you should look for when deciding which investors to take on as partners
Whether most investors actively involved in the running of the business after they invest
The best way to make initial contact with those investors
How someone should prepare for investor meetings
The secrets to a great investor pitch
How to craft the perfect pitch
The types of materials someone should have for a pitch
The most important aspects investors look at before investing
When to start looking for capital for your business
The amount of capital that's typically available through seed capital
The percentage of a company that may provide to an investor in exchange for funding
How quickly you can get money from making first contact with an investor to obtaining capital
The 3 secrets to increasing your confidence
Why storytelling is important to making sales
How storytelling helps increase sales
Resources
http://sellingsecretsforfunding.com/workbook/
http://sellingsecretsforfunding.com/
https://www.facebook.com/john.livesay
HEAR WHAT OUR CLIENTS HAVE TO SAY
We are passionate about helping our clients secure business credit and financing, and offering both as a service. Of course, we're going to have great things to say about our company because we think what we do and how we do it is pretty awesome. What really matters is what our clients have to say, so click below to hear from some of our customers who we live to serve.