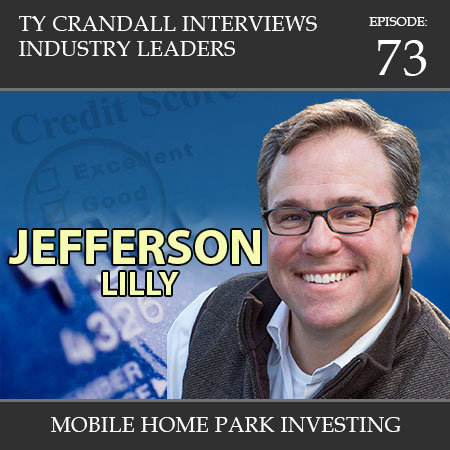 Jefferson Lilly is a mobile home park investment expert, educator, and industry consultant who has been featured in the New York Times, Bloomberg Magazine, and on the 'Real Money' television show. Prior to co-founding Park Street Partners in 2013, Mr. Lilly spent seven years investing his own capital at Lilly & Company where he acquired and continues to operate mobile home parks in the Midwest. Prior to becoming an investor full-time, Jefferson spent 10 years in sales leadership roles with several venture-backed startup companies in Silicon Valley that were acquired by Openwave Systems and VeriSign. Earlier in his career he held operational roles at Viacom and was a consultant with Bain & Company. Jefferson holds a B.A. from the University of Pennsylvania and an MBA from the Wharton School of Business.
During this show we dive into…
Why it's a brilliant idea to invest in mobile home parks
How you can earn 20% returns with mobile home park investing
Some of the little-known about advantages of investing including low maintenance cost
How to get involved with owning a mobile home park with as little as $1,000
2 of the biggest mistakes to avoid when investing
How you can get paid just by finding parks for sale
How to spend $2,000 and get 100% of your money back within the first year when investing
Why no more mobile home parks can be built, and how this benefits you as demand continues to rise
And much more!
Resources Discussed on the Show…
http://www.mobilehomeparkinvestors.net/
HEAR WHAT OUR CLIENTS HAVE TO SAY
We are passionate about helping our clients secure business credit and financing, and offering both as a service. Of course, we're going to have great things to say about our company because we think what we do and how we do it is pretty awesome. What really matters is what our clients have to say, so click below to hear from some of our customers who we live to serve.