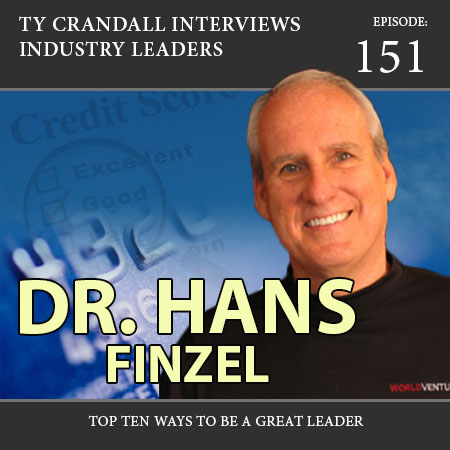 Top Ten Ways to be a Great Leader
Dr. Hans Finzel is a successful author, speaker and trusted authority in the field of leadership.  He has trained leaders on five continents. For 20 years he led international non-profit WorldVenture, serving in over 65 countries. Hans speaks and writes on practical leadership principles from the real world— not the classroom.  He has written ten books, including his bestseller The Top Ten Mistakes Leaders Make. His books have been translated into over twenty foreign languages. Hans holds degrees from Columbia International University, Dallas Seminary and Fuller School of Intercultural Studies.  Today he serves as President of HDLeaders, and is chief leadership guru on, "The Leadership Answer Man" podcast.
During This Show We Discuss…
What are the top ten mistakes that you see leaders make.
Things business owners can do to become great leaders.
How to define emotional intelligence and why it's important
Ways to become an excellent communicator
How a control freak can become hands-off when delegating
How to let team members know you really care and are listening to them
Why there is less communication between a leader and their team than with colleagues
How showing vulnerability isn't a bad thing as a leader
What the difference is between resilience and persistence
The most common traits of resilient people
What a servant attitude is and why you need it
The true difference between leading and managing
How important it is to lead with your heart versus your brains
And much more
Show Resources
HEAR WHAT OUR CLIENTS HAVE TO SAY
We are passionate about helping our clients secure business credit and financing, and offering both as a service. Of course, we're going to have great things to say about our company because we think what we do and how we do it is pretty awesome. What really matters is what our clients have to say, so click below to hear from some of our customers who we live to serve.