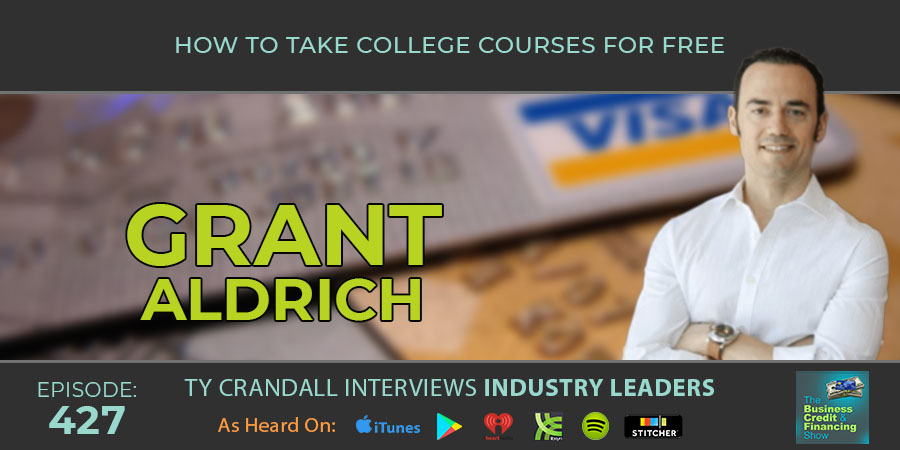 Grant Aldrich: How to Take College Courses for FREE
Getting a college degree requires a lot of time and money. In this episode, Grant Aldrich shows how you can get your degree at a fraction of the cost and time. Find the right college for you, take courses for free, test out of other courses, and get your degree quickly and affordably even if you're working full-time or running a successful business.
About Our Guest:
Grant Aldrich founded OnlineDegree.com with a purpose-driven mission: make college more accessible and affordable for everyone. After graduating college with an overwhelming amount of debt, he was determined to change how students embark on their college education. Grant has spent his entire career working in startups with nearly 15 years of experience and 2 prior exits to a publicly traded
company. He has been a board member and donor to a number of non-profits, an advisor to many publicly traded companies and a guest speaker at seminars and graduate school courses. He graduated with honors from University of California Irvine in Economics.
During this show we discuss:
● How to earn a degree while running a business without failing on both ends
● Getting a degree online
● Why people aren't getting degrees
● How to get college courses for free
● How to run a business while part timing in college without breaking the bank for either
● How to get a degree on your timetable
● Reducing the number of courses to get a degree
● How to take the courses you want to take and get your degree
● How to test your way out of courses and still get the credit
● How to radically reduce your cost to get a college degree
● How to get your student loan forgiven
● How to access all types of private and public schools in one place
● How to get a massive discount on college classes
● The most popular degrees that people are pursuing now
● How to pay for college tuition without taking too much loan from the government
● 3 things to take into consideration when financially planning for college
● How to earn units to be used to shorten time at the university for free
Show resources:
https://www.onlinedegree.com/certifications/
https://www.linkedin.com/in/grant-aldrich-56721b31/
HEAR WHAT OUR CLIENTS HAVE TO SAY
We are passionate about helping our clients secure business credit and financing, and offering both as a service. Of course, we're going to have great things to say about our company because we think what we do and how we do it is pretty awesome. What really matters is what our clients have to say, so click below to hear from some of our customers who we live to serve.