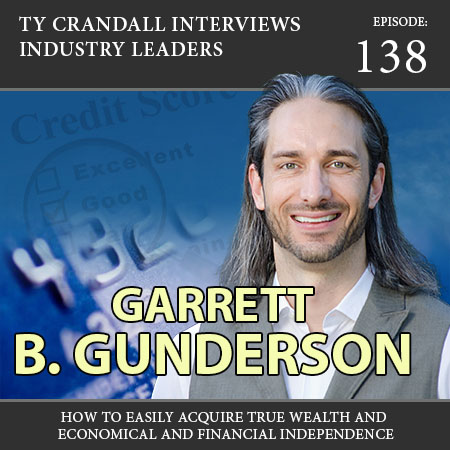 How to Easily Acquire True Wealth and Economical and Financial Independence
Garrett Gunderson is Chief Wealth Architect at Wealth Factory and author of the NY Times best-seller, Killing Sacred Cows. Wealth Factory helps entrepreneurs optimize cash flow, streamline their finances and keep more of their hard-earned money so they can make more powerful investments in their best wealth creator: their business. Garrett has appeared multiple times on ABC News Now, Your World with Neil Cavuto on Fox, CNBC's Squawk on the Street and more — and his first firm made the Inc 500. Read more at WealthFactory.com and follow him at Facebook.com/wealthfactoryand Twitter.com/wealthfactory_
In this Show You'll Discover:
What prevents people from being financially free and what you can do about it
Understanding the difference between financial freedom versus financial independence
Bad decisions people make when it comes to money and how you can make great decisions
What you can do to immediately improve your finances
Fundamental keys to properly budgeting you should know
The best places people should invest
Whether you should or shouldn't have a 401k
How to determine if you're overpaying your taxes, and how to stop overpaying
The fastest and easiest path is to acquire true wealth
Why the game is financial game is rigged against you, and how you should rig the game in your favor
What you should do that the Rockefellers would do
The type of financial expert you should have in your corner to best accelerate your acquiring of wealth
Show Resources:
Get Garrett's book What Would the Rockefellers Do for FREE, saving over $940, by texting WWRD to 801-396-7211
[email protected] service type, customer type we have, free guide
http://www.wealthfactory.com/investing
http://www.wealthfactory.com/insure
http://www.wealthfactory.com/cashflow
http://www.wealthfactory.com/strength
HEAR WHAT OUR CLIENTS HAVE TO SAY
We are passionate about helping our clients secure business credit and financing, and offering both as a service. Of course, we're going to have great things to say about our company because we think what we do and how we do it is pretty awesome. What really matters is what our clients have to say, so click below to hear from some of our customers who we live to serve.