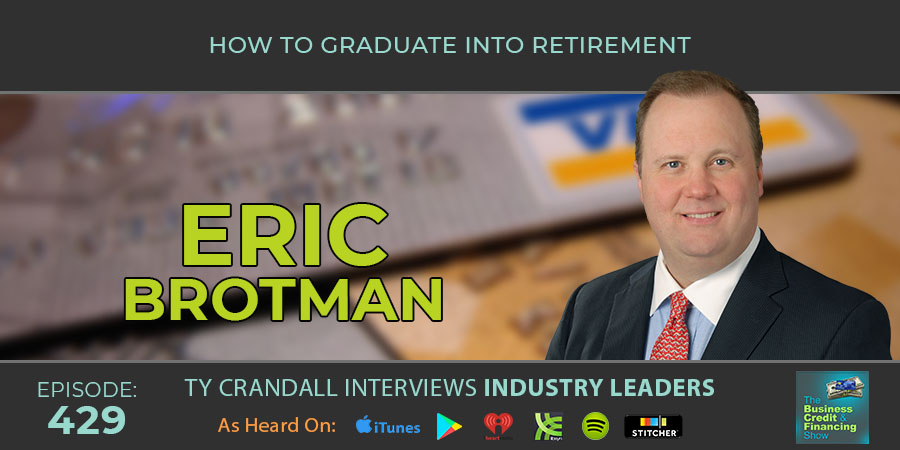 Eric Brotman: How to Graduate into Retirement
Most people don't have enough money to retire when they want to. In this show Eric D. Brotman reveals how to disregard retirement and focus on graduating instead. Eric shares his insider knowledge on how to achieve true financial freedom, no matter the stage of life you're in now.
About Our Guest:
Eric D. Brotman is Chief Executive Officer of BFG Financial Advisors, and independent firm assisting clients with wealth creation, preservation, and distribution. Eric has over 25 years of experience in financial planning and founded the firm in Baltimore in 2003. BFG provides investment, retirement, estate, insurance, and comprehensive financial planning services for families, professionals, executives, and business owners.
Eric is host of the Don't Retire… Graduate! Podcast, which is dedicated to teaching listeners how to advance into retirement rather than retreating into it. Every episode provides listeners with inspiration and actionable advice to guide each of them towards a seamless transition into a dignified retirement. His new book 'Don't Retire, Graduate' is due to be published in April 2020 and discusses similar themes to the podcast.
Eric appears regularly on television on 11 News Sunday Morning on WBAL in Baltimore and has written articles for numerous print and online media outlets. As a sought-after speaker, Eric frequently gives seminars and workshops for companies, membership organizations, and fellow financial advisors.
During the show, we discuss:
● About Don't Retire… Graduate!
● Why people need to retire
● Things that successful retirees have in common
● Ideal age for retirement
● Preparing for retirement
● Steps to take for financial independence
● When to start saving for retirement
● How to get out of debt
● How people can afford to retire
● Working in retirement
● What you can expect after retirement
● Things or activities to do after retirement
● Preventing yourself from outliving your money
Show resources:
HEAR WHAT OUR CLIENTS HAVE TO SAY
We are passionate about helping our clients secure business credit and financing, and offering both as a service. Of course, we're going to have great things to say about our company because we think what we do and how we do it is pretty awesome. What really matters is what our clients have to say, so click below to hear from some of our customers who we live to serve.