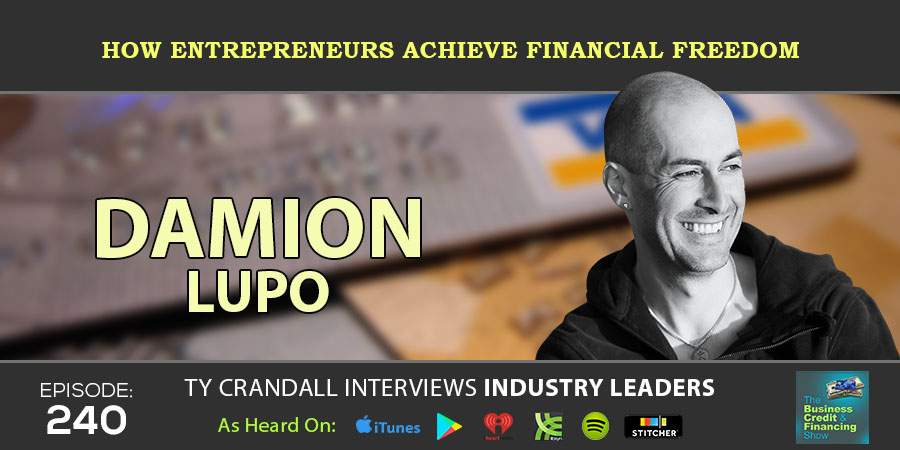 Damion Lupo – How Entrepreneurs Achieve Financial Freedom
 How Entrepreneurs Achieve Financial Freedom 
Best Selling Author in personal finance and money thinking, host of the Transformation Nation podcast, owner of 30+ companies and founder of his own martial art - Yokido ® Damion Lupo outrightly rejects regret and speaks to it as the ultimate life failure. He has a unique approach to living a full-filled life by breaking rules and making more mistakes, faster, than the competition - his key to success. Playing by a different set of rules, he even bought his first rental house with a VISA, a move that snowballed into owning 150 rental houses in 7 states in less than 5 years. In 2008 he lost the entire $20 million but recreated his wealth and reinvented his life over 4 transformational years. Today he leads 3 global companies with one unified mission - to Free People from Money Bondage.
During this show we discuss:
Why wealth is a choice
The Green & Red Arrows of Wealth
How entrepreneurs can attain financial freedom
Concrete steps to achieve happiness and financial wealth (simultaneously)
Recreating wealth from your loss
How entrepreneurs can preserve and invest their proceeds intelligently
About transparency
The benefits of transparency to your business
About financial freedom
How to determine your financial freedom
Mistakes that can derail financial progress
How to avoid those mistakes
Ways of setting goals you can achieve
How mistakes shape an entrepreneur's success
Why entrepreneurs are typically terrible investors
The skills and tools you need to be a great investor
Three simple ways that lead to successful investments
The major values to finance and how to apply them to life
How your financial relationship with money affects other areas of your life
And much more…
Show resources:
https://twitter.com/damionlupo
https://www.youtube.com/c/DamionLupo
https://www.linkedin.com/in/damionlupo
HEAR WHAT OUR CLIENTS HAVE TO SAY
We are passionate about helping our clients secure business credit and financing, and offering both as a service. Of course, we're going to have great things to say about our company because we think what we do and how we do it is pretty awesome. What really matters is what our clients have to say, so click below to hear from some of our customers who we live to serve.