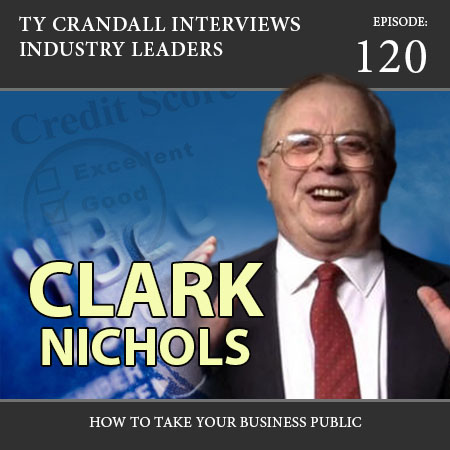 How to Take Your Business Public
Clark Nichols has spent a lifetime helping companies build their businesses, both as an employee in his early years, as an owner in his ambitious years, and as a consultant in his productive years. He is a natural born entrepreneur infused with a missionary zeal to help the next generation of entrepreneurs learn that business is a clean and honorable profession bound by rules of propriety as well as law.
Clark consults with companies in their infancy and has never had a failure. By the time companies reach adolescence, which by Clark's definition begin s after the second year, the true test of management begins and Clark's work is done. In his heyday, Clark helped more than forty companies go public, many through reverse mergers.
In This Show We Cover:
The role public relations have in going public
How to get the startup money without giving up control of the business
When a business should consider going public versus looking for a buyer
The cost going public has, and the cheapest way to get it done
The time frame it takes for a company to go public
How even a startup can go public
How to go public without an IPO
How to go public from the "bottom up", versus the expensive IPO "top down" approach
What a business should have before it goes public
Why a company should spend the money to go public when raising money for the business is more important
Commonalities businesses that go public have
How to make your first million going public
And much more
Resources
HEAR WHAT OUR CLIENTS HAVE TO SAY
We are passionate about helping our clients secure business credit and financing, and offering both as a service. Of course, we're going to have great things to say about our company because we think what we do and how we do it is pretty awesome. What really matters is what our clients have to say, so click below to hear from some of our customers who we live to serve.