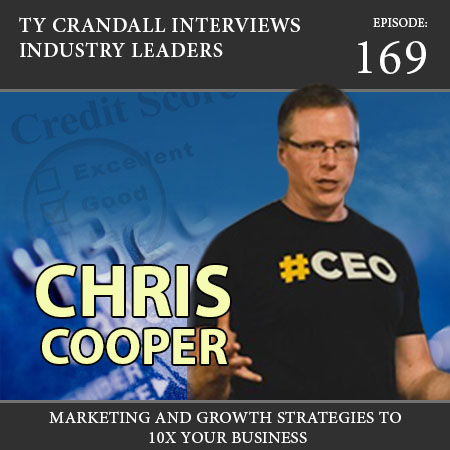 How Mentors Can Help 10X Your Business
Chris Cooper is the founder of the largest mentoring practice in the fitness world, with clients on every continent.  He started his entrepreneurial life as a gym owner.  In 2005, Cooper had a new home, wife and baby. His job as a personal trainer wouldn't cover the bills, so he opened a business -- or so he thought.  Three years in, Cooper realized he really didn't have a business, but had just bought himself a high-risk job with no upside. When he missed a pay period, he hit bottom and realized he needed help. He found a mentor, and paid for the service with a check that should have bounced.
 Over the next two years, Cooper was taught how to build a real business.  He began mentoring gym owners in 2013, and founded his own practice, Two-Brain Business, in 2016. It rapidly grew to become the largest fitness mentorship practice in the world, with over 350 gyms participating worldwide.
 In 2017, Cooper opened the Two-Brain Workshop to help entrepreneurs in his beleaguered city. He immediately attracted the attention of many local business owners who wanted to grow their service business. His last two books, Two-Brain Business 2.0 and Help First, are applicable to any service, and his local clients include spa owners, accountants, HR managers, administrators and attorneys. Now he operates local seminars and trains mentors under the Two-Brain umbrella
During This Show We Discuss…
How sales funnels can hurt you
What you should know about affinity marketing
How to implement relationship marketing to rapidly grow your business
How to use content marketing to scale a business
What you should know about the "Hero's Journey" way of storytelling, and how to use it to grow
Important ways to retain customers, long-term
The types of systems that are essential for businesses to succeed
The best ways to 10X your business
How important discipline and patience are as you grow your business
The best ways to set and follow through with goal setting
Why it's important to find a great mentor
The most effective ways to incentive your team
The best ways to mentor your team
How important health is to growing a successful business
And much more
Show Resources
https://www.linkedin.com/in/twobrain/
https://business.facebook.com/twobrainbusiness
https://twitter.com/twobraincoach
https://www.amazon.com/Two-Brain-Business-2-0-Chris-Cooper/dp/1515241173
HEAR WHAT OUR CLIENTS HAVE TO SAY
We are passionate about helping our clients secure business credit and financing, and offering both as a service. Of course, we're going to have great things to say about our company because we think what we do and how we do it is pretty awesome. What really matters is what our clients have to say, so click below to hear from some of our customers who we live to serve.