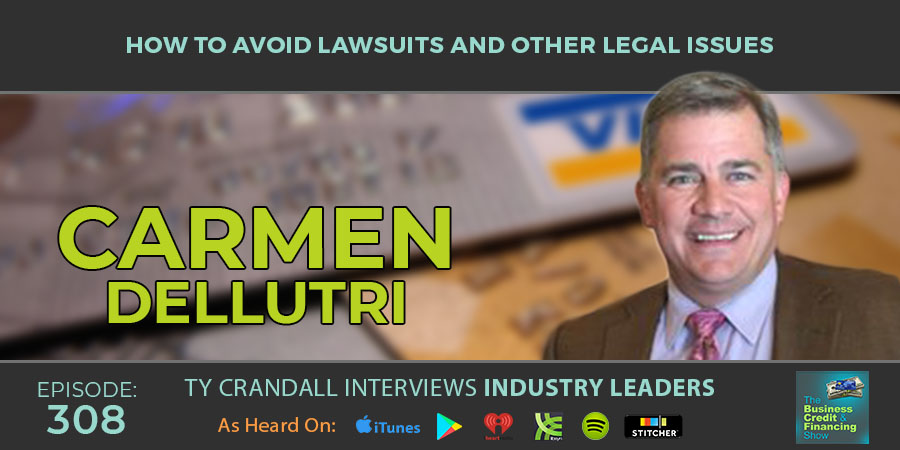 Carmen Dellutri: How to Avoid Lawsuits and Other Legal Issues
Carmen Dellutri is the Founder and President of the Dellutri Law Group, P.A. He is certified by the
American Board of Certification Consumer in bankruptcy law. He is also a Florida Supreme Court
Certified Circuit Court and Family Law Mediator and a Qualified Arbitrator.
During this show we discuss:
What startup business owners can do in order to avoid legal issues
Common mistakes business owners make when starting a business
What details to watch for in loan paperwork
The types of loans you can avoid
The little tricks lenders pull that most people don't catch until it's too late
The types of documents you should always have reviewed by an attorney
How to get an attorney on retainer to have them when you need them
Choosing lawyers for your businesses
Why not to mix personal and business liability
Why your spouse should NEVER be a guarantor
How to get out of being a personal guarantor
What startups should know about how to protect yourself
What to do to avoid legal issues before they arise
The main reasons people file lawsuits and how to avoid them
And much more...
Show resources:
https://www.linkedin.com/in/carmendellutri
https://twitter.com/DellutriLaw
HEAR WHAT OUR CLIENTS HAVE TO SAY
We are passionate about helping our clients secure business credit and financing, and offering both as a service. Of course, we're going to have great things to say about our company because we think what we do and how we do it is pretty awesome. What really matters is what our clients have to say, so click below to hear from some of our customers who we live to serve.